Bucket Sundays, a save-water campaign by SUNDAY mid-day and Radio City, bring you a series on the city's water crisis. First up, activists, urbanists explain why water-cuts are far from the solution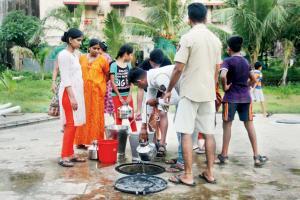 Residents living in small settlements recognised by the government barely get 45 LPCD of water. Representational Image
Come summer, the BMC always reminds us of the looming water crisis in Mumbai. This is followed by phased water cuts, ranging from 10 to 15 per cent. It's a pattern that has now become routine to how the city functions. The argument is that Mumbai doesn't have enough water and most likely never will, unless we have good rainfall. But, is the city staring at a drought? If urban planners and activists are to be believed, not yet.
As SUNDAY mid-day kick-starts its 'Bucket Sundays' campaign, we spell out issues concerning water in the city and why aqua warriors, who are fighting the big fight to save every drop, feel we need to push the envelope when tackling the problem.
"The truth is that we are not facing a water crisis in Mumbai," says Sitaram Shelar, convenor of Pani Haq Samiti, a nine-year-old collective that is working towards equitable access to water. "Currently, 3,800 million litres per day (MLD) of purified water is being distributed to the city's 1.5 crore population. If you distribute it well, everyone will get 280 litres per capita per day (LPCD), which is almost double the national or international indicator," he adds.