3 people lost their lives when a car hit a divider and rammed into a tempo near Talasari; police suspect driver did not see it as the spot was dark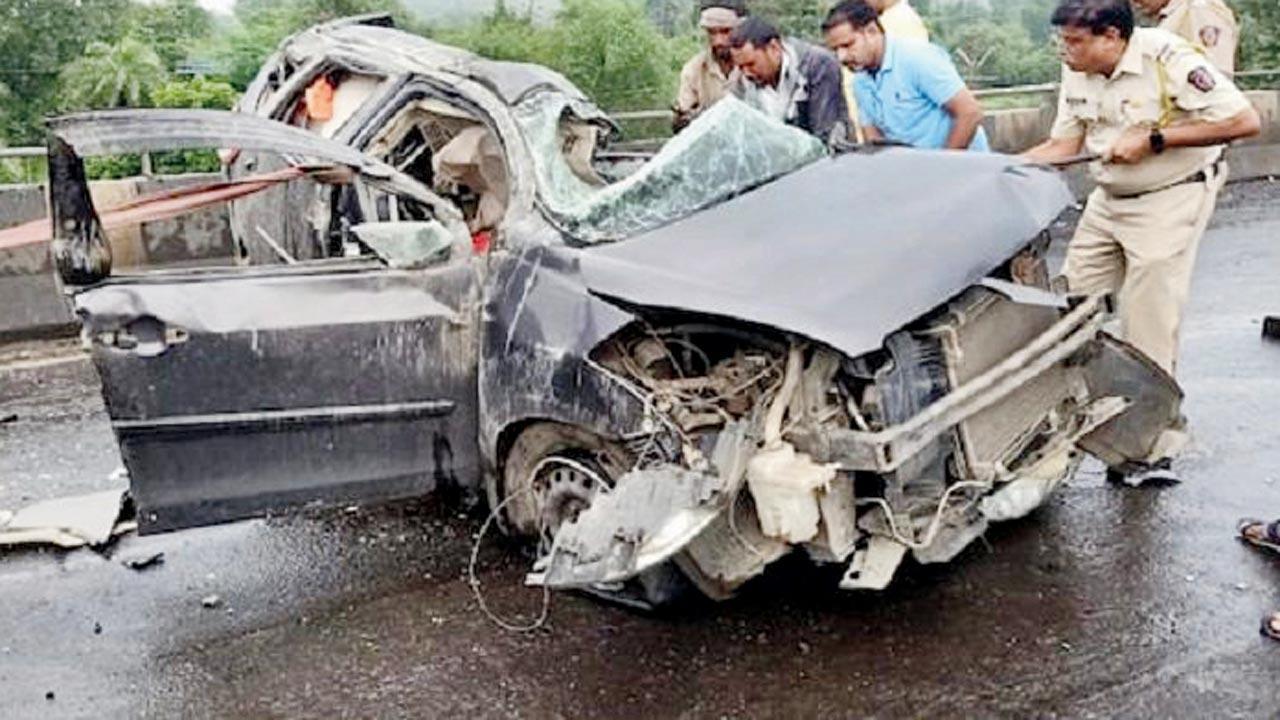 The Creta in which the businessmen were travelling
In another major accident near Talasari on the Mumbai-Ahmedabad Highway early on Tuesday, three people including two businessmen from Surat and a tempo driver lost their lives. Two more people on the back seat of the car carrying the businessmen that crashed into a tempo received serious injuries and are admitted to a Surat hospital.
The accident that comes soon after the one in which tycoon Cyrus Mistry lost his life on  the same highway, once again brings to fore the lack of warning signs or lights, etc. on roads, since the police suspect the driver did not see the divider as the spot was dark.
Also read: Mumbai: Make roads safe first, then go after seat belt, say experts
The crash
According to the police, Bhupendra Morya, Viren Mishra, Ajay and Rajesh Chandulal Desai (the Desais are brothers), all Surat residents working in the textile business, were coming to Mumbai in a car. They were in a Creta driven by Morya which hit the divider at Talasari on a sharp curve and the vehicle flew into the air and crashed into a tempo coming from the other side.
Morya, Mishra and the tempo driver Shrikrishna Mishra died on the spot. Ajay and Rajesh Desai were seriously injured in the incident that happened at 12.30 am on Tuesday.
The police said the crash was horrible and it was difficult to remove people from the car. Police had to cut vehicle parts with big cutters to rescue them.
Police speak
Speaking to mid-day Talasari police station in-charge Ajay Vasave said, "It was a late night incident. The car was in the speeding lane. It crashed onto the divider and flew into air and rammed into the tempo which was coming from the opposite direction. It was dark at the spot and we suspect this is why the driver didn't notice the divider there. We have sent the bodies for  postmortem."  
Police rushed the injured Desais to the Vapi-based Haria LG Rotary Hospital and later they were shifted to Surat by their families.