chEAT Eats is a cloud kitchen that is born out of the belief that food is not just black and white. It's not even shades of grey. It's a spectrum of a million colours that we are meant to experience and enjoy.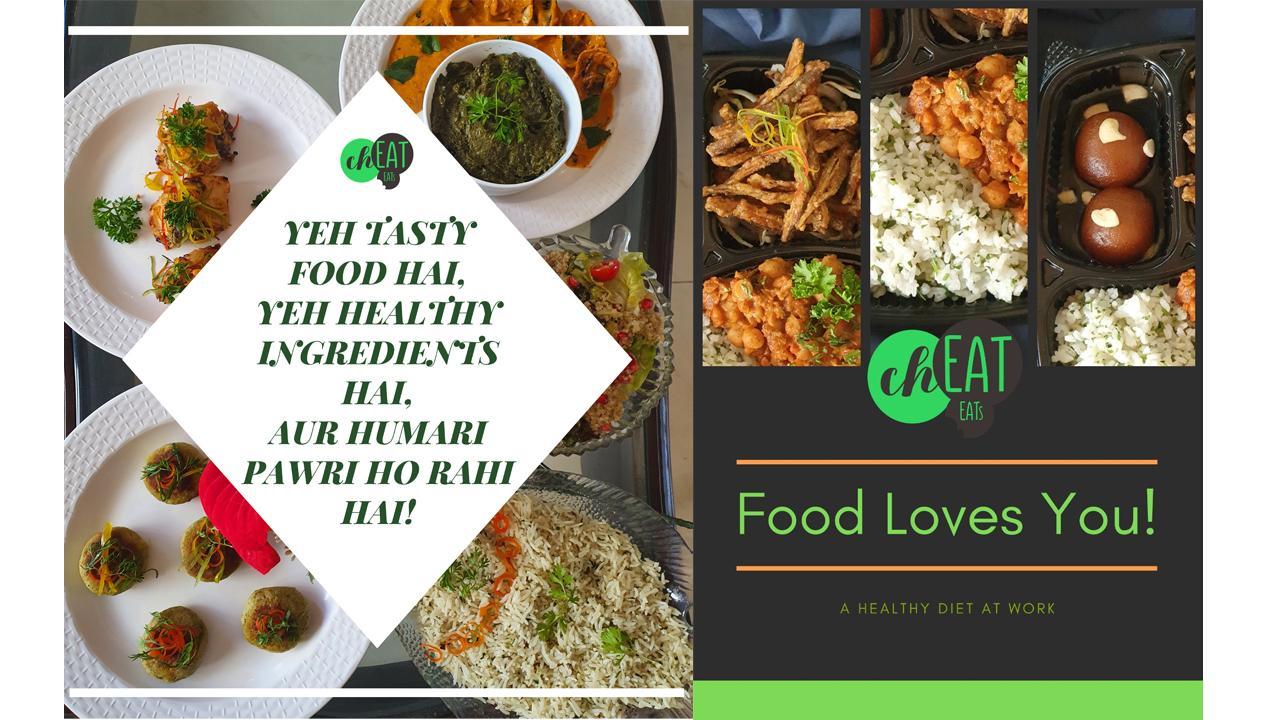 cheateats
We live in the age of information. We literally have it at our fingertips. We don't even have to seek it. Information comes to us, through website algorithms, Whatsapp messages, stories and posts on social media and of course good old fashioned advertising.
Telling us what to think, what to wear and a plethora of information about what to eat and what not to eat.
Diets, cleanses, intermittent fasting, lifestyles with rules so strict that it's impossible to completely stick to it lifelong; and things don't really work well if we don't truly commit. 
There's so much information vilifying ingredients that we ate and survived on for thousands of years.
Blanket statements saying carbs are bad, fat is bad are ghosts that follow us everywhere, telling us we'll never be good enough unless these things are strictly adhered to.
Foods that are embedded into our homes, lifestyles, curiosities, celebrations and traditions.
chEAT Eats is a cloud kitchen (www.cheateats.in)  that is born out of the belief that food is not just black and white. It's not even shades of grey. It's a spectrum of a million colours that we are meant to experience and enjoy. Just like the micronutrients that are gifts hidden inside the containers that are our limitless kinds of carbs, proteins and fats.
Food in it's natural form is a gift from nature and it's only meant to nurture you like nature always has. A little bit of anything made by natural means never hurt anybody. It's just all about moderation.
The food market is most in need of a kitchen that celebrates a healthy processing of local, seasonal and natural ingredients while keeping moderation in mind.
By eating that way, we eat sustainably; eating everything out of love and appreciation and not out of fear.
Through their focus monthly meal subscriptions, they are keen to help people on the path "sustainable eating". An eating lifestyle that the high functioning adult can actually follow for life!
ADVERTISEMENT
Here are a few things that are the mark of a chEAT Meal.
1: Fresh: Every meal is made fresh and is to be ideally consumed within four hours of making.
2: Hygienic: Double sealed packs made by chefs that wear gloves, masks and hairnets at all times. Rewashing of hands and temperature checks done every two hours.
3: The joy of EVERYTHING! But in the right proportions: Every meal has three courses: a salad, and appetiser and main course (dessert optional). Carbs consist a sensible 20% of the meal, so now not only are you full after multiple courses but you are now full of energy to keep your productivity going for the second half of the day! Goodbye drowsiness!
4: Eat something new every day: chEAT eats boasts of trained chefs executing a truly global menu. You can choose to have an Indian meal, Continental meal, Soup and Salad meal or even a Asian meal (No MSG or Ajinomoto added)
5: No additives, chemical preservatives, food colourings or taste makers.
6: Local and seasonal ingredients: Eating ingredients that are grown in your region always let's your body adjust to your environment better. Eg: Kokum is grown and used in the Konkan region because it lends itself to cool and regulate body temperatures.
7: Customisable orders: Customise your own party, conference/ bulk menu to suit your event and your preferences. Party food that is not junk but is still delicious, fun and familiar all in one? Dream come true, right?

Being a cloud kitchen, they only do deliveries but if you want you have a unique and beautiful, dine-in experience with chEAT Eats, they are organising a one night only unique dine-in pop-up at 3 Wise Monkeys, Veera Desai Road Andheri. They are set on giving us the best socially distanced event possible: Clubbing their delicious food, mellow hindi live music and refreshing drinks! The event is on from 7 pm - 12 am on Wednesday, the 10th of March 2021.  


Catch up on all the latest Crime, National, International and Hatke news here. Also download the new mid-day Android and iOS apps to get latest updates.
Mid-Day is now on Telegram. Click here to join our channel (@middayinfomedialtd) and stay updated with the latest news
This story has been sourced from a third party syndicated feed, agencies. Mid-day accepts no responsibility or liability for its dependability, trustworthiness, reliability and data of the text. Mid-day management/mid-day.com reserves the sole right to alter, delete or remove (without notice) the content in its absolute discretion for any reason whatsoever.