Meteorologists say series of western disturbances led to drop in temperature; Mumbai to see slight uptick in mercury today and tomorrow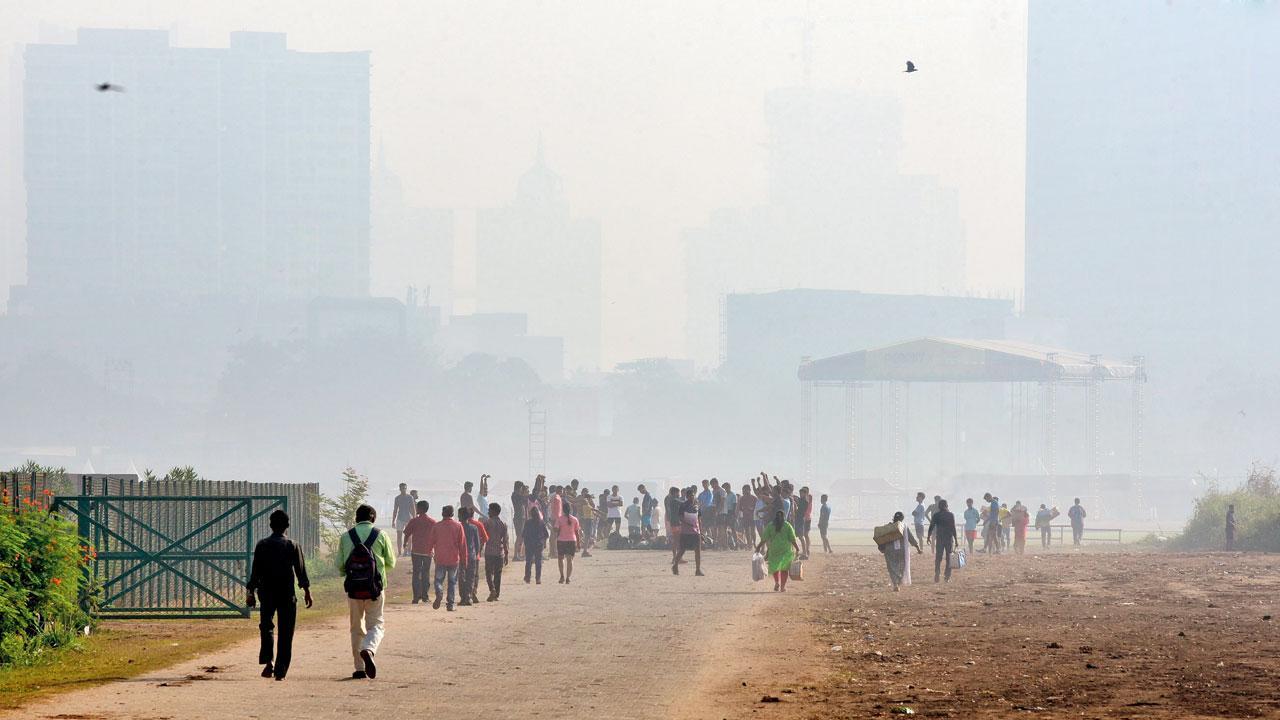 People out on morning walk amid fog at Mahalaxmi Racecourse. Pic/Shadab Khan
Mumbai has been experiencing cold weather for the past few days with a drop in both maximum and minimum temperatures. On Tuesday, India Meteorological Department's Santacruz weather observatory reported a minimum temperature of 14.8 degrees Celsius while the Colaba observatory recorded 17.6 degrees Celsius.
On Monday, the city had recorded daytime or maximum temperature of 26.5 degrees Celsius, much cooler than adjoining cities Pune (31.2 degrees Celsius) and Nashik (28.5 degrees Celsius).  Mumbai's temperature was closer to that of Mahabaleshwar which recorded a maximum temperature of 25.1 degrees Celsius on Monday.
According to meteorologists, the city will experience foggy, misty mornings on Wednesday and Thursday with the minimum temperature hovering near 15 to 16 degrees Celsius and the maximum temperature around 27 to 28 degrees Celsius. Earlier on January 15, the city had its coldest day of the season with the lowest temperature of 13.8 degrees Celsius.
Also read: Mumbai: Not a cold wave, temp to remain low for a few days, says weather expert
Asked about the reasons behind the drop in temperature, experts pointed at a slew of weather systems such as western disturbance over North Pakistan and adjoining Jammu Kashmir, an induced cyclonic circulation over southwest Rajasthan and adjoining areas, and a fresh western disturbance likely to approach Northwest India and adjoining parts of Hills by January 27.
They attributed the cooler-than-usual weather in Mumbai to the series of western disturbances and higher than normal wind speed and lower than usual humidity. As per the IMD's updates, humidity in Mumbai was 51 per cent on Monday and 60 per cent on Tuesday. By the last week of January or the upcoming weekend, temperatures are likely to get cooler again, predict meteorologists and experts.
"The January 27 western disturbance will be stronger than the previous three. This will lead to the temperature dropping further. It is to be noted that for the next two days—that is January 25 and 26—the minimum temperature will continue to hover between 14 and 15 degrees Celsius. Later under the influence of western disturbance, the temperature is likely to drop further to 13 degrees Celsius from January 27," said Mahesh Palawat from Skymet Weather, a private weather forecasting service.
He added, "Due to the strong winds, Mumbai feels colder than usual. However, temperatures are predicted to rise a little during the next two days because of western disturbances. Mumbai's temperatures will rise as westerly winds from the Arabian Sea limit the number of cold winds from the north. The city's temperatures are again likely to drop by the weekend when north winds turn to Maharashtra with the retreat of western disturbances."