Sagar Tatyaram Gorkhe has written to the state home minister Dilip Walse Patil, threatens to go on an indefinite hunger strike if action is not taken immediately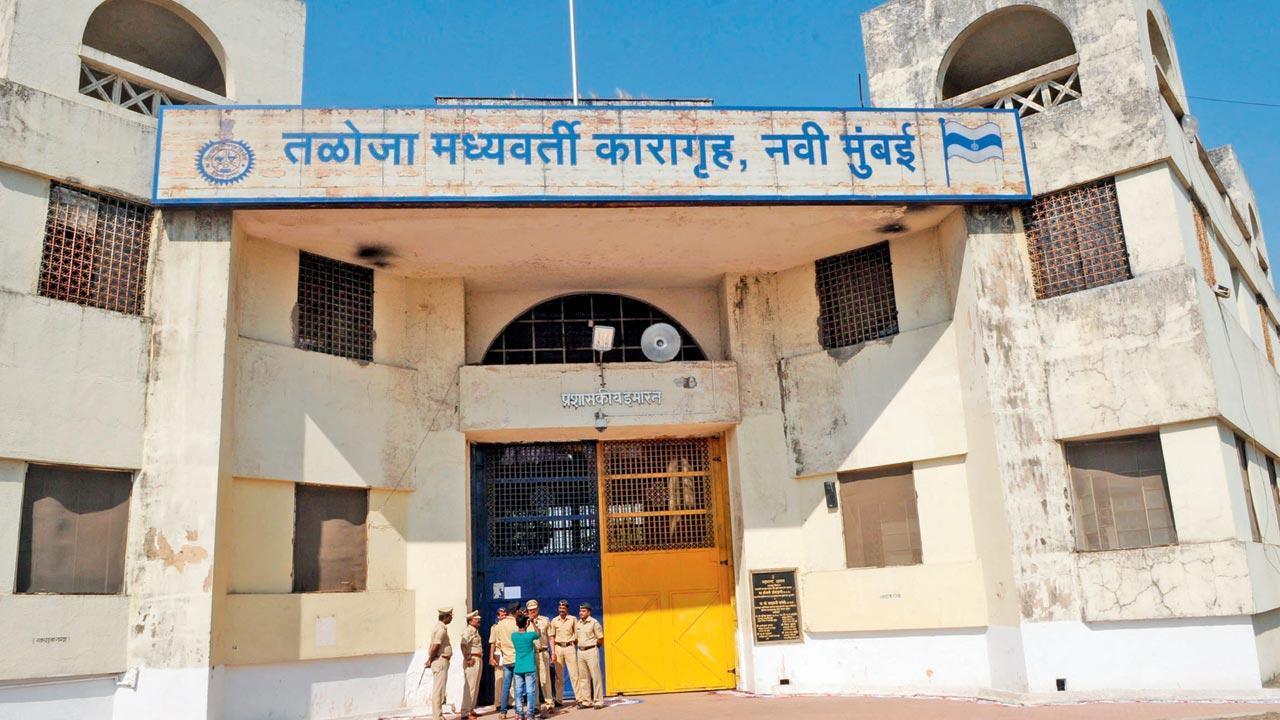 The Elgar Parishad-Bhima Koregaon accused are lodged at Taloja prison. File pic
Sagar Tatyaram Gorkhe, an accused in Elgar Parishad-Bhima Koregaon accused, has written to Maharashtra Home Minister Dilip Walse-Patil, alleging harassment by the Taloja Jail superintendent. He has threatened to go on a hunger strike until death.
"It is with extreme distress that I inform you that since the very beginning the prison administration has treated the Bhima Koregaon case accused with utmost prejudice. As a result, the prison has become a torture camp for my co-accused and me. As you must be aware that it was the maltreatment by the prison administration that led to the custodial death of Father Stan Swami last year," his letter reads.
ADVERTISEMENT
Gorakhe alleged that their basic human rights are being trampled over every day in the prison. "It is because the situation has become absolutely unbearable that I must resort to an agonising hunger strike in protest... Even though I am suffering from several illnesses such as back pain, joint pain and skin allergies, I am deliberately denied treatment from the prison medical officials.
"The prison superintendent in alliance with the medical officials is obstructing access to medical care... My co-accused Gautam Navlakha, Ramesh Gaychor, Sudhir Dhawale, Mahesh Raut, Surendra Gadling, Anand Teltumbade, and Hany Babu are also afflicted with various illnesses and there has been intentional negligence in their treatment. The medicines (especially ayurvedic) provided by lawyers and families are not being accepted creating an overall state of helplessness," the letter reads further.
He has also alleged that the letters they receive are not opened in front of them for scanning, as per the law; instead, they receive the unsealed letters. "Every letter sent to me and to my co-accused has been illegally scanned by the superintendents and sent directly to the investigation agencies," the letter states.
The prison rule allows every inmate a right to 135 litres of water daily, but they get one bucket, that is 15 litres of water, he stated.
He said that all the inmates were given access to telephone services during the pandemic. However, a circular by additional DGP (prisons) suspended the services to accused in 'Terrorist activities/sedition/Naxalism/gang war/organised crime/habitual offenders.'
"To treat an accused as a convict until any accusation against them has been proven true is a violation of his fundamental human rights," he stated.
In his letter, Gorkhe has made five demands from the state government and threatened to continue the strike until these are fulfilled.
Gorkhe's five demands
. Immediate medical services to all Bhima Koregaon accused and action against medical officials for negligence 
. Immediate suspension of scanning of letters and legal process against the culprits
. Supply of 135 litres of water to every inmate, suspension of 'orchestrated water shortage in jail and its inhumane sale' 
. Permanent visiting room, to be constructed immediately; sanitation, fans and other facilities for people visiting. 
. All undertrial and convicted inmates be provided with the services made available during the COVID-19 pandemic with due verification.
"Exciting news! Mid-day is now on WhatsApp Channels

Subscribe today by clicking the link and stay updated with the latest news!"
Click here!