Officials say agencies chalked out a plan to speed up work to deliver promise of reopening two lanes before monsoon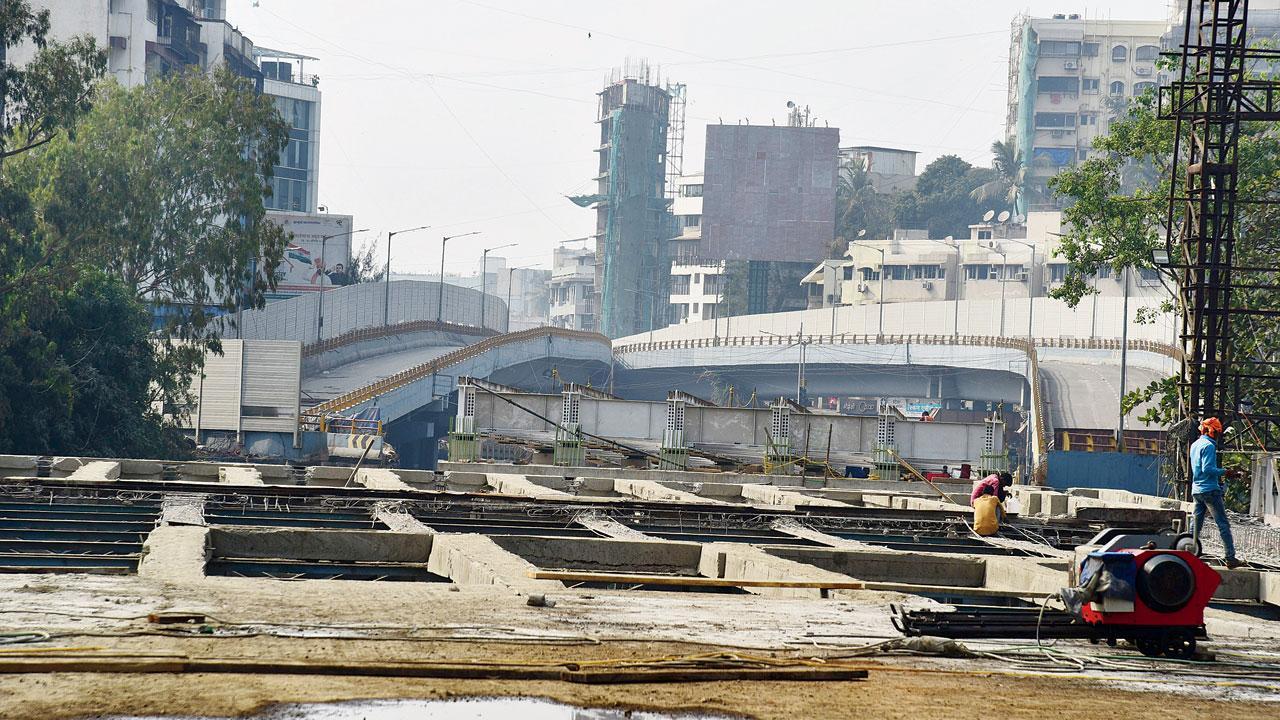 The BMC had complained to the railways about the slow progress in demolition work. File Pic/Nimesh Dave
Officials of the BMC and Western Railway met on Tuesday to sort out issues related to the ongoing work at Gokhale Road bridge, following which the former has assured on-time reopening of two lanes of the Andheri east-west connector. The municipal corporation last week expressed dissatisfaction over the slow progress of demolition work by the railways.
Additional Municipal Commissioner P Velrasu along with the engineers concerned visited the site last Thursday, after which the BMC issued a press note, stating, "The railway contractor has completed [demolition of] only 30 metres of the 80-metre portion of the bridge in the past two months. Only after the complete demolition of the railway bridge can the municipal corporation speed up the rest of the work."
ADVERTISEMENT
A joint meeting was organised at the BMC headquarters on Tuesday to discuss how they can avoid a delay in partial reopening of the bridge, which is crucial to smooth flow of traffic in the area. "We had a productive meeting with the railways. The work is going on as per schedule. There are some technical issues, but both the parties have reached an agreement. Since it is a complex project involving parallel work by two agencies, time sequencing of all works was discussed productively," said Velrasu on Tuesday. "We will try our best to open two lanes before monsoon as promised. Both Western Railway and the BMC are working together to achieve this," he added.
Also Read: BMC is breaking things that aren't broken and making life difficult for walkers across Mumbai
Another civic official said, "The piling and foundation work of the new bridge can start only after the demolition. However, there are works that we can start while the demolition is underway. This will speed up the work; otherwise, it will be difficult for us to construct two lanes before monsoon. So, we asked WR for a timeline of their work to adjust our schedule accordingly."
The BMC has completed 70 per cent of the road on the north side of the flyover.  However, the work has not started on the southern side, as the railways needs to complete the demolition work assigned to it. The bridge was closed by the civic body in the first week of November. Do you think Budget 2023 will meet aspirations of common man?