The thieves had operated in Pydhonie, Dindoshi and Kurla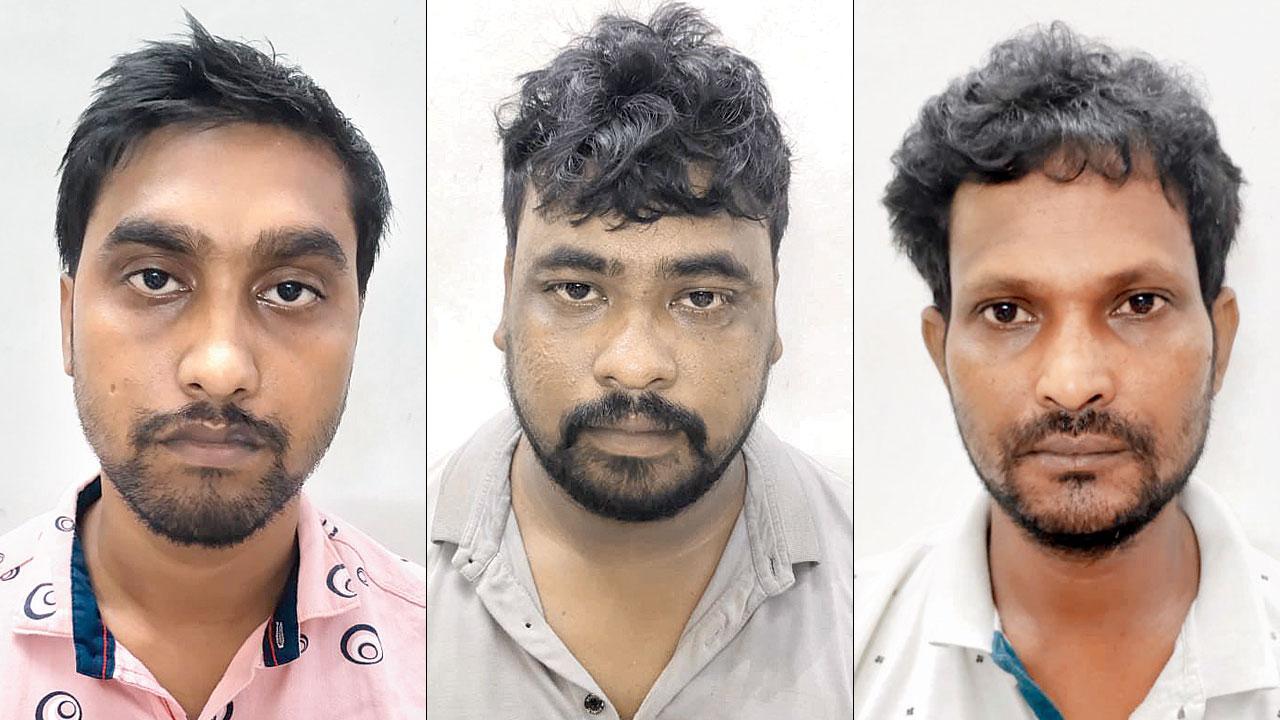 The accused have been identified as Shubhankar Basu, Suvojit Baug and Sanjay Kandar
It was a task similar to finding a needle from a haystack for the Crime Branch, when they had to zero in on three thieves who fled from Mumbai after multiple robberies. Consistent and smart efforts put in by the officials helped in tracking down the thieves from their homes in West Bengal. The arrests have helped Crime Branch officials detect offences committed by the trio in different states of the country.
An offence was registered at the Dindoshi Police station in October 2021 by Madan Baug, a goldsmith. He claimed that three persons who hailed from West Bengal had stolen gold worth Rs 12.25 lakh, after working at his workshop for merely 20 days. In March 2022, Unit 6 of the Crime Branch found that similar cases have been reported in Pydhonie and Kurla. Questioning of complainants in these two offences gave rise to a description of three thieves, which matched of that of the accused from Dindoshi.
Crime Branch sleuths found that the accused had shared fake documents while getting employed. "There was no CCTV or phone numbers to trace them. We created sketches of the accused, but finding them in West Bengal was an impossible task," said an official from Unit 6.
Rajendra Salunkhe, inspector in-charge of Unit 6, started the investigation with his men and decided to find out the travel history of the suspects from Mumbai to West Bengal. "This was a humongous task, as the booking office had hard copies of 15,000 booking slips and soft copies of 2,000 slips. But our men didn't give up and kept searching for common names of people who travelled on the same or next day after the offences were committed in Kurla, Pydhonie and Dindoshi," said Inspector Salunkhe.
Finally, during the first week of May, cops zeroed in on three suspects. Immediately, a team led by Sub-inspector Subhash Muthe was dispatched to Kolaghat, West Bengal, to nab the culprits. The suspects were arrested on May 16 and produced in a local court, and then brought to Mumbai on transit remand. The accused were identified as Shubhankar Basu, 28, Suvojit Baug, 36 and Sanjay Kandar, 38. All the accused have been sent to judicial custody. 
"Shubhankar is the mastermind of the gang. He calls goldsmiths in Mumbai to know whether they have any vacancy in their workshop. Once they get the leads, he and his gang work day and night, for 20 to 30 days. Once they gain the trust of the goldsmith, they run away with the gold," added Inspector Salunkhe. The accused have committed similar offences in Jaipur and Lucknow. The police have recovered 113 grams of gold worth Rs 5.35 lakh.
113
Grams of gold recovered from the three accused