With the century-old chawl in Byculla making way for redevelopment, its violent past as underworld don Arun Gawli's erstwhile den, where murders and durbars reigned, will finally become history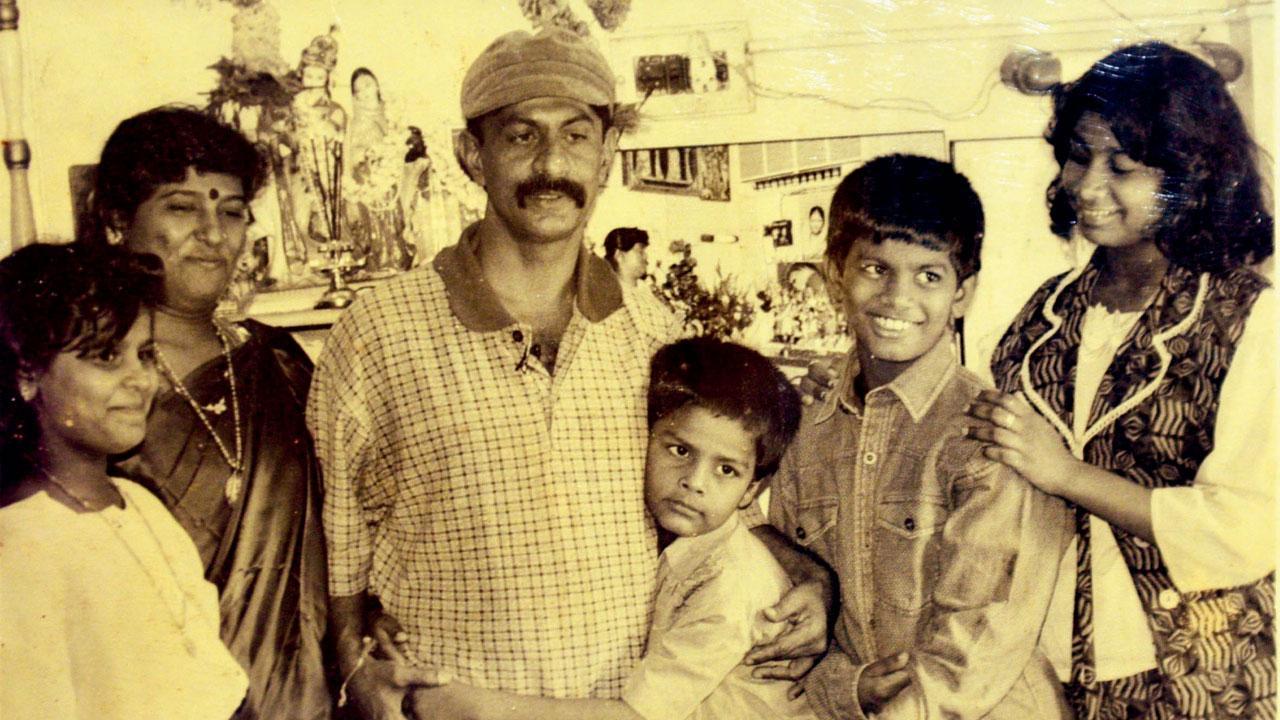 A file picture of Arun Gawli, wife Asha and their children at their residence
Mumbai's most notorious residential pocket, Dagdi Chawl, home to underworld don Arun Gawli, who used it as his crime den in the 1980s and '90s, will soon be a thing of the past. The century-old chawl in Byculla, which comprises 10 buildings, housing nearly 380 tenants, is making way for two towers of 40 floors each, as part of a redevelopment project. The Maharashtra Housing and Area Development Authority (MHADA) recently gave a green signal to the project, finally bringing down the curtain on a locality with a fractured and violent history.

Daughter Geeta Gawli, who is a BMC corporator, and wife Asha
Long before Dagdi Chawl became Gawli's fortress, it served as a modest living arrangement for mill workers and their families. The area only began experiencing unrest, when the mill workers' strike began in the early 1980s. It's around this time that Arun Gawli's tryst with the underworld began.
Son of mill workers Gulab Gawli and Laxmibai, Gawli was briefly employed at Shakti Mills, Godrej, and Crompton Greaves in the late '70s. At Crompton, he met Sadashiv Pawle, known as Sada Pawle, who introduced him to Rama Naik.
Also Read: Mumbai: 'Parole' man Arun Gawli now out for wife's ear surgery
The underworld was earlier divided on regional lines, with Maharashtrians fighting against North Indian gangsters. The rise of Dawood Ibrahim in the '80s led Gawli to establish his mark as a "Hindu don".
Gawli had already rubbed the D Company the wrong way, when he declined to join their gold smuggling business. With the threat to him and his men increasing in the area, Dagdi Chawl became the headquarters of the BRA (Babu Reshim, Rama Naik and Arun Gawli) gang.
Before Dagdi, Lalvitanchi Chawl in Byculla West was the centre of the crime world, says an ex-encounter specialist, who wished to remain anonymous. "Rama Naik was the undisputed don in Central Mumbai. The chawl housed many henchmen, including Chota Rajan. Arun Gawli too, would visit the chawl and maybe that's when he got the idea of using his chawl as a fortress. After the death of Rama Naik and Babu Reshim, there was no strong man in the crime world [to counter the D gang]. That's when Arun Gawli took charge, and made Dagdi Chawl his base."
Place of many hideouts
Gawli's darbar, which was held in the chawl, saw people come in hordes, seeking quick solutions to their problems. Those with financial disputes, real estate matters or even domestic haggles were ready to pay 'fees' for their consultation with Gawli. He earned the sobriquet of Daddy among his associates.

For several decades, Dagdi Chawl served as a modest living arrangement for mill workers and their families
During one such darbar in March 1983, Shridhar Shetty, the owner of an Udipi hotel in Byculla, allegedly abused Gawli. Things turned ugly with Gawli's gang brutally murdering him. According to police officials, this was the first incident when a murder took place inside the chawl premises. In the following months, Gawli tried to evade arrest, but later surrendered to the police.
According to the encounter specialist, there was a hidden passage, which connected the chawl to the adjacent Khatau Mills, helping gangsters flee during the police raids. "As the gang got bigger, several cavities, hidden stairs and hideouts were made within the chawl." Even residents started shielding Gawli's gang members. Police sources say that there was a time when nearly 700 men worked for him.
Catching Gawli at his den was next to impossible. Suresh Walishetty, who was then posted as senior inspector of Crime Branch Unit 2, has narrated the incident of his first arrest in his book, Mi Suresh Walishetty.
He recounts how on July 20, 1990, around 60 officers were taken to Dagdi Chawl. "Except for our boss Arvind Inamdar and a few seniors, nobody knew what we were up to.
Inamdar saheb had set a bandobast of the State Reserve Police Force around the chawl," he writes.
"When we entered the chawl, everyone was looking at us. I entered Gawli's house, but his wife told us he was not at home… We kept searching for hours, but couldn't find him. The raiding cops had begun feeling embarrassed. Some were speaking of returning. I was inside a room, where a sofa was kept. I noticed it move. I immediately told my subordinate to check the sofa. He removed the mattress and plywood and we found Gawli, trying hard to fit inside."
From crime den to political HQ
As the Bombay Police started coming down heavily on gangs in the 1990s, activities in the chawl slowly began losing pace. Gradually, the chawl made room for a charitable clinic, akhada, a gym, and a gaushala (cow shed). As Gawli's clout grew, Navratri festival came to be celebrated in a big way. Several gang members, builders and local representatives would pay visits during these festivals. The iron gates were closed all the time. Any guest would be thoroughly searched, before being taken to Gawli.

The Navrati Ustav, a tradition started by Gawli
Shiv Sena chief Bal Thackeray's mention of Gawli and other Marathi dons as "amchi mulye" (our kids) meant that the don also enjoyed political support.  However, in 1997, after a fall out with the party, Gawli launched his own party, Akhil Bhartiya Sena.
That same year, Gawli's trusted aides Sada Pawle and Vijay Tandel, were eliminated by encounter specialist Vijay Salaskar in Ghatkopar.
The don now started focusing his energies on making it big as a politician. In 2002, Sunil Ghate, an ABS candidate, got elected as BMC corporator. The electoral success changed the fortunes of the chawl. Soon after, in the 2004 Assembly elections, Gawli was elected as MLA from the Chinchpokli constituency. His daughter Geeta too, got elected as corporator in the BMC.
Gawli's terror reign came to an end, when he was convicted and sentenced to life imprisonment, for the murder of Shiv Sena corporator Kamlakar Jamsandekar in 2007. Gawli is currently out on a 45-day parole for his wife's surgery.
Speaking with mid-day, Gawli's wife Asha said she has fond memories of growing up here. "I came to stay in Dagdi Chawl when I was around nine years old. My grandmother used to live here. I got married, and gave birth to my kids in this place. Like the rest of Mumbai, this area has also seen a lot of changes. When Daddy realised the chawl would be demolished, even he felt bad. But, it had to happen."
His corporator daughter, Geeta, says, "Any person, who has lived in the chawl, will miss its lifestyle. But, we will make sure that the ground, which hosts the Navratri Utsav, will be preserved even after redevelopment. We want to continue that tradition."