As Indian advisory urges students stuck in Kharkiv to leave sieged city immediately, some are risking a move to border areas, while many are seeking shelter where they are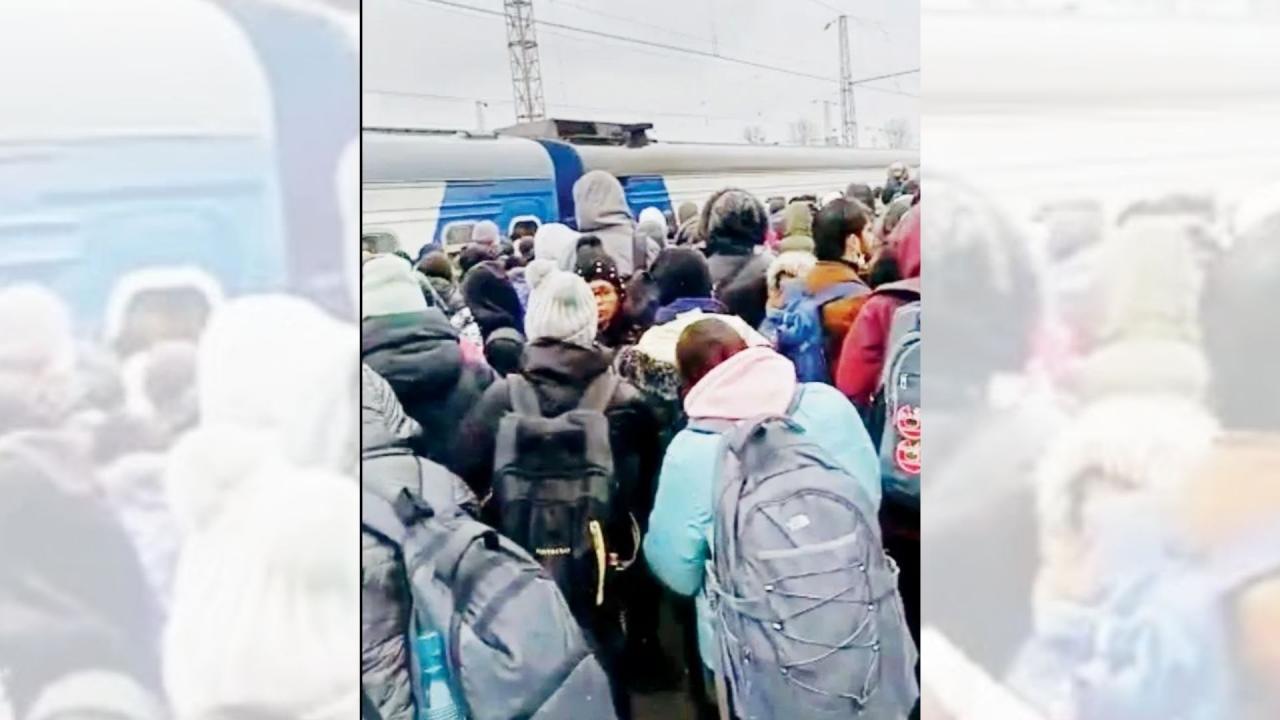 Students struggle to board a train in Kharkiv city of Ukraine
Following repeated advisory by the Indian Embassy in Ukraine asking all Indians in Kharkiv to leave the city immediately for their safety and security, there was panic among the students stuck in the city which is witnessing rising attacks. Around 400 students have moved to the railway station to board trains to the three settlements as advised by the embassy. The parents in India are a worried lot as their wards are left on their own and cannot be contacted for long periods. The Indian embassy has advised all to reach Pesochin, Babaye or Bezlyudovka by 1800 hours (Ukrainian Time) on Wednesday. It also added that if there are no modes of transportation, people should escape on foot.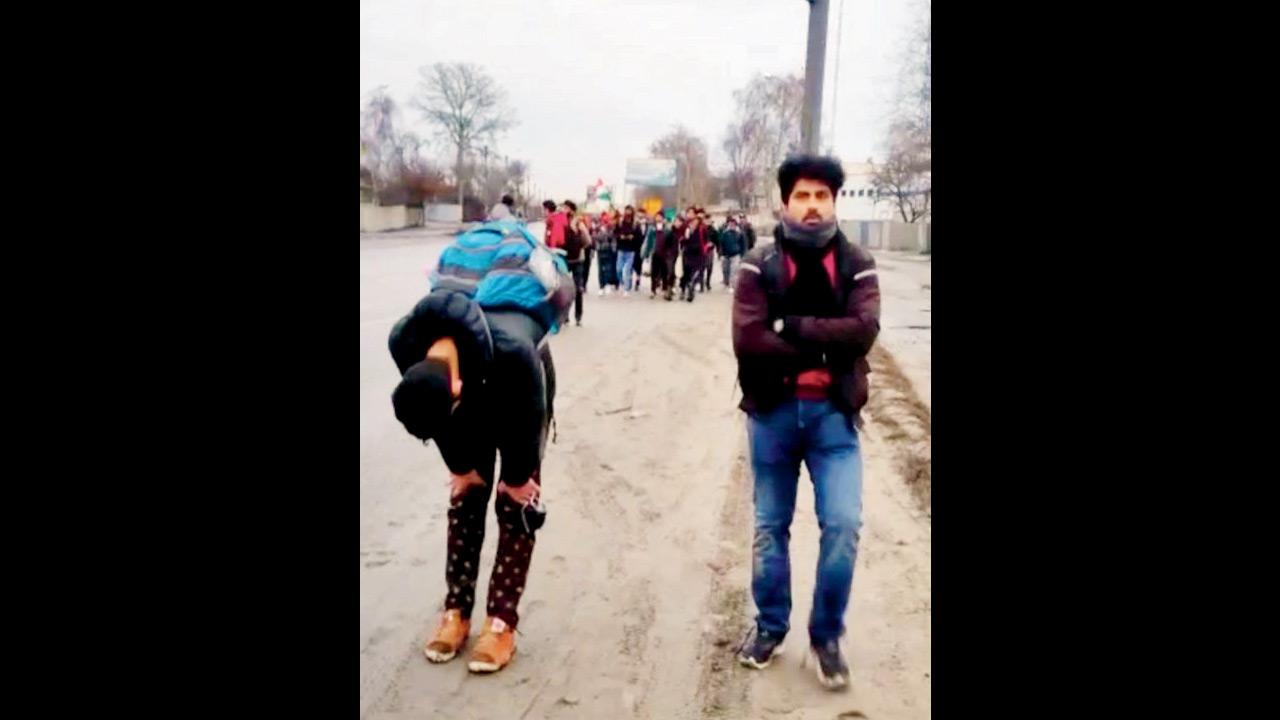 Students walk towards Pesochin on Wednesday afternoon
'Left on their own'
Rushauti Bhogale, a first-year MBBS student, has managed to escape the war-torn city. Her mother Urvashi said, "My daughter left Kharkiv in the morning and boarded a train on Wednesday along with four girls to Lviv." She also shared a video of a crowded Kharkiv station where students were waiting for a train. Bhogale said there were no personnel on the ground to help the students, adding, "They are traumatised and are struggling to reach a safe place. They do not have enough food or water or money with them, they are sharing whatever they have with each other."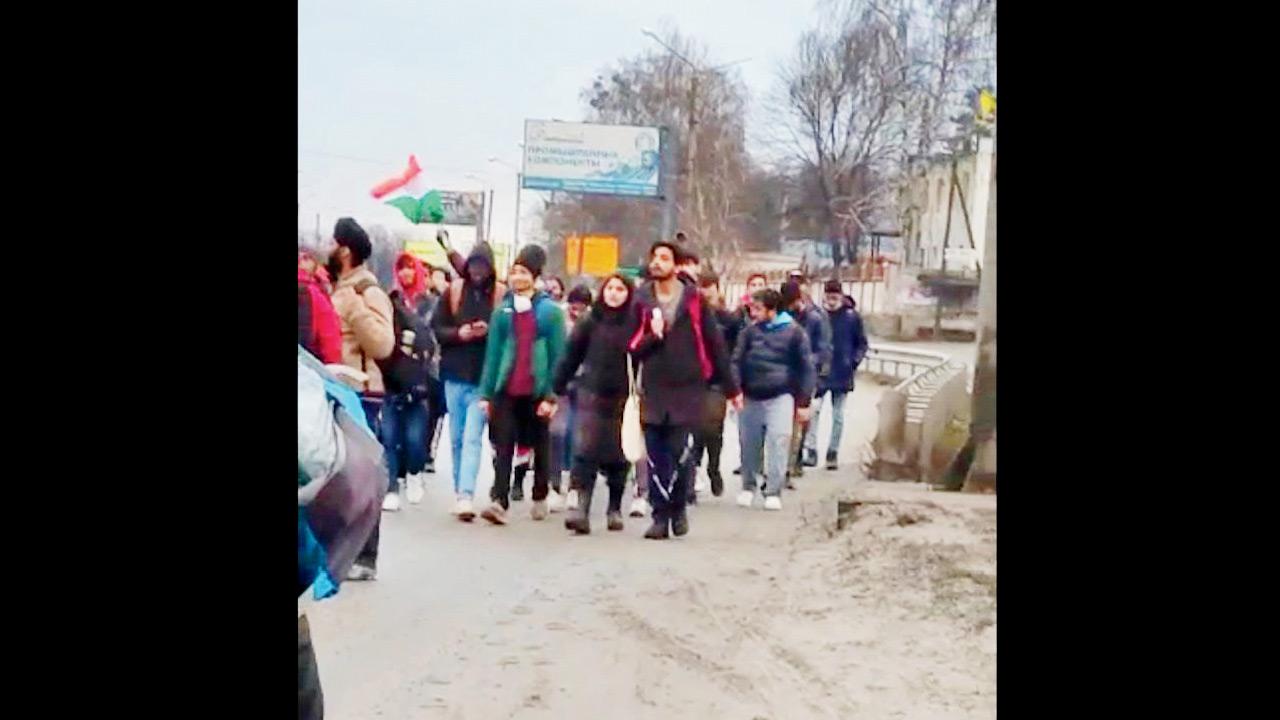 Students walk from Kharkiv to Pesochin on Wednesday
She added that she as well as other parents are facing problems in contacting their wards. "We could not contact her at all on Tuesday. It was only after she boarded the train that we got to hear from her. I am just praying for the safety of all children," Bhogale said. Bhogale also received a video message from Dr Karan Sandhu, a coordinator from Kharkiv who is helping around 1,500 Indian students to reach the station. 
'Everything is in ruins'
A 22-year-old from Goregaon, Keranap Kirupakaran, has escaped the bombing at Kharkiv which killed his friend Naveen Shekharappa, 21, on Tuesday, but is still in the danger zone with 16 others students. Kirupakaran and the group have left for Romania so they can board a flight to India from Bucharest.
Kirupakaran, a fourth-year MBBS student, told mid-day, "When Russian soldiers attacked Kharkiv on Tuesday, we were in a bunker. Our junior Naveen Shekharappa died in the bombing outside the University in front of our eyes. We wanted to move out from there but could not due to incessant bombing and firing. In the evening when bombings stopped we found everything in ruins."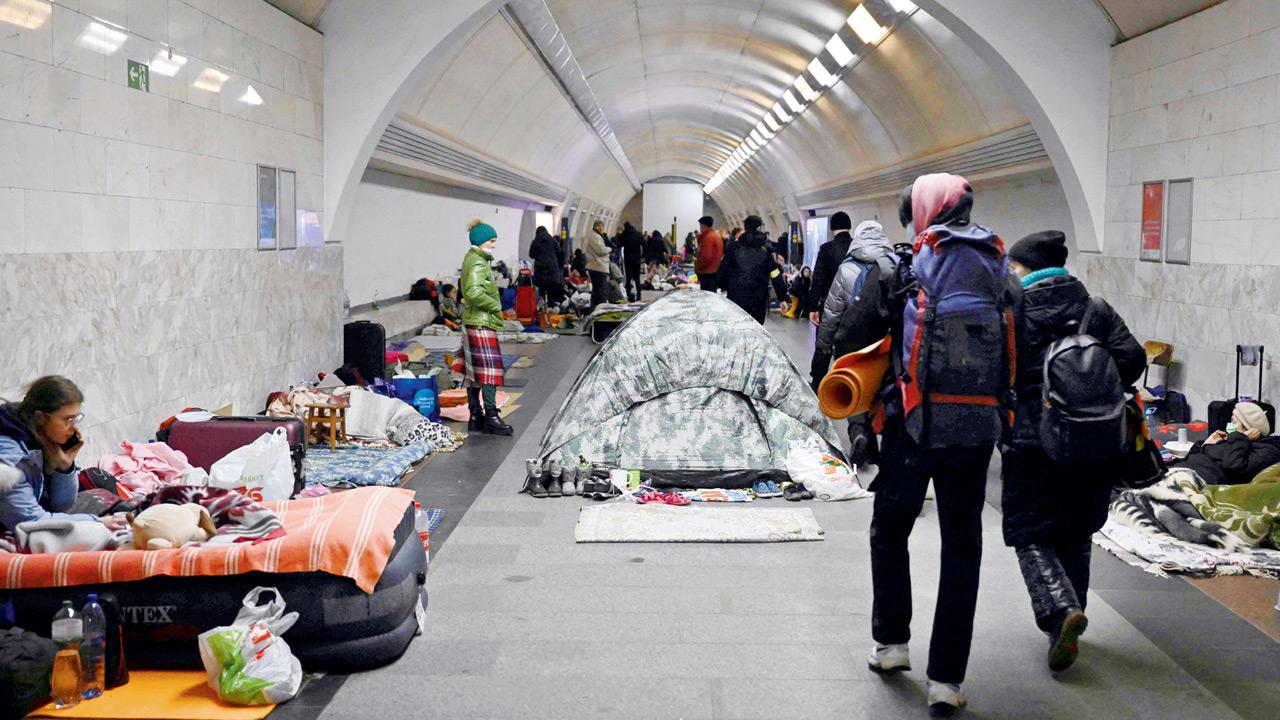 Civilians take shelter in an underground metro station in Kyiv. Pic/AFP
Describing her journey so far, she said, "We walked 4-5 kms and stopped a bus. The bus driver agreed to drop us at the Romania border or airport, but asked for 150 dollars per person. Many of us do not have cash, but we made the payment because we need to cross the danger zone. Bombing, firing and blasts are happening, and we are not sure if we will reach safely." "Now we are moving towards Hungary. I hope we will reach home safely," Kirupakaran said.
Kirupakaran's brother Johnson from Oshiwara said, "I am in touch with my sister. I am worried about her. She is crossing the war zone where Russian soldiers are continuously attacking. She also saw her friend die right in front of them. They didn't get any help. I am also trying to contact the Indian Embassy but she didn't get any help. Nobody is guiding them. We just want her back home safe."
(Faizan Khan, Diwakar Sharma and Shirish Vaktania)