Pictures of CM Eknath Shinde, and Dy CM Devendra Fadnavis have been pasted on pillars of both the new Metro lines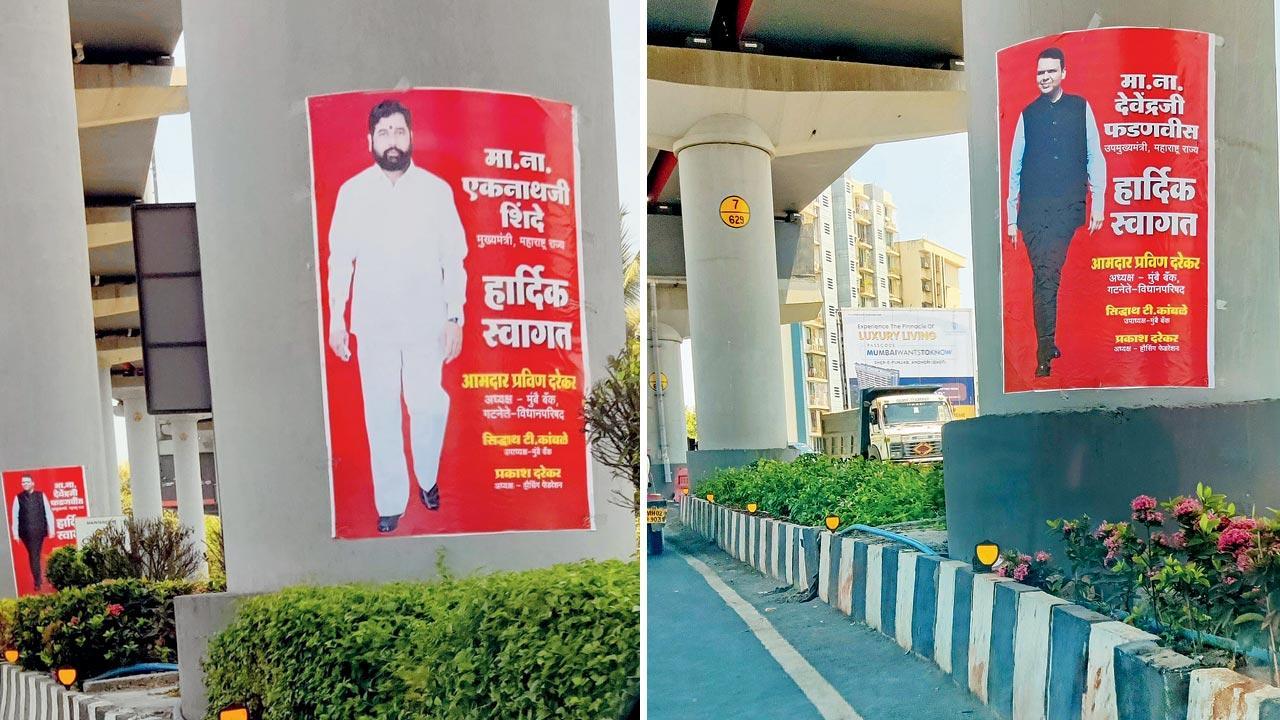 CM Eknath Shinde and Deputy CM Devendra Fadnavis's posters adorn pillars of Andheri to Dahisar Metro Line 7 on the Western Express Highway. Pics/Nimesh Dave
Pictures and banners deface the pillars of Andheri to Dahisar Metro Line 7 and Dahisar D N Nagar Metro Line 2A. Numerous political stickers, welcoming Chief Minister Eknath Shinde and Deputy Chief Minister Devendra Fadnavis, alongside non-political ones, have been illegally pasted on the pillars of both metro lines. According to the Metro Railways Act of 2002, this act is an offence and is punishable with a six-month imprisonment or a fine of Rs 1,000.
Many pillars of Metro Line 7, particularly between Andheri East and Dahisar, prominently display large stickers of political parties. Notably, stickers welcoming Fadnavis and Shinde are the most noticeable ones on the metro pillars.
ADVERTISEMENT
Additionally, another sticker featuring the logo of the Mumbai Traffic Department and a message from the Ashwin Malik Meshram Foundation urging motorists to adhere to speed limits at all times. These stickers were not only seen on the pillars of Metro Line 7 but also on the pillars of Metro Line 2A. Several G20 stickers were also pasted on many pillars.
Also Read: 'Juhu cop' visits witness with false Marathi statement, asks her to sign it
Anil Galgali, an RTI activist, stated, "Despite the Metro Act making it illegal to place posters and banners in metro premises, it has been observed that many political banners and stickers continue to be affixed to the pillars of metro lines 2A and 7. The Maha Mumbai Metro Operation Corporation Limited (MMMOCL) should promptly file a police report against anyone found responsible for sticking stickers and banners on metro pillars or other metro property."
Since the inception of Versova Andheri Ghatkopar Metro Line 1, the issue of illegal stickers and posters on the metro corridor pillars has persisted. Particularly during festivals, illegal stickers are affixed to Monorail pillars in Wadala, Lalbaug, and Parel. Removing these stickers proves to be a challenging task due to the strong adhesive used.
71 notices were issued in 2015
In 2015, authorities issued notices to 71 individuals, including shopkeepers and members of political parties, for placing posters and banners on the pillars of Versova-Ghatkopar Metro Line 1. Despite the notices, about 28 police complaints were filed against offenders who ignored the warnings. 
Rs 1,000
Fine for pasting posters on Metro pillars Will you take intranasal vaccine as a precautionary dose?