Launched and named 'Vagir' on November 12, 2020, the submarine in its new avatar has the distinction of having the lowest build time among all indigenously manufactured submarines to date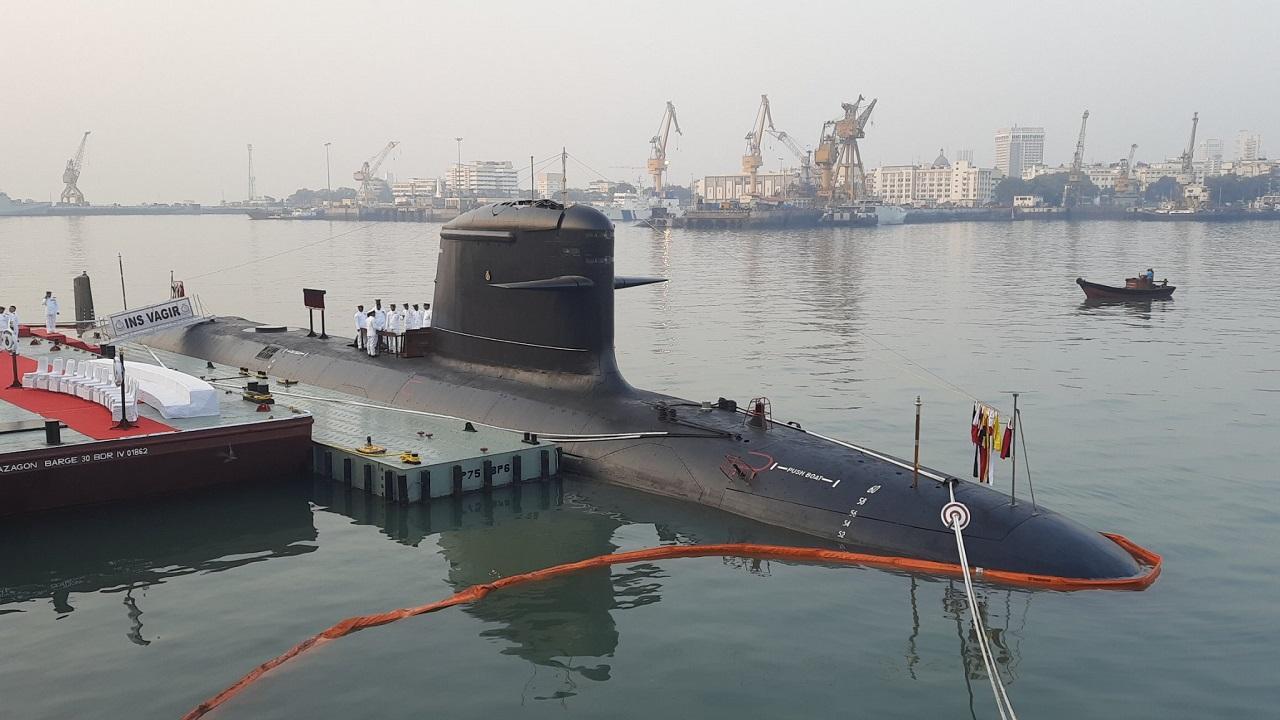 Submarine INS Vagir. Pic/Official Twitter handle of PRO Defence Mumbai
The Indian Navy on Monday commissioned the fifth diesel-electric Kalvari-class submarine Vagir. INS Vagir, which has been built by Mazagon Dock Shipbuilders Limited in Mumbai with technology transfer from France, was commissioned in a ceremony attended by Chief of Naval Staff Admiral R Hari Kumar.
"The submarine will boost the Indian Navy's capability to further India's maritime interests in deterring the enemy, and conducting Intelligence, Surveillance and Reconnaissance (ISR) to provide decisive blow in the times of crisis," the Navy said.
Launched and named 'Vagir' on November 12, 2020, the submarine in its new avatar has the distinction of having the lowest build time among all indigenously manufactured submarines to date.
Also Read: Submarine INS Vagir commissioned, set to give boost to Navy's ISR capabilities, special ops
Here's all you need to know about INS Vagir:
According to the Defence ministry, 'Vagir' undertook her maiden sea sortie in February 2022, marking the commencement of sea trials and has gone through a series of comprehensive acceptance checks and stringent and demanding sea trials prior to being commissioned.
The submarine was delivered to Indian Navy by MDL on December 20, 2022.
'Vagir' will boost the Indian Navy's capability to further India's maritime interests and is capable of undertaking diverse missions including anti-surface warfare, anti-submarine warfare, intelligence gathering, mine laying and surveillance missions.
'Vagir' means sand shark, which represents stealth and fearlessness, two qualities synonymous with the ethos of a submariner, the Navy said.
Equipped with some of the best sensors in the world, the INS Vagir's weapons package include sufficient wire guided torpedoes and sub-surface to surface missiles to neutralise a large enemy fleet.
The submarine also has the capability of launching marine commandos for special operations, while its powerful diesel engines can quickly charge batteries for a stealth mission.
For self defence, the submarine has a state of the art torpedo decoy system.
Four of the Kalvari class of submarines have already been commissioned into the Indian Navy.
The erstwhile 'Vagir' was commissioned on November 1, 1973, and undertook numerous operational missions including deterrent patrols.
The submarine was decommissioned on January 7, 2001, after serving the nation for about three decades.
'The Sand Shark' (Vagir) represents 'Stealth and Fearlessness', two qualities that are synonymous with the ethos of a submariner.
Vagshir, the last of the Kalvari submarines, is at an advanced stage of construction and is being readied to commence her first surface sea sorties in March-April. 
(With inputs from Agencies)