Forest department official says he will ask NHAI to build underpasses at the earliest; wildlife experts suggest installing fencing on the highway at the spot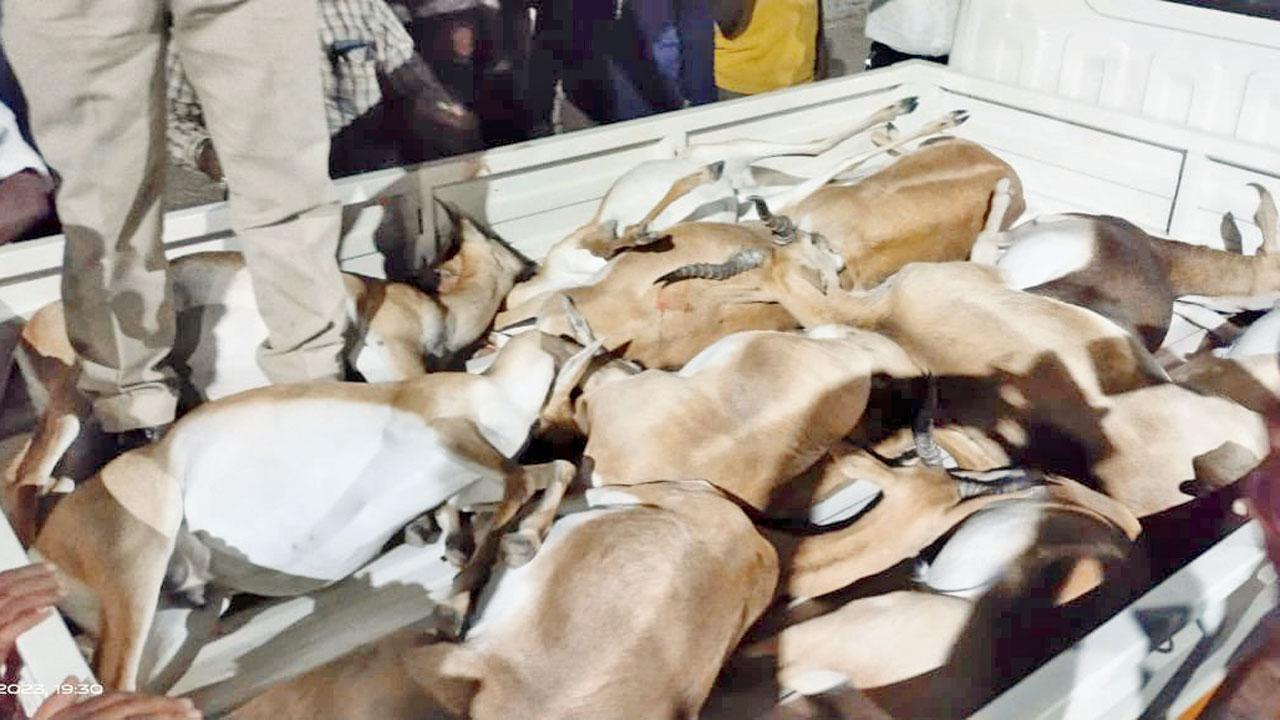 Twelve blackbucks died while three were hurt after falling off a bridge, in Solapur district
The state forest department will ask the NHAI to construct two underpasses at the site where 12 blackbucks fell and died on Saturday. Wildlife experts have suggested that nets be installed to prevent wild animals from getting on the highway.
A herd of 15 blackbucks are said to have jumped off a bridge onto the Solapur-Pune-Mangalvedha National Highway on Saturday evening. While 12 died, three were injured. According to a forest department official, the blackbucks were trying to cross the highway when they fell 35 feet onto the Solapur-Mandrup bypass road, on Saturday evening. Three blackbucks were injured.
ADVERTISEMENT
The bypass road, which was reportedly built by cutting into a hill, was opened four months ago. It passes through the area where the blackbucks graze. Sources from the forest department told mid-day that one more blackbuck had died recently. They added that the area currently has a population of close to 300 blackbucks.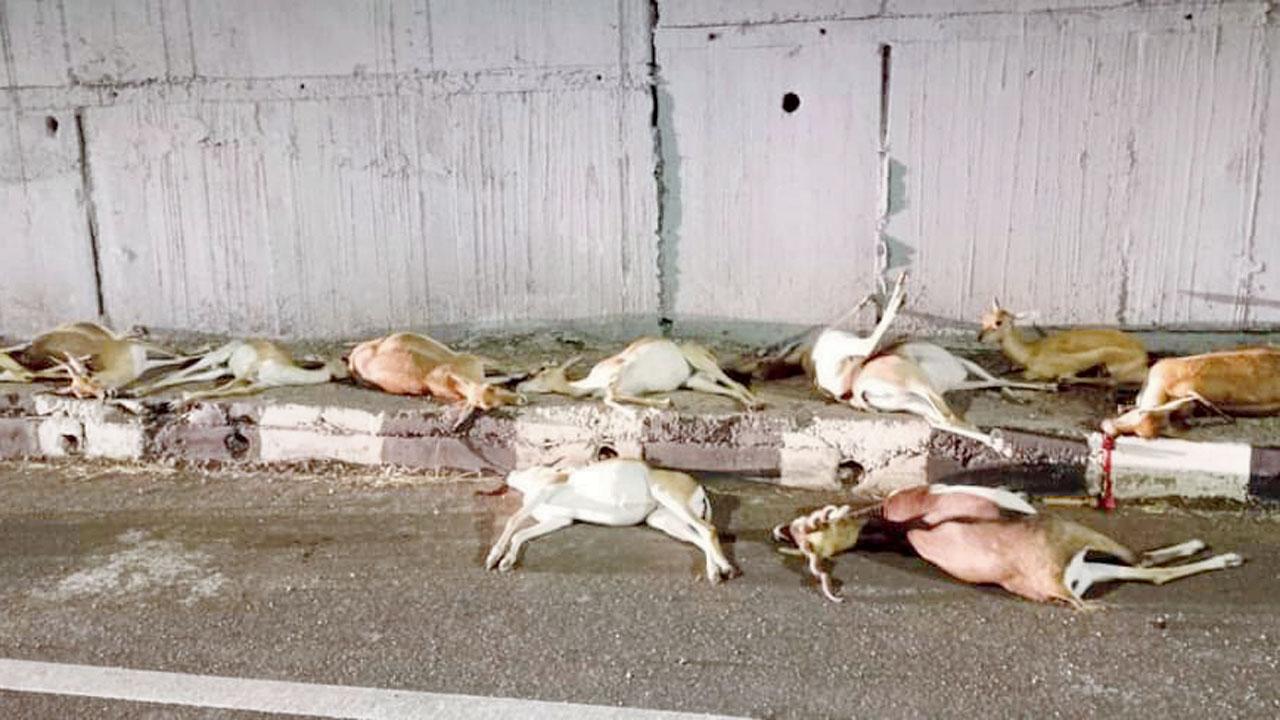 Dr Clement Ben, additional principal chief conservator of forest (APCCF), Western Wildlife Region, Mumbai, said, "The incident is really unfortunate and I will write to the National Highway Authority of India (NHAI) for the construction of two underpasses in the area at the earliest for the safe passage of animals."
Dr Bilal Habib, biologist and senior scientist from Wildlife Institute of India (WII), said, "Understanding species ecology is critical for designing highways and mitigation measures through sensitive habitats. We, as a country, have shown commitment towards conservation by building the largest mitigation measures for wildlife. Existing highways through sensitive habitats need to be prioritised."
Also Read: Maharashtra: Samruddhi e-way part that has India's widest tunnels almost ready
Bittu Sahgal, editor, Sanctuary Asia magazine said, "Ideally, roads should not intersect known biodiversity areas and corridors, which should be bypassed. If roads, canals and other linear infrastructures have already been built, independent wildlife experts from organisations such as the Bombay Natural History Society should be asked to study the alignments and suggest ways to mitigate risks by way of under passes, overpasses, and other means. In this case, we can expect more deaths, and it is vital that a rapid survey be conducted to come up with solutions. The cost should be added to the project cost."
Maharashtra's former Principal Chief Conservator of Forest of Wildlife Sunil Limaye said, "The incident is really unfortunate. I believe that while constructing linear infrastructure projects passing through wildlife habitats or close to one, there is a need to have a proper plan for mitigation measures specific to the wildlife species of the area. For the area where the blackbucks died, the forest department should approach the NHAI and see to it that nets are installed on the wall of the flyover and underpasses should be constructed for safe movement of the wild animals. The Maharashtra State Road Development Corporation has constructed good mitigation measures including underpasses and overpasses for wildlife and the NHAI should also follow the same." 
35 ft
Height from which blackbucks fell