They want others to check tyre pressure to prevent bursting, especially since summer will start soon; since the road was thrown open, there have been 900 accidents on it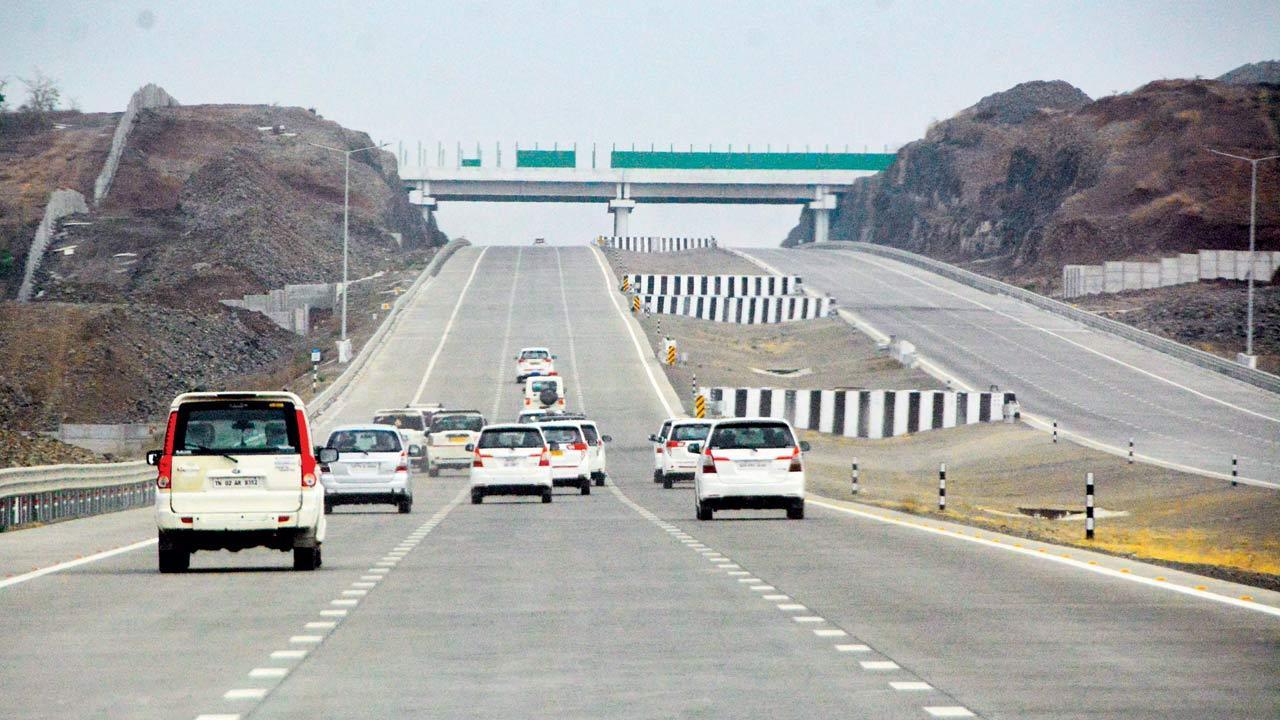 Drivers have warned others to be careful on the Nagpur-Shirdi stretch of the Hindu Hrudaysamrat Balasaheb Thackeray Maharashtra Samruddhi Mahamarg. pic/ Sameer Markande
Motorists have warned people to get the pressure in their car tyres checked before they travel on the Nagpur-Shirdi stretch of the Hindu Hrudaysamrat Balasaheb Thackeray Maharashtra Samruddhi Mahamarg, due to the incidents of tyres bursting on it. They have given this word of caution as summer will start soon.  
A motorist who travelled on the highway, tweeting under the handle Cleverlion on Monday wrote, "Anyone traveling via samruddhi highway kindly check tyre pressure and fill it with nitrogen air. As there are a lot of accidents due to tyre blast. I face the same. And there are no facilities nor any help line and emergency number. My vehicles both rear tyres burst one by one in some duration. Lucky got help from roadside farmers." (SIC). It is said that filling car tyres with nitrogen greatly reduces the chances of them bursting.
ADVERTISEMENT
Aslo Read: Five fascinating facts about Khotachi Wadi every Mumbaikar must know
On March 23, one Sagar Baheti tweeted, "Hope soon officials will take measures to reduce accidents on Samruddhi Highway due to tyre bursting as the summer is coming. Maybe an advisory to check the tyre pressure before joining the highway and to fill up Nitrogen in tyres. Care for everyone." (SIC).
Counselling for drivers
It has been reported that from the time it was thrown open to the public in December, till date, the Nagpur-Shirdi stretch of the Samruddhi highway has witnessed 900 accidents, and 31 people have died in them. In order to prevent accidents on the highway, the authorities are planning to start counselling—for drivers —on eight spots along the route. Drivers who speed or drive rashly will be stopped and made aware of the dangers, by the highway traffic police.
Also Read: Maharashtra: Not a single stop to take break on Samruddhi Mahamarg expressway 
According to news reports, of all the accidents that took place in the first hundred days, 130 took place due to tyre punctures, 108 were due to tyres bursting and around 124 took place because of vehicles running out 
of fuel.
There have also been several instances of accidents on the Nagpur-Shirdi stretch of the expressway allegedly due to over speeding, and there have been instances of wildlife and stray dog roadkills, too. 
On December 11, Prime Minister Narendra Modi had inaugurated the first phase of the highway, after which it was thrown open for traffic.
For help
The Highway Safety Police (HSP) have set up 15 traffic aid posts (TAPs) along the highway. MSRDC has deployed over 150 security personnel drawn from its pool of ex-servicemen to aid and assist the Traffic Aid Posts set up by HSP. At least 21 ambulances, 21 quick response vehicles, 15 cranes of 30 metric tonnes each, and 15 patrolling vehicles have been kept ready for response along the stretch.
130
No. of accidents due to tyre punctures