MahaRERA issues show-cause notice to developer; 261 projects' builders asked how they will meet Dec deadline for handing over possession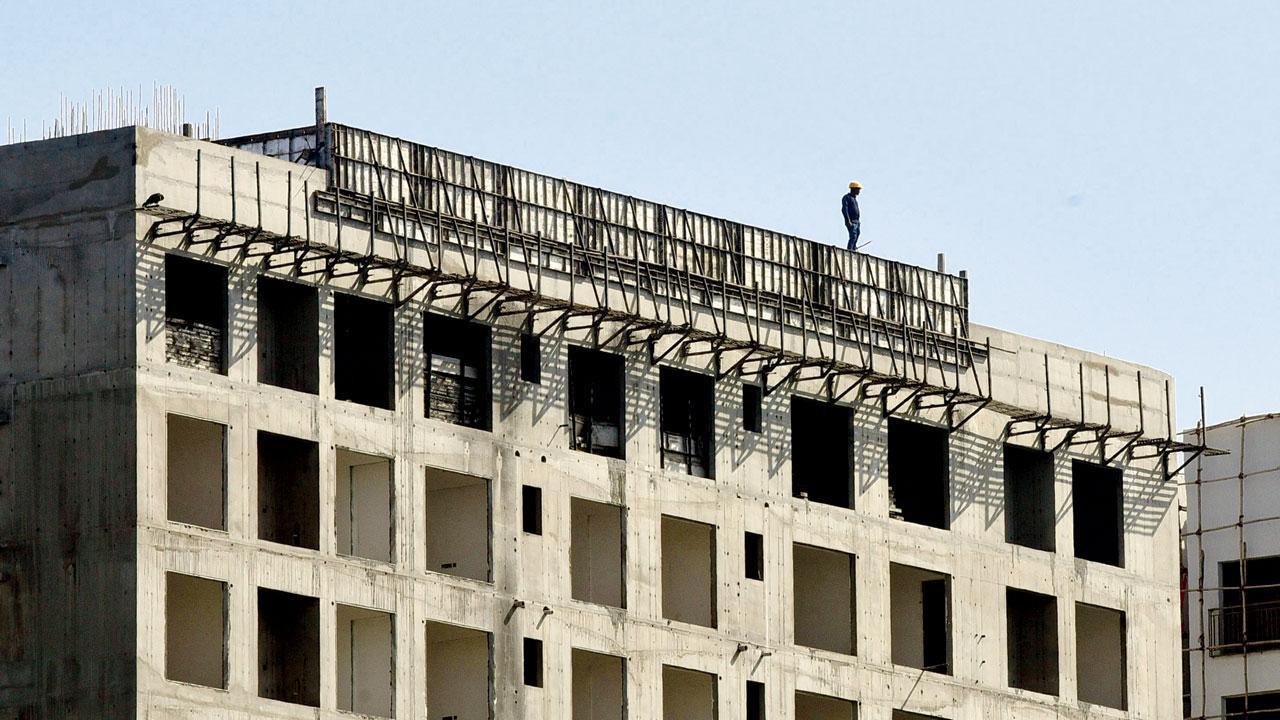 A worker stands on the roof of an under-construction building at Nehru Nagar, Kurla on Thursday. Representation Pic/Shadab Khan
MahaRERA has come across a project whose developer allegedly utilised 100 per cent of funds but merely completed 20 to 30 per cent of the construction work. "We have issued a show-cause notice to the erring developer," mentioned a release issued by MahaRERA. The case came to fore after MahaRERA Chairman Ajoy Mehta asked officials to scrutinise projects listed with the authority. According to Section 11 of the Real Estate (Regulation and Development) Act, it is mandatory for a registered developer to upload details of a project every three months, and a violation could attract a penalty of up to 30 per cent of the project cost.
Also, it is binding on the developer to ensure at least 70 per cent of the money paid by the buyer and investor is maintained in a separate account and used only for construction and land charges by the builder. While scrutinising several projects, the authority noticed that a developer had used 100 per cent of funds despite the project not even crossing 30 per cent of actual construction on the ground.
ADVERTISEMENT
Besides this case, the MahaRERA also observed that in many projects, December 2023 was mentioned as the deadline for handing over possession but in reality, not even 40 per cent of the construction work was completed. "There are nearly 261 projects that are between Rs 25 to Rs 500 crore and are under scrutiny. The regulatory authority has issued show-cause notices to these erring developers asking that they furnish plans on how they are going to complete their projects in the next nine months (by December 2023)," the release issued from Mehta's office added.
Also read: MahaRERA can't be all roar and no bite
According to MahaRERA, 120 projects in Mumbai and 43 in Thane have been issued a notice asking how they plan to complete their project by the said deadline. Similar notices have been given to 67 developers in Pune and nearly 15 in Raigad. While six builders have been served notices in Palghar. In Nagpur and Nashik three and two have been issued notices, while one project each is facing similar action in Satara, Kolhapur, Amravati and Aurangabad. Developers have been given 15 days to reply to the notice. "The real estate regulatory body zeroed down on these projects through a project monitoring system," the release mentioned.
Last week, mid-day reported that nearly 40 per cent of erring developers have abided by MahaRERA rules since being issued notices in January for non-compliance. The MahaRERA had issued notices to 19,539 developers for failure to update their project details, like financial disclosures and CA and architect certificates, on their respective websites. Over 7,000 of them replied to the regulator.