Flat buyers to converge at Collector's office in Bandra E on Saturday, demand filling of vacancies, more benches to speed up resolution of stalled cases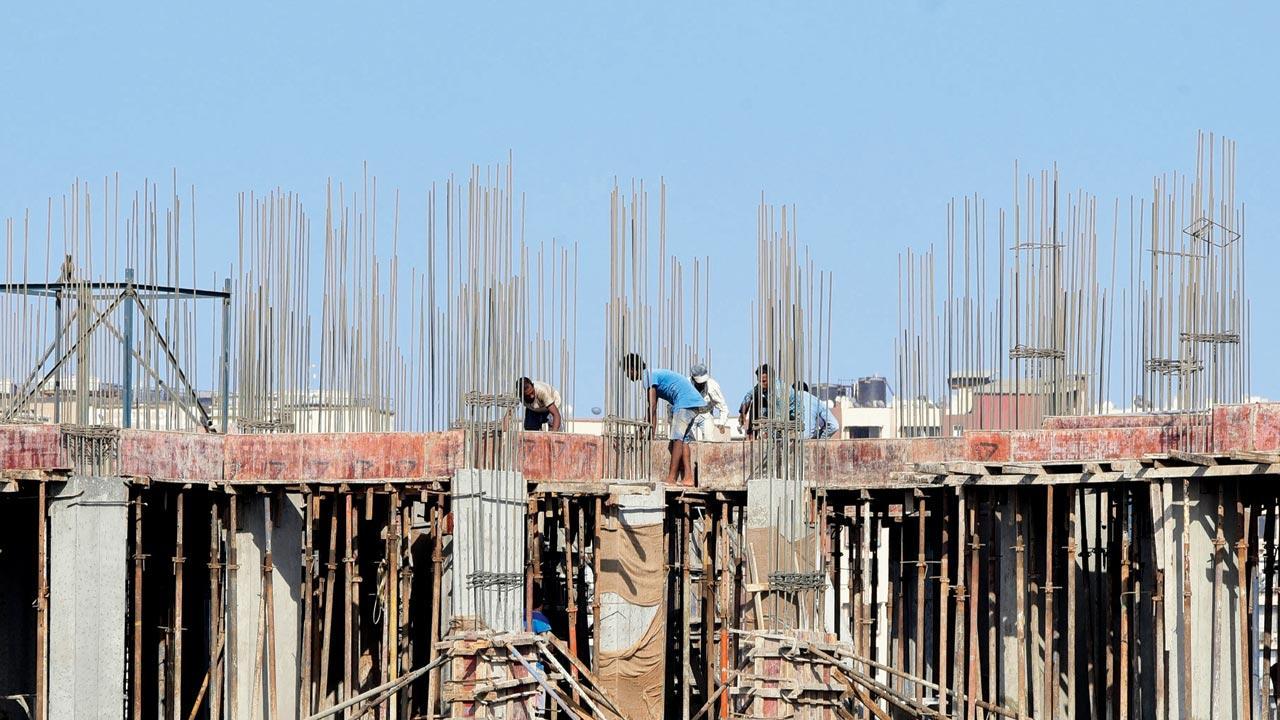 According to Godfrey Pimenta of Watchdog Foundation, slowdown in completion is visible in upper-mid and premium projects. Pic/Shadab Khan
Come March 4, hundreds of aggrieved flat buyers from across the city and the Mumbai Metropolitan Region (MMR) will be protesting outside the office of the suburban collector in Bandra East against the state government and the MahaRERA over failure to give justice to aggrieved litigants. The protest has been called by the NGO, Watchdog Foundation.
The aggrieved parties have cited the state government's failure to fill vacancies in MahaRERA, the failure to add benches to address the pendency of cases, and other reasons for the protest. MahaRERA practitioners claimed that over Rs 543 crore belonging to 884 litigants is stuck due to delay in issue of warrants against developers.
ADVERTISEMENT
Advocate Godfrey Pimenta, who practices in MahaRERA and is a trustee of the Watchdog Foundation, said, "The Watchdog Foundation is supporting the genuine demand of flat buyers who had high hopes when the Real Estate Regulation and Development Act, 2016, was enacted. Due to paucity of members in the MahaRERA, the average time taken for disposal of cases is between eight to 15 months against the mandatory period of  60 days or two months."
Also read: Maharashtra: MahaRERA brings transparency into real estate sector to help the homebuyers

"Natuarally, flat buyers are frustrated. Even an order in favour of the buyer creates a hassle because execution applications are also taking time for disposal. Repeated demands to the state government to increase benches and fill vacancies in MahaRERA have fallen on deaf ears," said Pimenta, adding that 200 to 300 protesters, most of them flat buyers, are expected to attend the stir.
Addressing the stalled housing projects as creators of 'ghost cities', Pimenta said, "As per the property advisory company report of 2019, 4.54 lakh units are part of stalled or delayed projects in seven cities. Of these, 84 per cent are in two major metro cities — Delhi NCR (62 per cent) and Mumbai (22 per cent). The 4.5 lakh stalled units are valued at Rs 4.62 lakh crore."
Pimenta added, "The slowdown in completion of projects is not across the spectrum of housing categories but visible in upper-mid and premium categories. A push from the government and funding agencies along with a strict code of conduct among developers may improve the situation," Pimenta concluded.
'Jiwat Manglani, a Chembur resident who had invested in Clan City in Taloja, said, "I will join the protest at the suburban collector's office with 30-40 others. Out of over 1,500 flat buyers duped by the developer of Clan City, around 125 have approached MahaRERA. Cases from 2019 are still pending. I filed my complained in January this year. I don't know when the matter will be heard. Litigants who have lost everything in the process of getting their dream home should be heard on priority." mid-day reported on the plight of the Clan City buyers in its February 25 report titled, '5 years on, Clan City buyers seek relief'.
Statistics worrisome
CA Ramesh Prabhu, founder chairman of MahaSEWA, said, "Till date, 20,447 complaints are filed with MahaRERA since its formation in May 2017. Of these, 13,871 cases are disposed of, which means 6,576 cases are pending. So, on average 2,311 cases are getting disposed of annually since MahaRERA's inception six years ago. At this speed, it would take another three years to clear pending cases. With 10 to 12 new cases registered daily, the pendency will only pile up. In addition, Rs 543 crore of 884 litigants is stuck as MahaRERA warrants against developers are pending." Prabhu added that posts of two members awre vacant. At present, 20-25 cases are heard by one member, and 10-15 are heard by the MahaRERA chairman personally. Since the chairman also has to handle other administrative tasks, he is unable to devote more time even if he wishes to. This is bound to increase pendency.
Proposing a solution, Prabhu said, "Earlier, the former MahaRERA chairman had demarcated complaints in two categories—complaints under Sections 7 and 8 (stalled projects) and complaints under Section 18 (delayed interest on possession) of RERA. Complaints regarding stalled projects were given priority as litigants were directly affected and crores were at stake. However, at present, all cases are considered together. I find the former system more suitable."
Advocate Vinod Sampat said, "There are no steps to protect the interest of flat buyers. Why are litigants losing faith in MahaRERA and thinking of morchas? It's only because justice delayed is justice denied."
02
Vacancies in MahaRERA
The demands
. Appointment of more members on MahaRERA for speedier disposal of cases
. Mandatory disposal of RERA cases within 60 days from date of filing of complaint
. Give SWAMIH funds to stalled real estate projects Forensic audit of stalled projects 
. Seizure of properties of rogue developers under Maharashtra Protection of Interest of Depositor Act
. Speedier auction of properties of the developers in case of warrants of attachment 
. Termination of Letter of Intent for stalled SRA scheme for more than three years and appointment of new developers in their places. Do you agree with the management`s decision of only letting devotees offer jal abhishek at Babulnath temple?