Passengers, others can savour range of cuisines in modified unserviceable rail coaches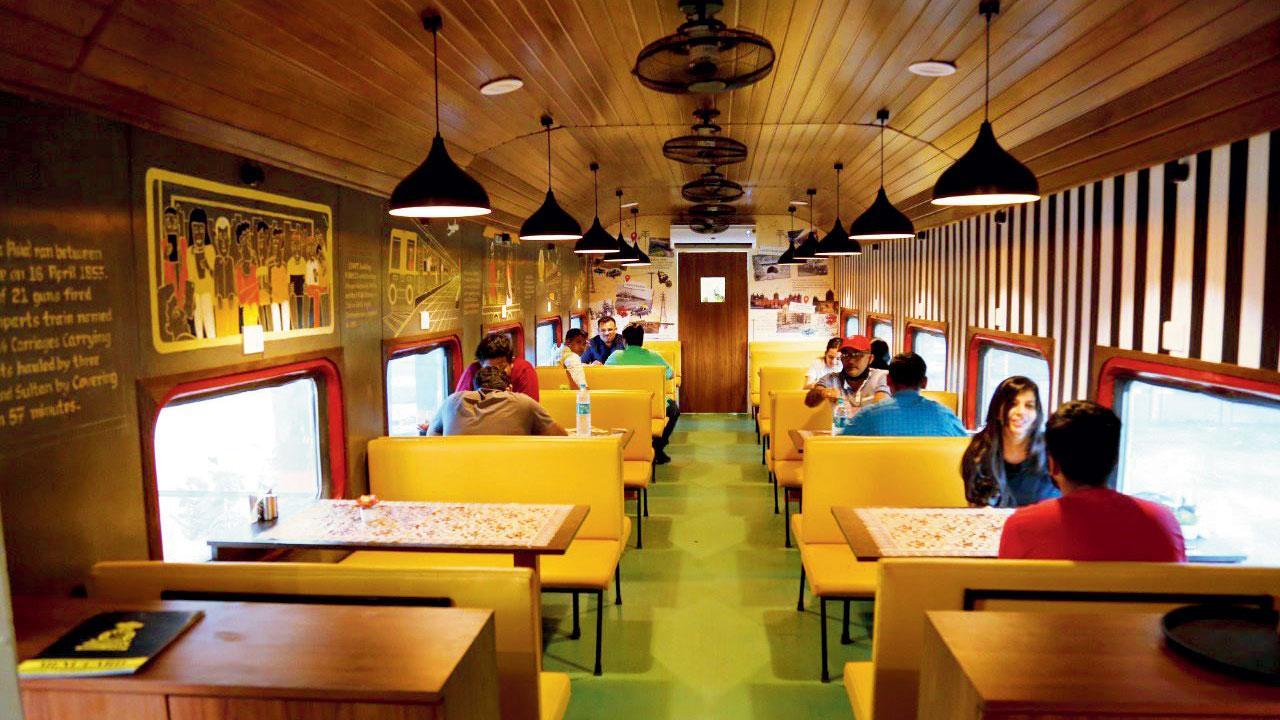 The restaurant-on-wheels rail coach at the Chhatrapati Shivaji Maharaj Terminus
Old railway coaches turned into swanky restaurants will soon come up at Andheri and Borivli suburban stations, a first in Western Railway's (WR) Mumbai division.
"Restaurant-on-wheels with rail coaches have been finalised at Borivli and Andheri stations. While the one at Andheri will be in the east at Gate 10, the one at Borivli will also be in the east, at the north-end (Virar-end) of the station," Western Railway Chief Public Relations Officer Sumit Thakur said.
ADVERTISEMENT
A restaurant-on-wheels is a modified coach mounted on rails, offering a unique fine-dining experience. It accommodates more than 40 patrons. The interior of the restaurant is decorated in such a way that diners can enjoy the experience of dining in a theme-based setting.
The restaurant is set up using an unserviceable rail coach. The rates and menu of the restaurant are decided by licensee as per market rates approved by Railways. Pan-Indian, continental and other cuisine is generally made available, and the restaurant is open for passengers and the general public as well.
The licensee is responsible for maintaining the approach corridor/surroundings at their own cost and is expected to comply with the Food Adulteration Act and other statutory laws. Keeping in mind the safety aspect, portable fire extinguishers will be installed and staff must know how to operate the equipment. The validity of the extinguishers shall be obtained from time-to-time and regular inspection will be done by railway officials.
Also read: Maharashtra: Some trains to have additional stop at Palghar, says Western Railway; check details
Central Railway (CR) have set up one restaurant-on-wheels each at Chhatrapati Shivaji Maharaj Terminus (CSMT) and Nagpur and they have become landmark eating houses, seeing approximately 1,25,000 and 1,50,000 visitors respectively so far. "The one at CSMT attracts about 250 visitors on weekdays and the number goes to 350 on weekends," Shivaji Sutar, chief public relations officer, CR, said.
Sutar said that CR plans to set two up more such eateries at Dadar East and Lokmanya Tilak Terminus in Kurla. Once all are active in the next one year, there will be five such restaurants-on-wheels at city's stations, including the one at CSMT.
New-age parking facility
To make entry and exit convenient at Bandra Terminus, one of Mumbai's busiest stations, WR has introduced an access-controlled parking facility at the station. Thakur said the parking facility has a modernised approach for controlled entry and exit with the installation of a mechanised boom barrier system. Designated pick-up and drop points have been created for passengers near the station building. To ensure ease of movement and to make the station premises congestion-free, dedicated lanes for autos, taxis and private vehicles have been provided. Besides ample parking space for all types of vehicles, a round-the-clock CCTV surveillance system has been installed in the parking area to ensure the safety of passengers.