Their association says they will comply with the order within three months after monsoon as they will need professionals' help to get the display boards redesigned; deadline at present is June 30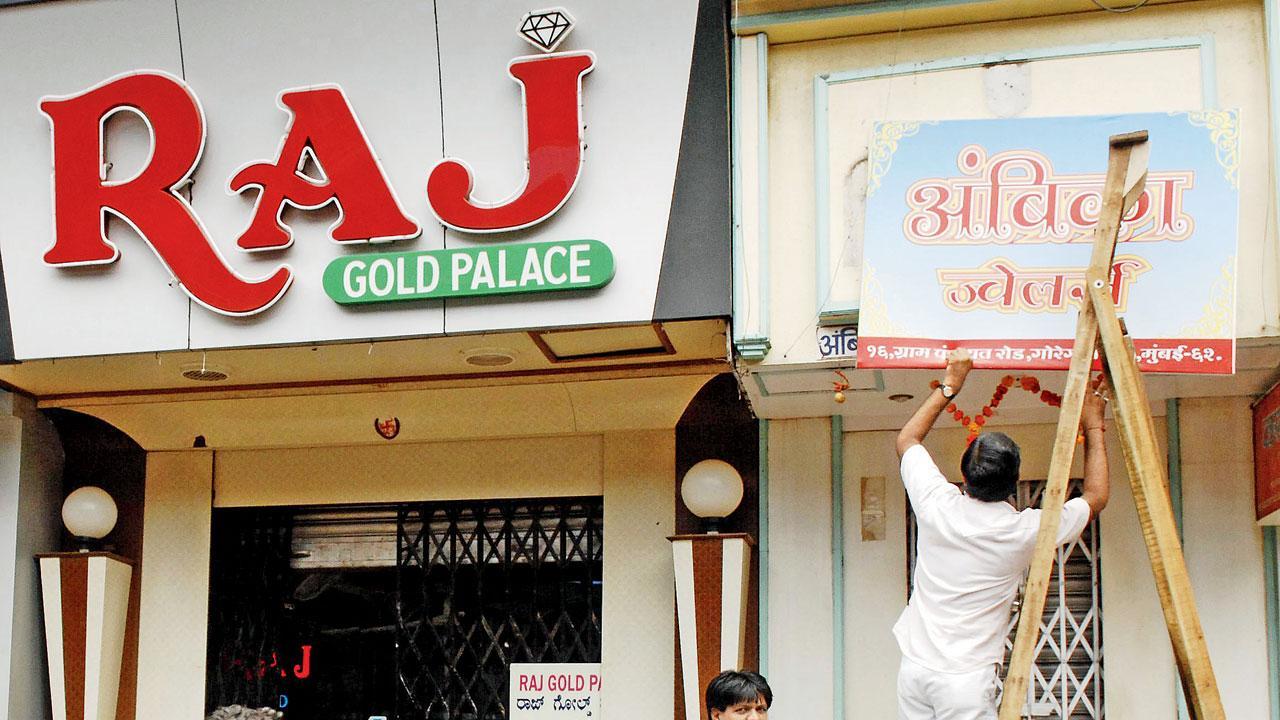 A Marathi signboard being installed at a shop in Goregaon West. File
Shop owners from across the city have sought another six months to adhere to the BMC's directive on having signboards in Marathi, written in the Devanagari script prominently. The corporation first set the deadline of May 31 before extending it to June 30. The shop owners now say they will comply with the order within 3 months after the monsoon.
In a letter to Subhash Desai, minister of Marathi language, the Federation of Retail Traders Welfare Association (FRTWA) justified its demand saying its members will need professionals' help to redesign their signboards and give them a decent look. "Monsoon will be arriving shortly and it's going to make it more difficult to work during heavy rain in Mumbai," said Viren Shah, president of the Association. He said BMC should continue with its awareness campaign at ward levels through local associations to coordinate and assist shopkeepers, restaurants and offices.

Shops at Zaveri Bazar. The earlier deadline was May 31. File
As per the amendment in the Maharashtra Shops and Establishments (Regulation of Employment and Conditions of Service) (Amendment) Act, 2022, all shops in the state are required to compulsorily display Marathi signboards in Devanagari script. It says if these boards display the name in more than one language, the Marathi font should not be smaller than the other scripts and must be predominantly displayed. 
Also Read: BMC to act against big stores, showrooms on main roads with no Marathi signboards
Following the government's decision, the BMC came out with a diktat that was binding on all kinds of shops, including garment stores, groceries, offices, restaurants, bars and theatres, irrespective of their size and locality. As per the Act, violators of the Marathi signboard rule will be fined Rs 2,000 per person employed in a shop.
"The deadline for compliance of Marathi signboards for shops was extended to June 30 after discussions with shop owners," said a BMC official. As per the Association, there are more than 5.08 lakh licensed shops in Mumbai and 40 per cent of them—2 lakh—will have to change their signboards. The FRTWA letter ended asking for an appointment with the minister, so that points can be put forward in a physical meeting.
Viren Shah explained, "Changing a signboard in haste, which can happen within the June 30 deadline, means owners may use flex board signboards for a quick, patchwork job which will make the city look very ugly. Today, there is emphasis on not just functionality but facelifts, too. All the infra projects across the city are factoring in the 'look good aspect' too. You see it from wall art to our selfie points to our newly opened viewing decks. Then, why have quick-fix signboards which will not look good for the city overall? For aesthetics, permanence and functionality in signboards one needs a designer, good materials and sometimes, an expert, too, and of course skilled workmen so that the new boards can be according to rules and pleasing to the eye."
An Andheri restaurateur rued that there was a shortage of workmen, and a case where demand is going to exceed supply when it comes to changing signboards. "A lot of establishments open in the late evenings and nights and have neon signage, which will have to be changed, too. This needs significant work and expertise. In any case, changing so many signboards across the city means a lot of labour will be needed. There needs to be infra, too, to go side by side."
Sunil Shah, president Dadar Vyapari Sangh, said straight up, "The problem is that there is a severe shortage of labour. The workmen who used to specialise in signboards are primarily, though I would not say all, from the north. Today, many of them are not in Mumbai, but away in their villages. Even ordinary householders know how difficult it is to get painters, plumbers, carpenters, general workmen for their homes right now… so the civic authorities know that labour is in short supply. There is a big crunch right now for this signboard task and lakhs of establishments can comply when infra is available to enable them to do so."