Communal tension had broken out on the occasion of Ram Navami on Thursday in Sambhajinagar, an already charged city in light of its recent name change from Aurangabad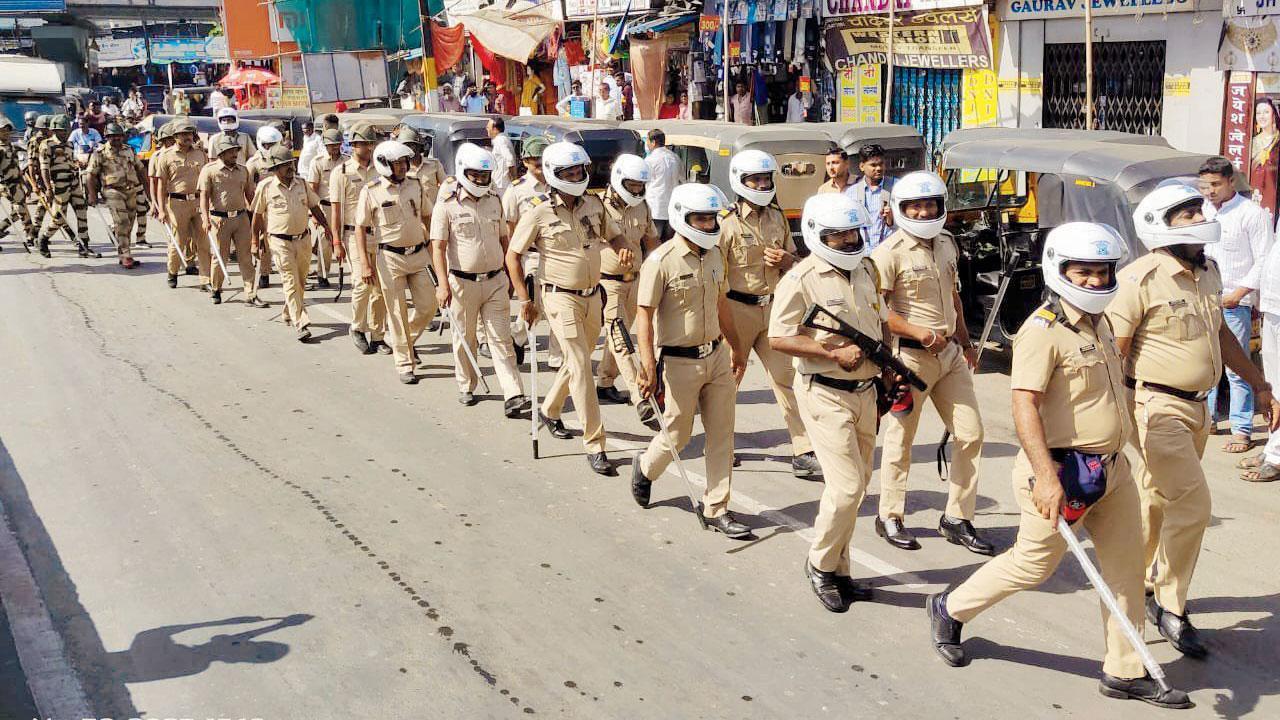 MBVV police personnel hold route march in Mira Road on Thursday
In the wake of the communal tension prevailing in Sambhajinagar, the Mira Bhayandar Vasai Virar (MBVV) police have identified 27 neighbourhoods and localities as sensitive areas, where security has been beefed-up to avoid any untoward incidents.
Speaking to mid-day, MBVV Commissioner  of Police Madhukar Pandey said, "We have conducted a review of similar incidents in the past and identified the trouble makers involved in them. We are taking suitable preventive action under provisions of the law, ranging from issuing warnings to detentions. Warnings have been issued to 30 people and over 100 people have been made to sign bonds, as a preparatory step in light of the upcoming festivals."
ADVERTISEMENT
Also Read: Maharashtra: Four more arrested for Aurangabad violence
The month of April will have two significant festivals celebrated across Maharashtra, namely Hanuman Jayanti and Akshay Tritiya. Communal tension had broken out on the occasion of Ram Navami on Thursday in Sambhajinagar, an already charged city in light of its recent name change from Aurangabad.
Apart from round-the-clock on-ground intelligence gathering, the MBVV police are also monitoring social media to look out for any potentially inflammatory content that might end up sparking off a law-and-order situation.
30
Number of people issued warnings