Delhi resident wed marine engineer, despite kin's objections; consumed sleeping pills and later attempted to hang herself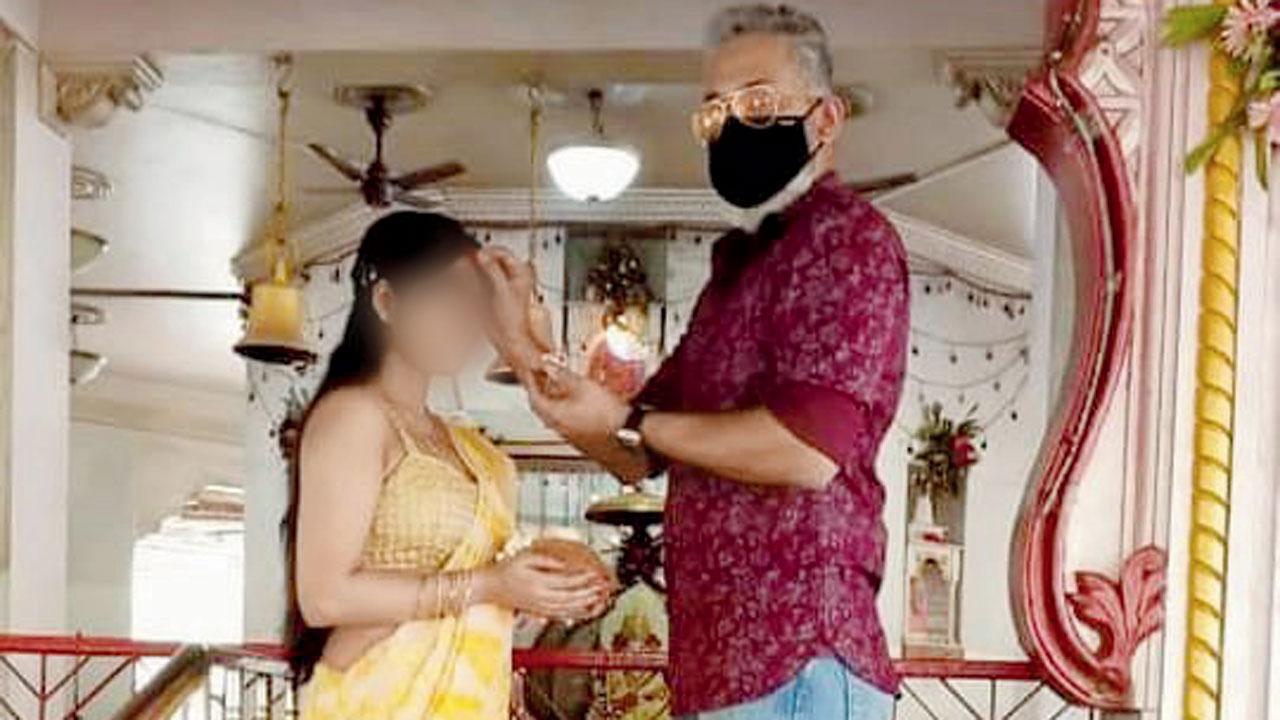 The victim pictured with the accused, Anuj Sinha, at a temple during their wedding
A 32-year-old actress-model attempted suicide by consuming sleeping pills and later tried to hang herself from a ceiling fan on May 24 after discovering that her husband was already married and had children. Police sources reported that the model had informed her mother about her decision before taking the drastic step. Despite her mother's continuous attempts to reach out to her, she did not answer the phone. Concerned, the mother contacted the Bangur Nagar police, alerting them about her daughter's plight. Acting swiftly, the police rushed to the scene and promptly admitted the woman to the hospital, ultimately saving her life.
Subsequently, based on the her complaint, the police registered a case against Anuj Sinha, 44, a marine engineer, under relevant sections of the Indian Penal Code and arrested him. The woman, a resident of Delhi, had worked in numerous TV serials and albums and also owned a garments business. She had met Sinha through a social media app several years ago, and their friendship had eventually developed into an affair. They got married in March 2021 in a Hindu temple, as per an officer's statement. The victim then relocated to Mumbai and began living with Sinha in a rented flat in Evershine Nagar, Malad West.
ADVERTISEMENT
Speaking with mid-day, the victim opened up about her struggles with her family's opposition to their marriage. Despite their objections, she decided to marry Sinha, believing he was loyal. However, her trust was shattered in November when she discovered through his social media account that he was already married and had a child. Confronting him about the situation, Sinha claimed to be in the process of getting a divorce and reassured her that they would soon be living together. He even showed her divorce documents allegedly from his wife.
The victim explained that she chose to continue her life with him, but soon realised that he was still deceiving her. He would spend the entire day with her but would leave at night, claiming to take care of his mother, who was supposedly alone. A few weeks ago, he informed her that his entire family and relatives were planning to go to Goa for a picnic and insisted that he join them. However, she later discovered photographs of him with his wife and another family member during the supposed picnic.
The victim stated, "I visited his mother's home and found his mother there. He had told me that he was going for a picnic with his mother and other relatives. I also spoke to his wife and learned that nothing significant was happening. It became clear to me that he had been cheating on me, mentally harassing me, and using me solely for his sexual satisfaction. I called my mother and informed her about the entire situation, also expressing my intention to commit suicide."
She further revealed that on May 24, after consuming sleeping pills, she attempted to hang herself from the fan. However, the fan fell and she fell unconscious. When she regained consciousness, she was in the hospital.
Another officer confirmed that they recorded the victim's statement, registered the case against Sinha, and arrested him. He was presented before the court on May 29 and has been remanded in police custody. During the interrogation, it was revealed that Sinha worked as a chief engineer and resided with his family in the Bangur Nagar area. He has a wife and a child, the latter being approximately 15 years old. 
15
Age of marine engineer's child
"Exciting news! Mid-day is now on WhatsApp Channels

Subscribe today by clicking the link and stay updated with the latest news!"
Click here! Will you take intranasal vaccine as a precautionary dose?