Despite plans to get 238 AC locals for Mumbai, proposals sent by Mumbai are caught up in endless discussions and red-tape in Delhi, making life hell for commuters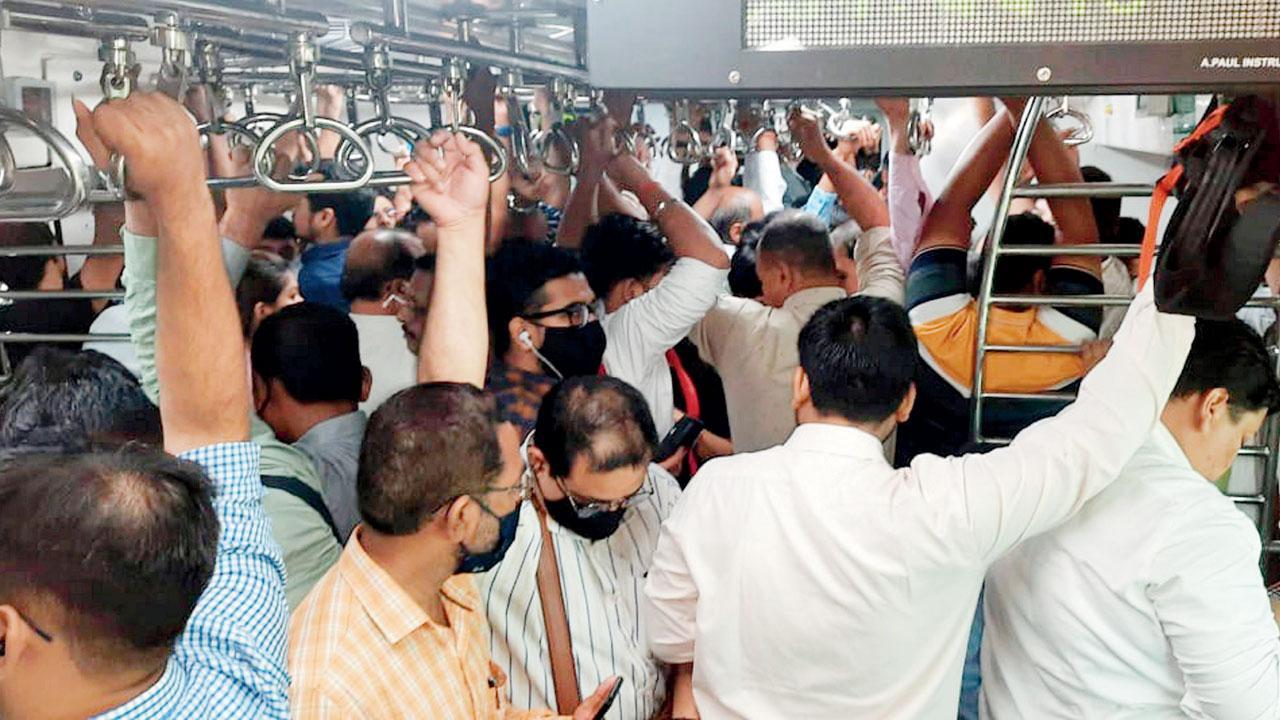 A crowded compartment of an AC local. Pic/Nimesh Dave
Bureaucracy has dashed Mumbaikars' hopes of cool rides this summer, as not a single order has been placed for more AC local trains for the suburban network. The rising mercury has made air-conditioned locals the first choice for commuters, but there are just 13 trains to meet demand. Mumbai's proposals sent to Delhi for 238 new AC locals are caught up in endless discussions and red tape.
The last AC local train was dispatched from Integral Coach Factory (ICF) in Chennai on November 30, 2022, and arrived in the city in December 2022. Officials at ICF Chennai said they are not manufacturing any new AC EMU trains, because there are no orders yet. No one has a concrete answer as to when the new 238 AC local trains promised to the city will start arriving, as officials in Mumbai rail divisions and the Railway Board in Delhi are still in the stage of consultations and discussions.
ADVERTISEMENT
At present, Mumbai only has 14 AC local trains divided between Central Railway (CR) and Western Railway (WR). As per official figures of Mumbai division, WR runs 76 services with six trains and CR runs 56 services with five trains, while the remaining trains are either under maintenance or a back-up. The services, however, are erratic, with cancellations due to technical snags. In such cases, the Railways sends a regular train without any notice. Also, when the AC trains go for regular maintenance at periodic intervals, there are no spares.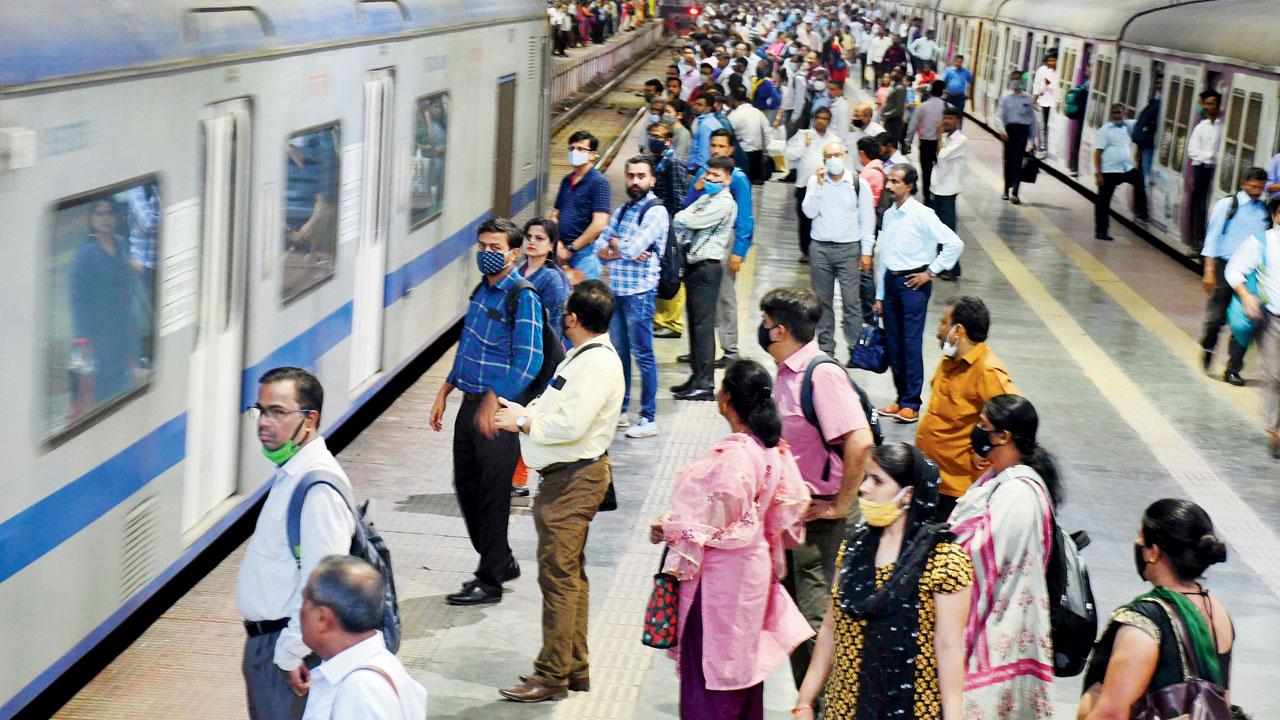 Passengers look on as an AC local train leaves CSMT. Pic/Ashish Raje
WR recorded a ridership of over 2.01 crore from April 2022 to February 26, 2023, while CR reported a ridership of 1.25 crore. "Among all the routes, Borivli on WR and Dombivli on CR have the highest demand for AC locals, but the Railways is not able to cater to it. Many times, AC train services are suddenly cancelled and replaced with non-AC trains. In such a case, commuters who have bought AC season passes are at a loss. There is no point running erratic premium services," Inder Kumar Tripathi, a commuter of AC local trains, said.
The city was to get 238 new 12-car AC local trains under Mumbai Urban Transport Projects (MUTP)—47 under MUTP-3 and 191 under MUTP-3A. A senior official said the work on bid documents and specifications for procurement of 238 AC trains in consultation with the Ministry of Railways is underway. Simultaneously, work is also underway on a financial agreement with the Maharashtra government for the funding, since both the railways and the Maharashtra government will provide funds for MUTP.
Also Read: Mumbai: Virar-Dahanu section commuters demand 15-coach local trains and frequent services
Another official said that new AC trains would be with underslung equipment, vestibules and 50 per cent powering, similar to that of Vande Bharat trains. The procurement strategy has been submitted to the Railway Board for a decision. Part financing will be done through a loan from New Development Bank (NDB) under MUTP-3A. The new local trains would be customised further for Mumbai, with inbuilt infotainment, CCTV cameras and better acceleration. WR officials said they have also made a separate demand of 40 AC locals, but a decision on it is still pending.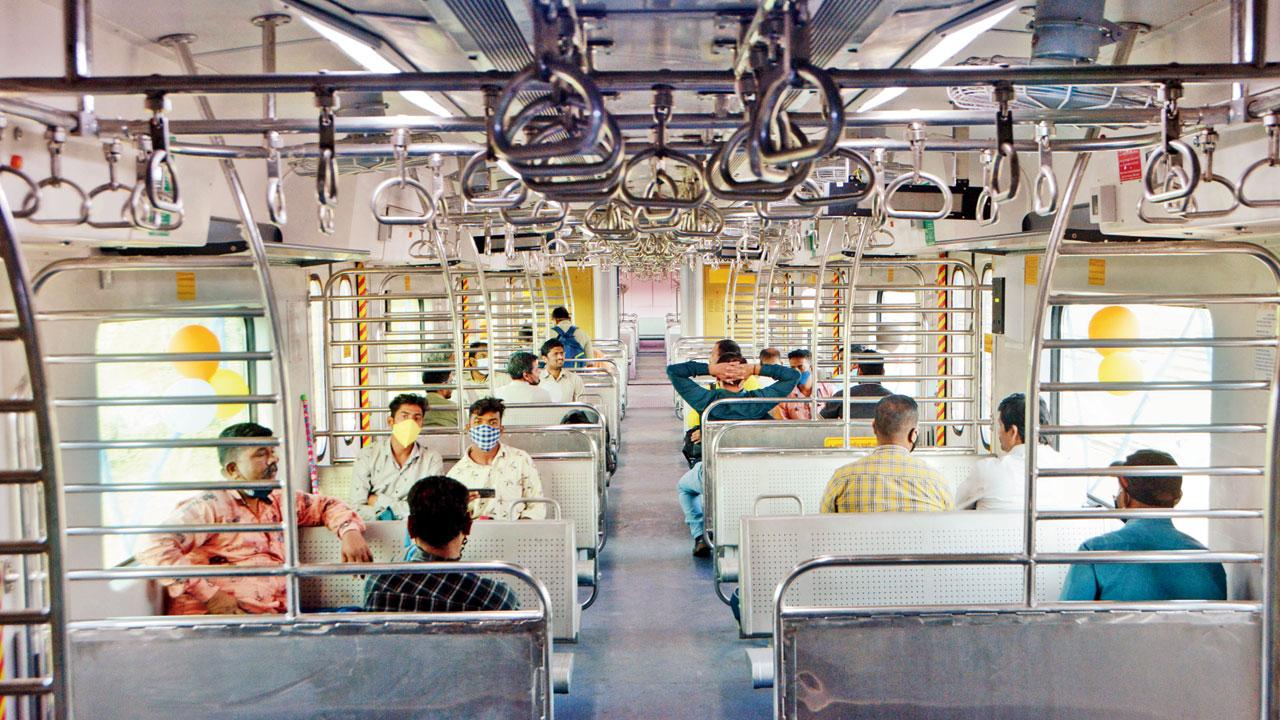 Commuters aboard an AC local train. File Pic/Satej Shinde
Why procurement was delayed
PM Narendra Modi in March 2019 approved procurement of AC local trains for Mumbai at a cabinet meeting. MRVC was initially unable to call tenders for the project, which was estimated to cost Rs 20,000 crore, due to lack of funding from the then state government. Later, it was delayed due to technical difficulties.
The Indian Railways on December 5, 2022, granted regulatory approvals to replace all the regular local trains in Mumbai with 12-coach AC ones. That same month, SYSTRA was hired as the consultant to help with the migration, causing the least inconvenience to commuters.
Initially, the tenders for the new AC trains were expected to be floated in July 2022, but the plan was shelved. If all the approvals were in place and fresh tenders were floated, trains would have started arriving in Mumbai by 2024 end or early 2025.
14
No of AC locals that cater to city's demands