Cops rush him to VN Desai hospital but doctors refuse to operate until Saturday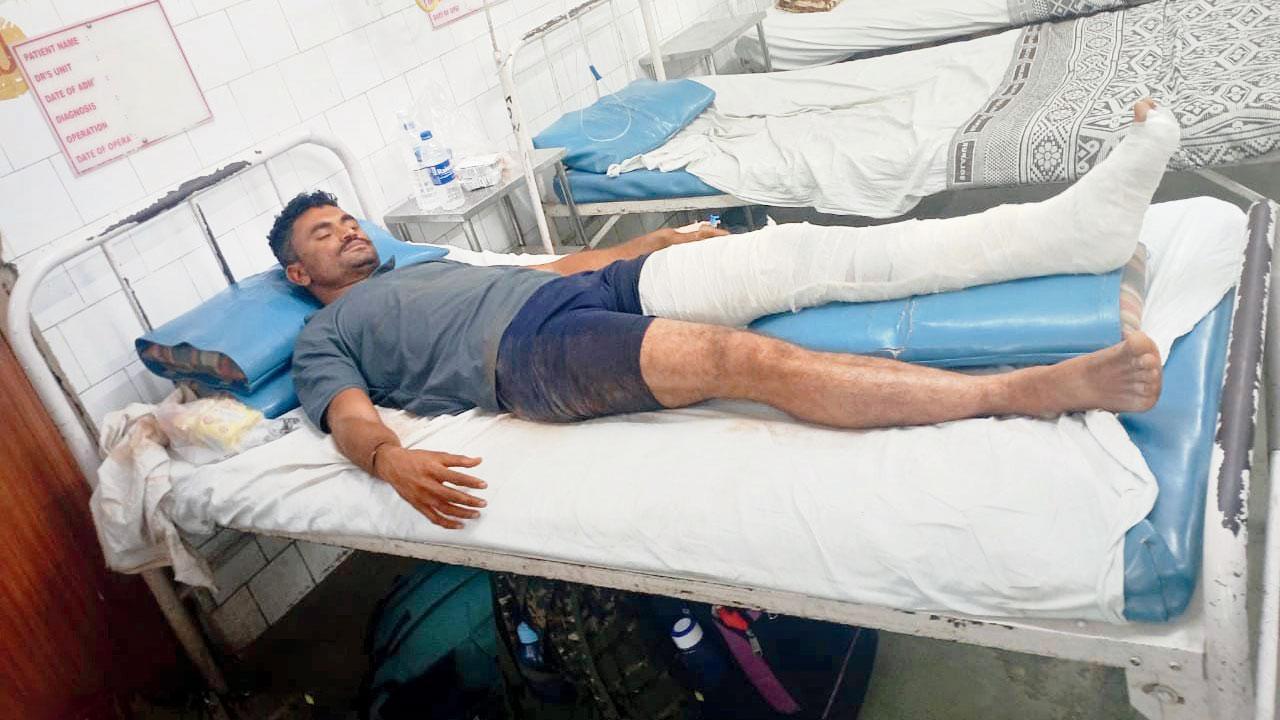 Dinesh Kailash Patil at the hospital in Santacruz East
A 27-year-old aspiring constable was seriously injured amid the ongoing recruitment drive at the Kalina centre on Thursday. According to the police sources, the candidate, Dinesh Kailash Patil, a resident of Nandurbar, had to be rushed to VN Desai hospital at Santacruz East after cracking his ankle while participating in the 100-metre run around 2 pm.
Doctors placed a plaster on his leg but did not operate immediately, stating that Patil would have to wait for two days to go under the knife. Patil told mid-day, "I thought it was just a fracture but after getting an X-ray, cracks were found in the ankle. Doctors told me that they would operate as it's crucial. There were cops present in the hospital and they also requested the hospital to carry out the procedure but the staff refused to do so."
ADVERTISEMENT
Also read: Mumbai: Bodies of couple found in Ghatkopar flat bathroom
He added, "Doctors told the cops and me that an operation was not possible on Thursday as they have a list. I have to wait until Saturday for surgery. I'm in extreme pain and doctors have only bandaged me. I hope surgery happens on Saturday." The youth thanked the police officer who admitted him to the hospital. Prior to this, Patil had applied for the post of a driver in the police force.
The youth's cousin Yogesh, who accompanied him from his hometown to Mumbai, told mid-day, "My brother wants to fulfil his dream of becoming a policeman. He was also selected during the 2018 police recruitment drive and his name was on the waiting list. However, he was not selected. He runs and trains daily."
Joint CP (Admin) S Jaikumar told mid-day, "Our cops helped the injured candidate and admitted him to the hospital. I will check on him to ensure he gets help in the hospital for his operation." VN Desai hospital did not reply to mid-day's calls and messages regarding the matter at the time of going to press. Do you agree with the management`s decision of only letting devotees offer jal abhishek at Babulnath temple?