Even the death of a police department candidate has not moved authorities into providing the most basic facilities for thousands of candidates who have arrived in Mumbai, and have been forced to sleep and defecate in the open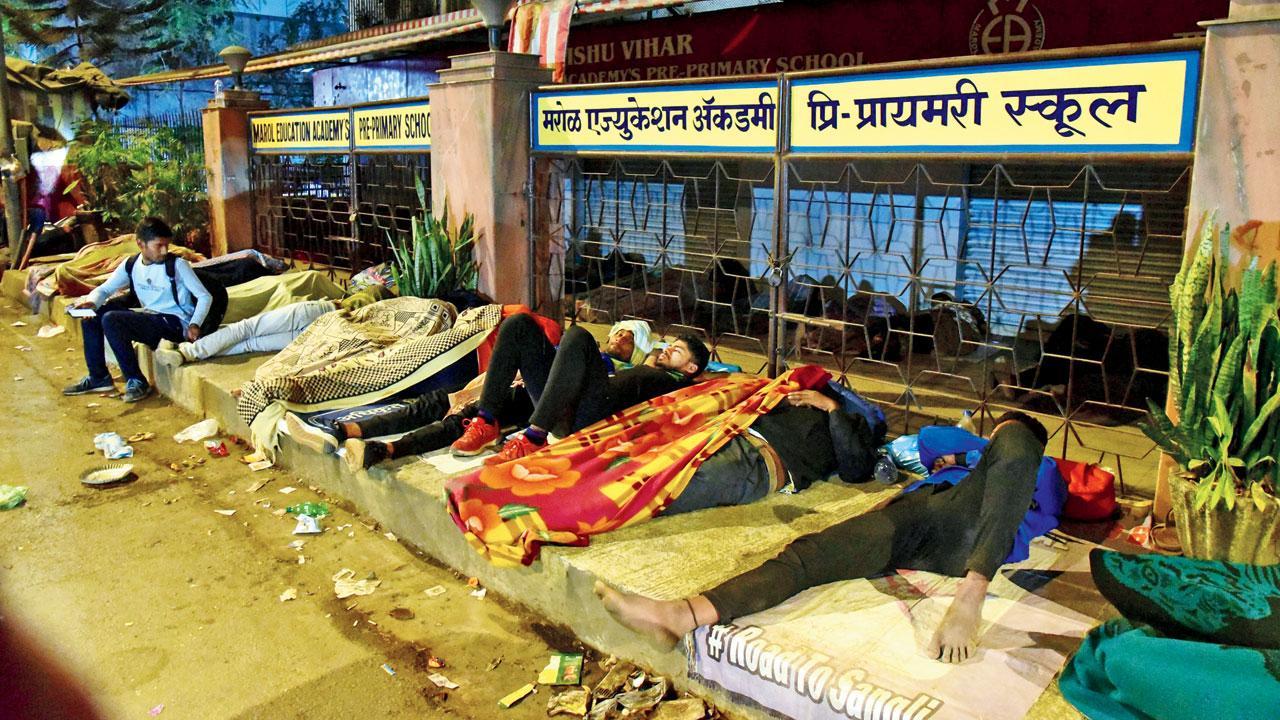 Candidates on footpaths in Naigaon and Marol. Pic/Nimesh Dave
Every year, thousands of candidates from all over Maharashtra are tested during the recruitment drive for the Mumbai police. But before getting a job in their dream city, they endure a nightmare as they are forced to sleep on the footpaths, defecate in the open and don't get food or water to drink. The marg can lead them to samruddhi in terms of a good job, but only if they survive these conditions. But there have been cases like that of Ganesh Ugale, 26, from Washim, who died soon after a race during the drive, recently.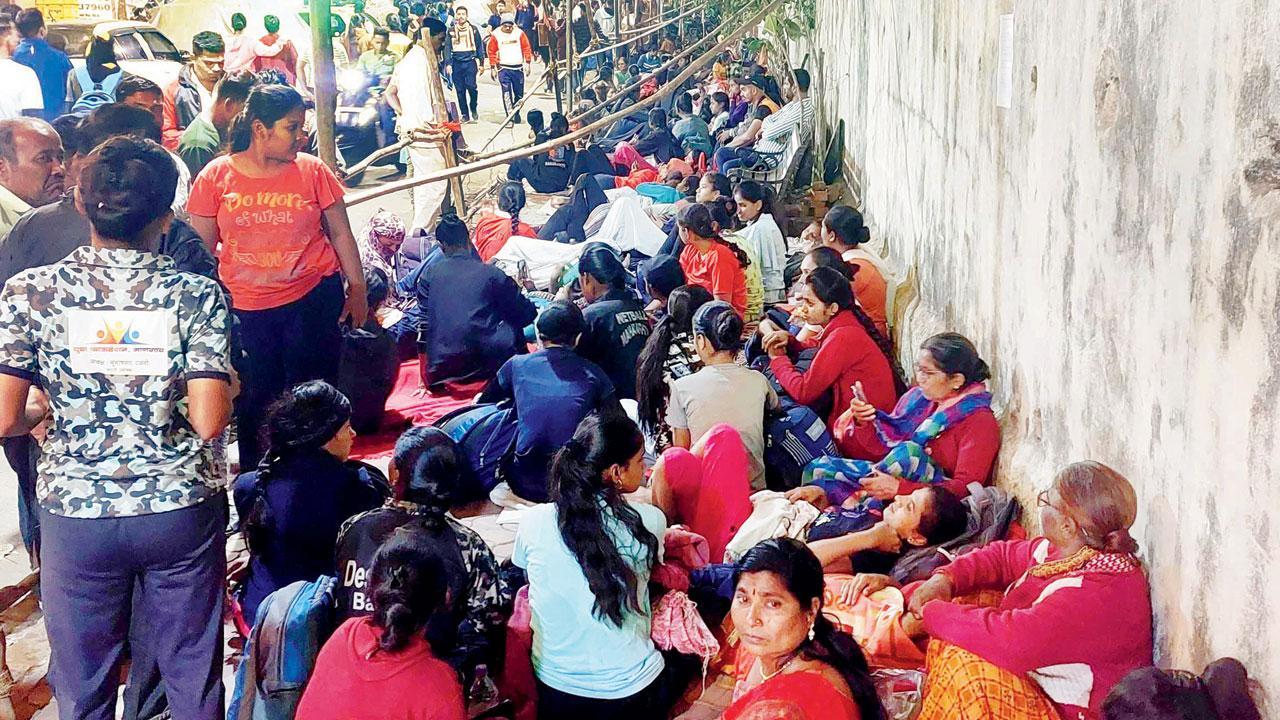 ADVERTISEMENT
Ugale had participated in a 1,600m race, and collapsed soon after crossing the finishing line. He was declared dead on arrival at hospital. In 2010, one candidate died and 11 were injured during a stampede that broke out at Kalina. A gate was opened and youth rushed in. Some also jumped over barricades and several fell on each other. The deceased was identified as Ramesh Amer from Ahmednagar district. In 2014 around 4 candidates died while giving tests for the police recruitment. Soon after these incidents, the police department had decide to provide basic facilities of tent, water and toilets for the recruits. However, this time no such arrangements were seen.
Also Read: Mumbai: Cop brings down man from 3rd floor with food, patriotic song
About 1.2 lakh candidates have come for 994 drivers' posts at the Motor Transport Department of the police, the home department and Mumbai police. On an average nearly 5,000 candidates are pouring into the city on daily basis. Also there is a simultaneous recruitment drive on for the post of around 6,000 male and female constables. The department has already begun the drive for female aspirants, while the recruitment of male constables will start. The recruitment for Motor Transport Department and GRP level constables are done across the city at various centers like in Marol, Naigaon, Pant Nagar, and Kalina. These began on January 30. The physical test starts from 6 am or 10 am or 12 noon, and go on from 2 pm till night. Since Ugale's death, no tests are conducted from 12 pm to 4 pm due to heat.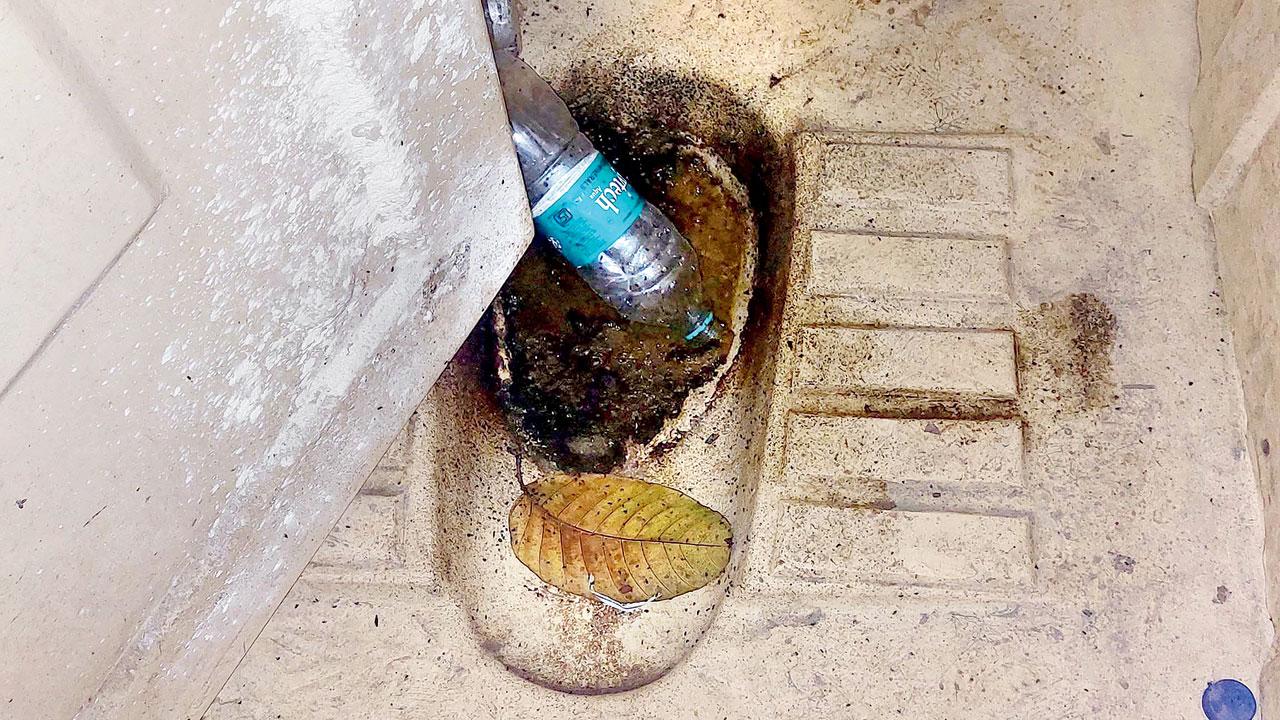 A public toilet at Pant Nagar which candidates are forced to use. Pics/Rajesh Gupta
Candidates arrive from across the state like Satara, Nashik, Nagar, Malegaon, Jalgaon, Nandurbar, Beed, Aurangabad, Dhule, Latur, Ahmedabad, Jalna, Sangli, Pune, etc. Those who don't have relatives in the city are forced to sleep on the footpath, roads, under trees, even on dividers. mid-day also saw that in some places, candidates were sleeping at the gate of the centers only because they think that if their number is called in the morning, then their test will be easy. These candidates also block the roads and footpaths. Due to the non-availability of toilets, candidates have been forced to go to the Aarey forest or corners of the roads at Pant Nagar, to relieve themselves.
The Mumbai police claim that they have given a contract to the concerned BMC authority to arrange for tents and mobile toilets for the candidates, but mid-day found that some of these toilets are locked. mid-day also found that Ugale had also slept on the road on Thursday night. He could not sleep properly which could have affected his health the next day when he ran for 1,600 meters. When the recruitment for male constables starts, more than 5 lakh candidates will arrive in the city. If no arrangements are in place for them by then, there will be chaos during the recuritment.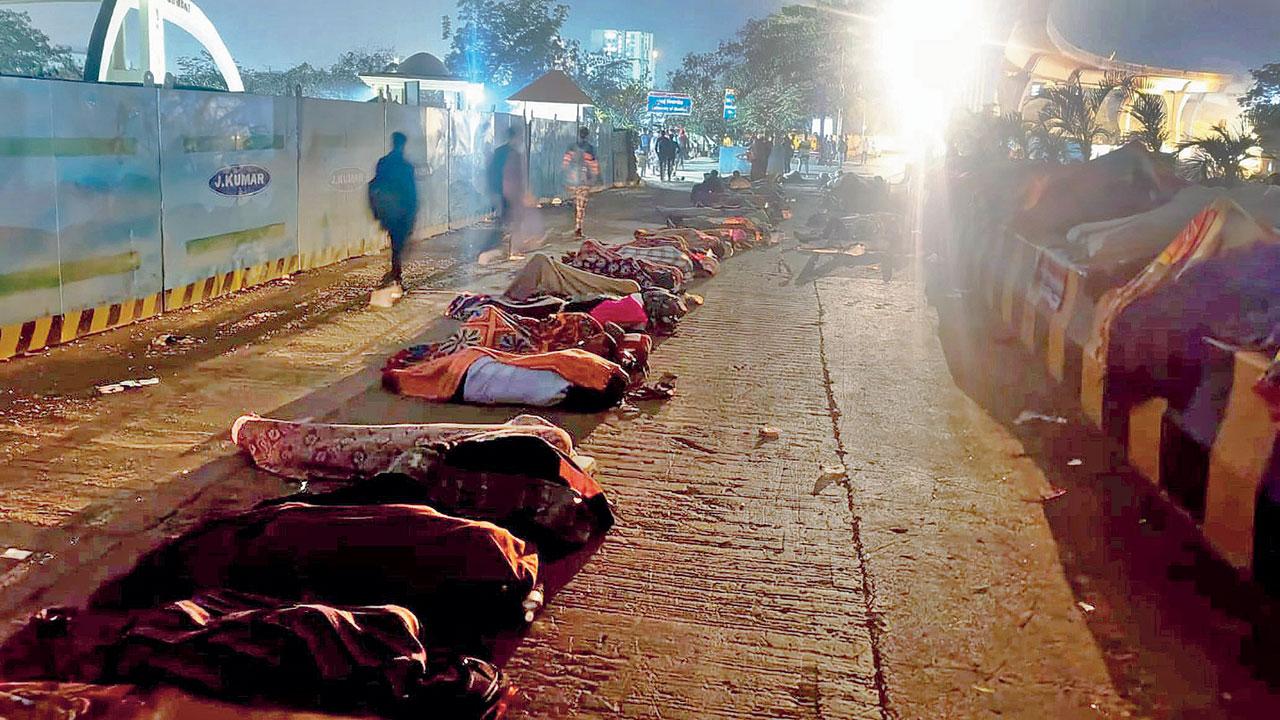 Over 5 lakh candidates are estimated to arrive for the post of male constables. Pic/Rajesh Gupta
"We have given a schedule to each candidate; if they come according to that then no one will have a problem. Arrangements have been made for more than 1,500 candidates to live and sleep in the ground tents, and there are also enough toilets and other necessary facilities required. But 5,000 candidates are coming at the same time. Yet the Mumbai police is taking care of them," said Joint Commissioner Administration, SJayakumar.
However, here is what mid-day found at recruitment centres.
Naigaon Police Quarters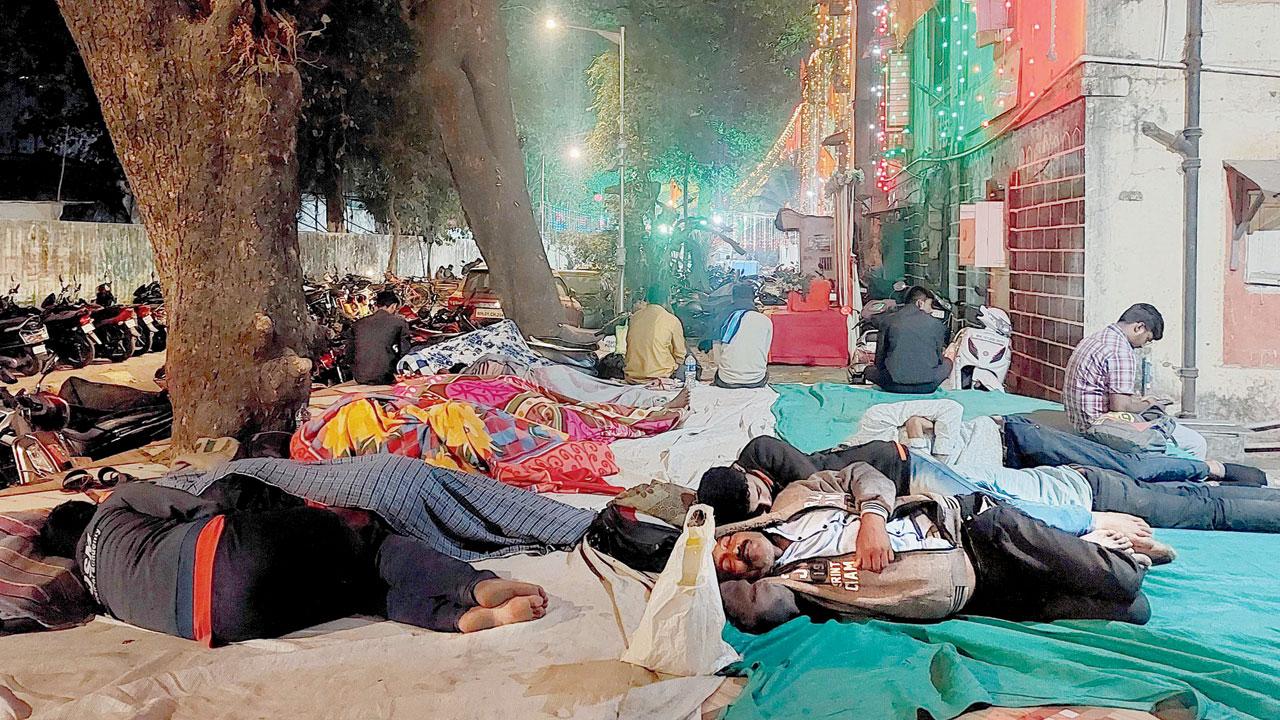 Candidates are fed up of the troubles. Pic/Rajesh Gupta
At Naigaon police quarters ground BMC arranged for food and  tents to sleep but only for 1,000 girls candidates. More than 2,500 candidates have been coming here every day. Others had to sleep on the roads. The parents and relatives accompanying them also had to sleep on the roads. A girl candidate from Nandurbar said, "We reached at this spot at around 11 pm and found that the gate is locked and they informed that they will take us inside in the morning. We are forced to sleep on the footpath and under trees at this area. There are police security or any other security is available for us. The residents of this area are police families only but we didn't get any help from there." A girl candidate from Nashik said, "We thought here is a police colony and we will get help but nothing happened." A candidate from Jalgaon said, "I came there with my old parents and they are also sleeping on road because lack of facilities. If anything happens to them who will be responsible?" A retired senior police officer added, "The authorities should make arrangements for sufficient tents for all candidates. Police also to be deployed for safety of candidates at night. There should be a place where candidates get proper information about their test. All candidates should be divided into batches and given specific times. This is the joint responsibility of the police and BMC as candidates come from different cities of Maharashtra."
Marol Center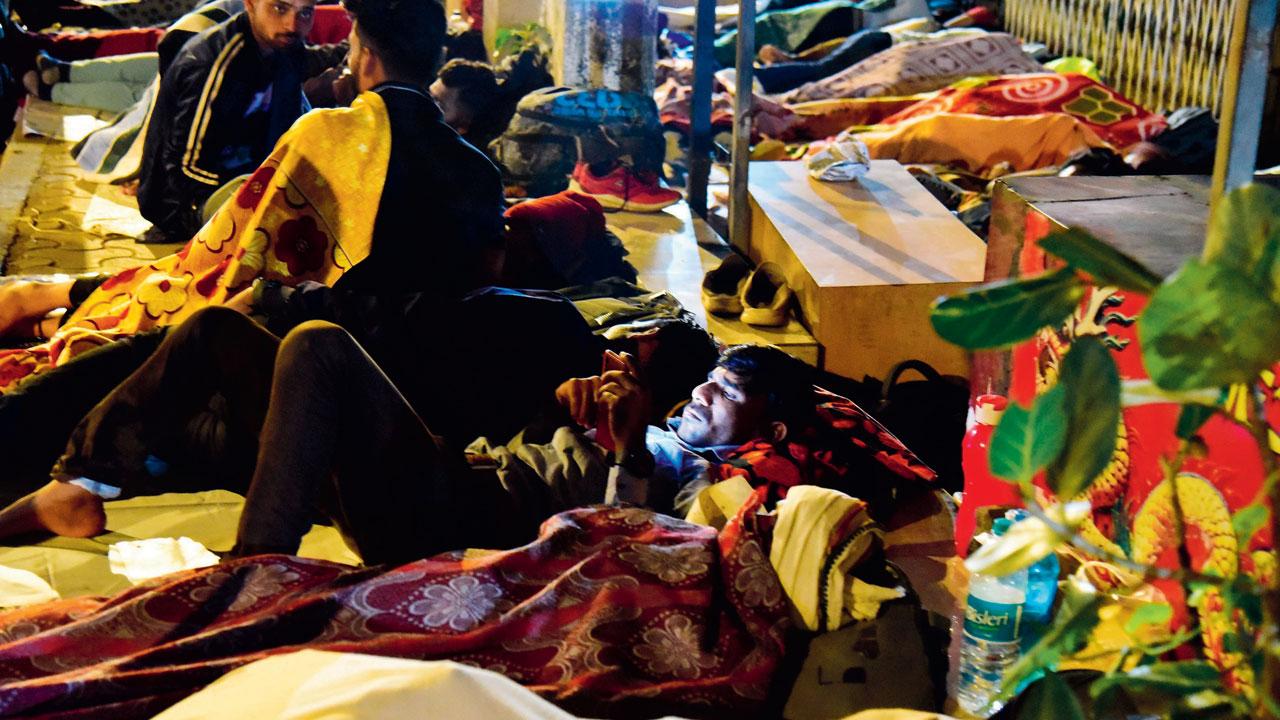 To add to their troubles, mobile toilets here for candidates were locked. Pic/Nimesh Dave
The BMC had arranged tents for the candidates but they only accommodated about 200 and the rest had to sleep on the roads. Mobile toilets were also available here but they were locked candidates were forced to go to the forest. A candidate from Nashik said, "I came to the centre at 5 am on Sunday. Later I found many people were forced to stay on the road." An Usmanabad candidate said, "There is a police canteen but they are selling a dish at R120 for us while for police personnel it is Rs 60."
Kalina University centre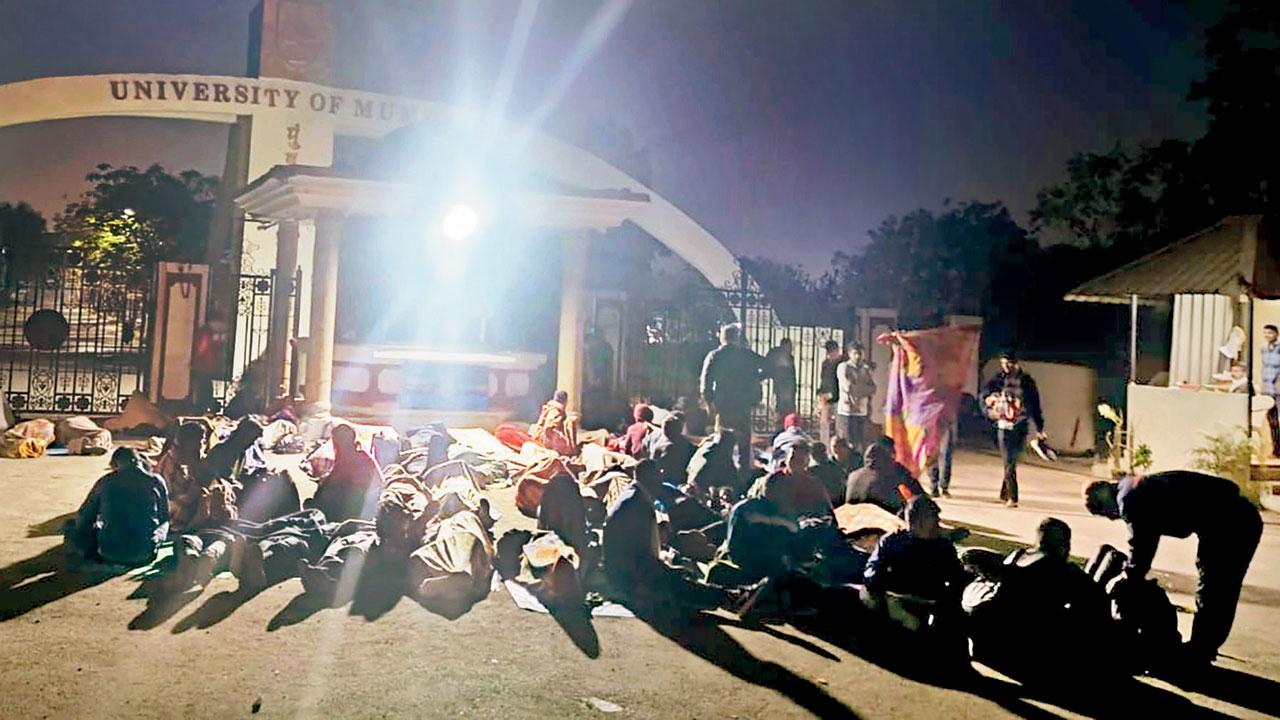 Candidates sleep near the Mumbai University. Pic/Rajesh Gupta
The mid-day team found that all candidates were sleeping outside the Mumbai University gate. A candidate from Ahmednagar said, "We are sleeping under the bridge on the main road on the divider. It's scary as vehicles ply on the road fast. I couldn't sleep well because of the uneven ground. My body is aching. How I will complete running tomorrow is the big question. I came to Mumbai with my cousin. The authorities should give us facilities to sleep at the night in a safe place." A candidate from Nashik said, "There are no facilities for water and toilets at this place. We are forced to relieve ourselves outside Mumbai University. We don't like this but we don't have a choice." A candidate from Washim said, "At least a police officer should be deployed here to ensure that at night we will be safe on the road. We didn't get proper sleep and again next day we have to run. Ugale who died on Friday had also slept on the road at night. He didn't get sufficient sleep. It's really shameful in this big, dream city of Mumbai, facilities of toilets, water,  shelter are not being provided." More than 2,000 candidates slept on the footpath at Kalina.
Pant Nagar police head quarters ground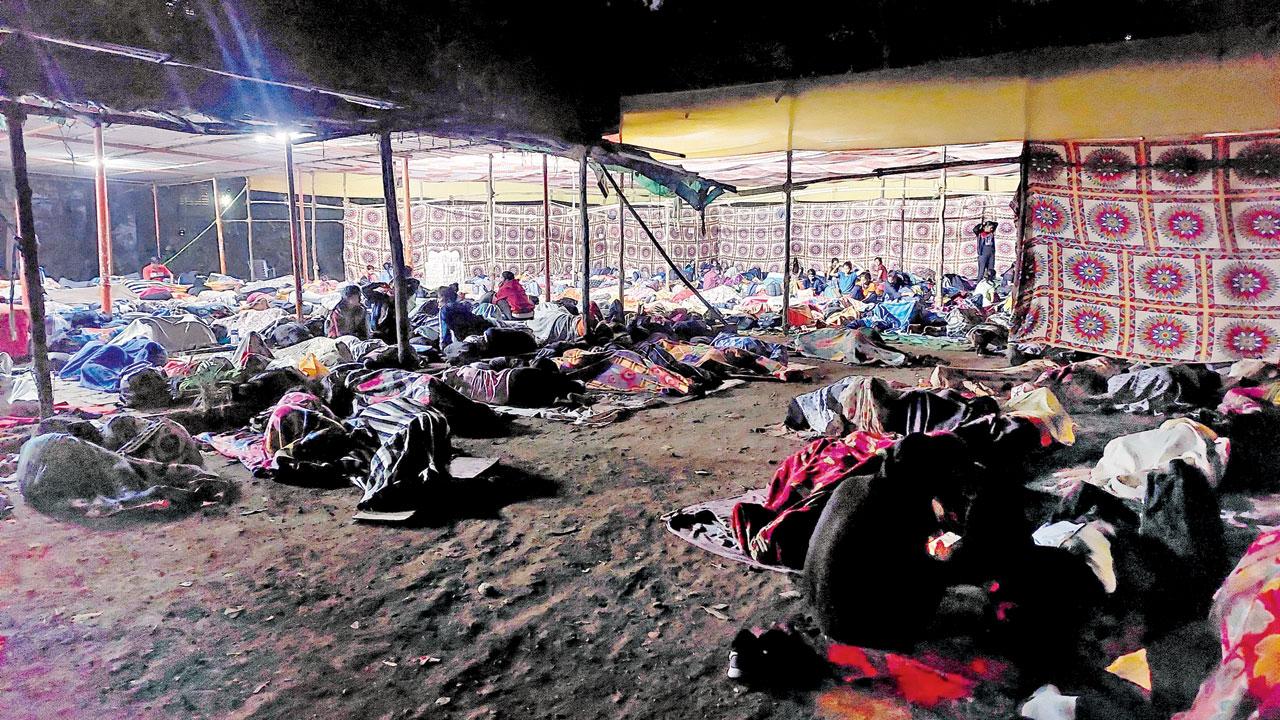 Some candidates got a shelter. Pic/Rajesh Gupta
Only girls' are being recruited here for the post of GRP constables for past few days. Over 1,500 girls have been arriving every day for the same. The police arranged for mobile toilets but they are not in good condition. mid-day found that most of the girls had to use their mobile torch and keep the door half open while using the toilets. The smell inside was terrible. A candidate from Dhule said, "We have to keep the door half open while using the public toilets. It's pathetic and unsafe. The mobile toilets are kept on the main road and many people pass by. How we can keep door open and use the toilet in the day?" Another girl candidate from Latur said, "The toilet is pathetic and smells. After using it I throw up. These are basic necessities but no such facilities are provided. We have to purchase water bottles."
2,000
Candidates sleeping on the footpath at Kalina
1,500
No of women candidates at Pant Nagar every day
6,000
No of posts for  male and female constables Do you think Budget 2023 will meet aspirations of common man?