After delays due to various reasons for the past two years, officials say they can get three months for the work this way and will be able to monitor it properly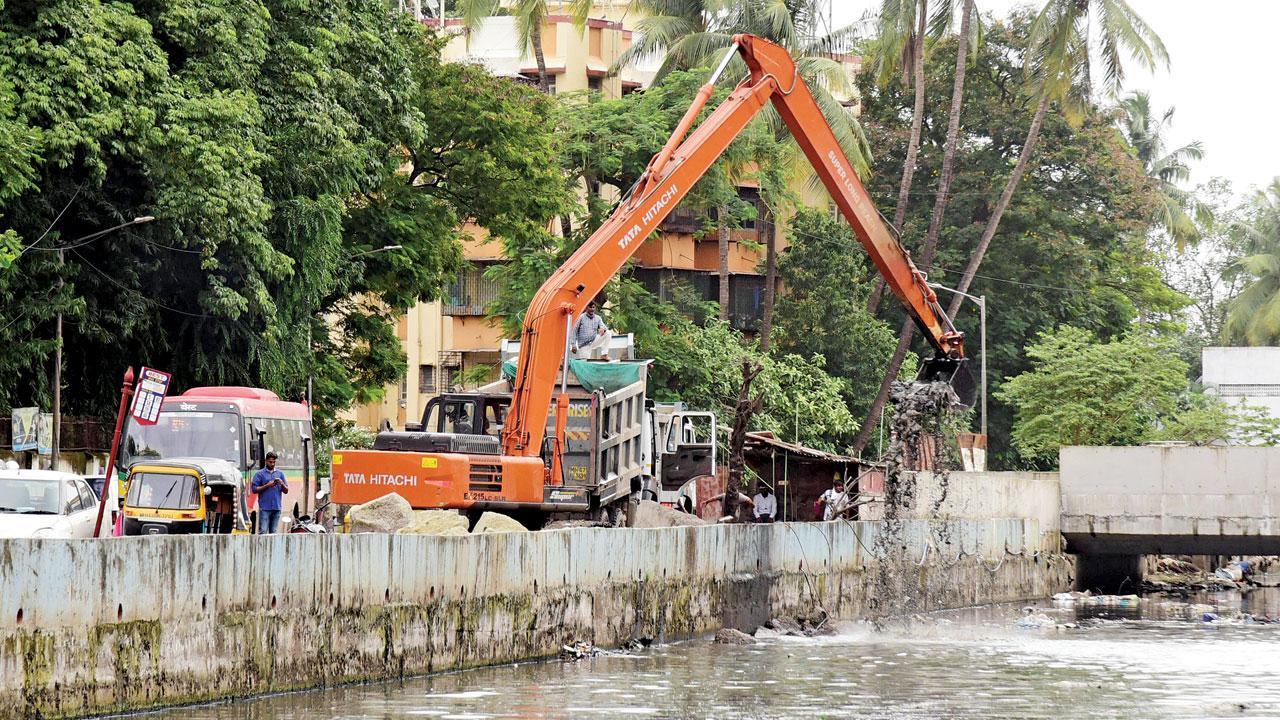 The BMC desilts nullahs in and around the city and suburbs every year before the rainy season. File pic
The Brihanmumbai Municipal Corporation (BMC) will start desilting of nullahs from March 2023. Its target is to remove around 5 lakh tonnes of silt from nullahs. Last year it spent around Rs 180 crore on desilting work.
After the 2005 flood, the BMC started desilting the nullahs in and around the city and suburbs before the monsoon season. There are 254.67 km of major nullahs, 443.84 km of minor nullahs, and 21.35 km of the Mithi river that have to be cleaned up in Mumbai and the suburbs. Chief Engineer of the Storm Water Drain Department Vibhas Acharekar said, "We have targeted starting desilting work from March. If we start work as per this schedule we will get 3 months for desilting. We are in the administrative process to take permission to invite a tender."
Roadside drains of around 1800 km will be cleaned with NGO workers on ward level. "The BMC has also invited tenders to desilt underground drains in the city. It will spend around R8.89 crore for the desilting of these underground drains," said another official. "As per policy, BMC removes 70 per cent of silt before monsoon, 20 per cent silt during monsoon and 10 per cent after the monsoon. Last year we hardly got one and a half months for desilting," said a BMC official.
Also Read: Mumbai: 'Air worse than Delhi's; why weren't we warned?'
"Desilting work is supposed to be done by May 31. But it started last year in mid-April and was completed in the first week of June. Before that year due to the pandemic, desilting work was delayed. So this year we have decided to start work in March. If we get three months for work,  we can also keep proper watch on the job," the official further stated. Civic activist Sanjay Gurav welcomed the BMC's decision. However, he said the BMC's planning should not be only on paper, the actual work should start as per schedule.
5
Weight (in tonnes) of silt the BMC aims to clear Do you think the Maharashtra-Karnataka border dispute can be solved anytime soon?