As Mumbai's air quality remains in 'poor' to 'very poor' categories for weeks now, citizens and activists assail BMC for not warning the citizens in advance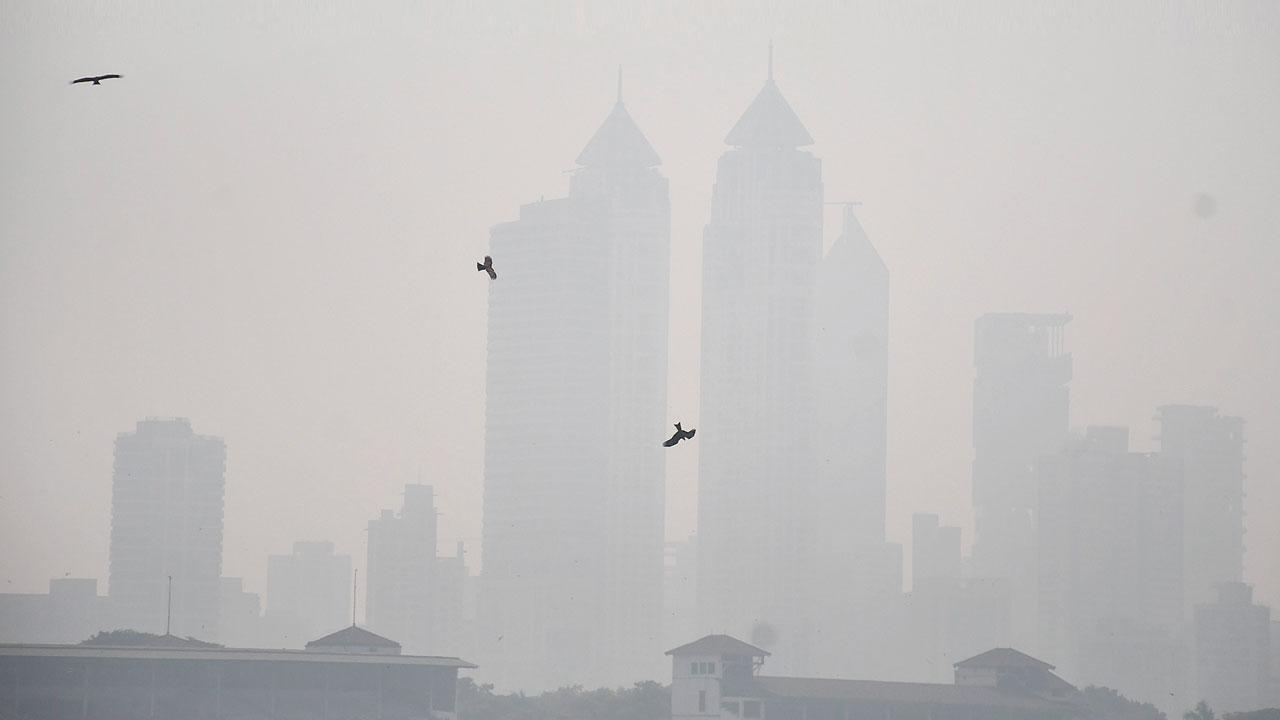 The Imperial twin towers in Tardeo covered in smog, on Friday. Pic/Ashish Raje
The state government and the BMC are facing criticism for failing to alert Mumbaikars about the deteriorating air quality, which is known to impact health, especially of those suffering from respiratory issues. Mumbai's overall air quality index (AQI) was 269 (poor) on Friday, slightly lower than 315 (very poor) on Thursday. The AQI was 306, 309 and 300 on December 5, 6 and 7, respectively.
Organisations across the state have been demanding public health advisories on air quality, so that vulnerable groups are protected from severe impacts of air pollution on their health. When the AQI breached the 500-mark on January 24-January 25 and was over 300 during the first week of February, activist Sumaira Abdulali wrote to BMC chief Iqbal Singh Chahal, demanding health advisories when air pollution levels exceed safe limits.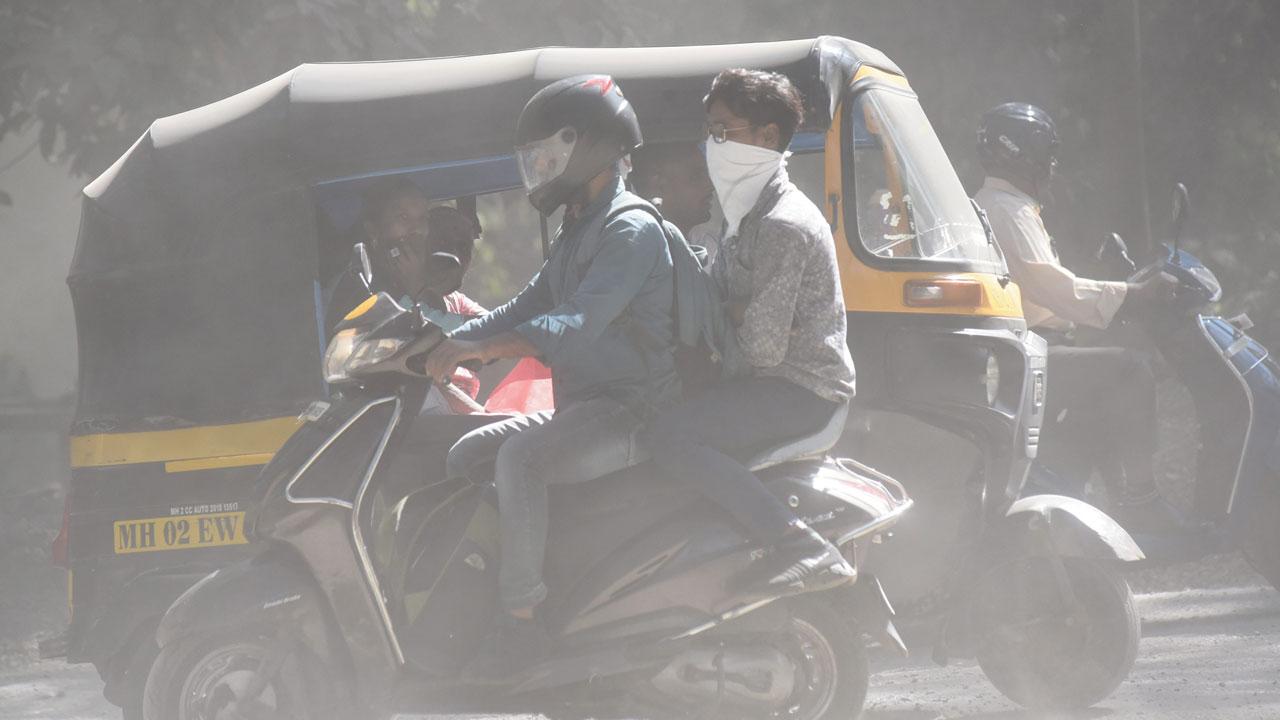 People cover their face for protection against dust from the roadwork, in Aarey Colony, on Friday
"In January and February, the air quality deteriorated in the city and the neighbouring states, and this was attributed to two dust storms that originated in the Middle East, Afghanistan, Pakistan and surrounding regions that had brought dust and haze to northwestern Maharashtra, Gujarat, and Rajasthan. It, however, cannot be dismissed as one-off events, since poor air quality and its impact on health has become a significant concern for Mumbai not just during winter, but throughout the year. I have been urging the BMC to issue health advisories but it has failed to take the matter seriously," said Abdulali, also the convenor of Awaaz Foundation.
Also Read: Tackling the myth of pollution 
Alert, please
Senior scientist Gufran Beig, founder and project director of System of Air Quality Forecasting and Research (SAFAR), has also been urging the state government and urban local bodies to start issuing health advisories and alerts on days the air quality is bad.
Every municipal body in the 132 cities found to have poor air quality is required to put out an alert in such cases, the Centre's National Clean Air Programme (NCAP) stipulates. The plan for AQI forecasting and sending health alerts will raise public awareness, which will ultimately result in a reduction in health risk, activists say.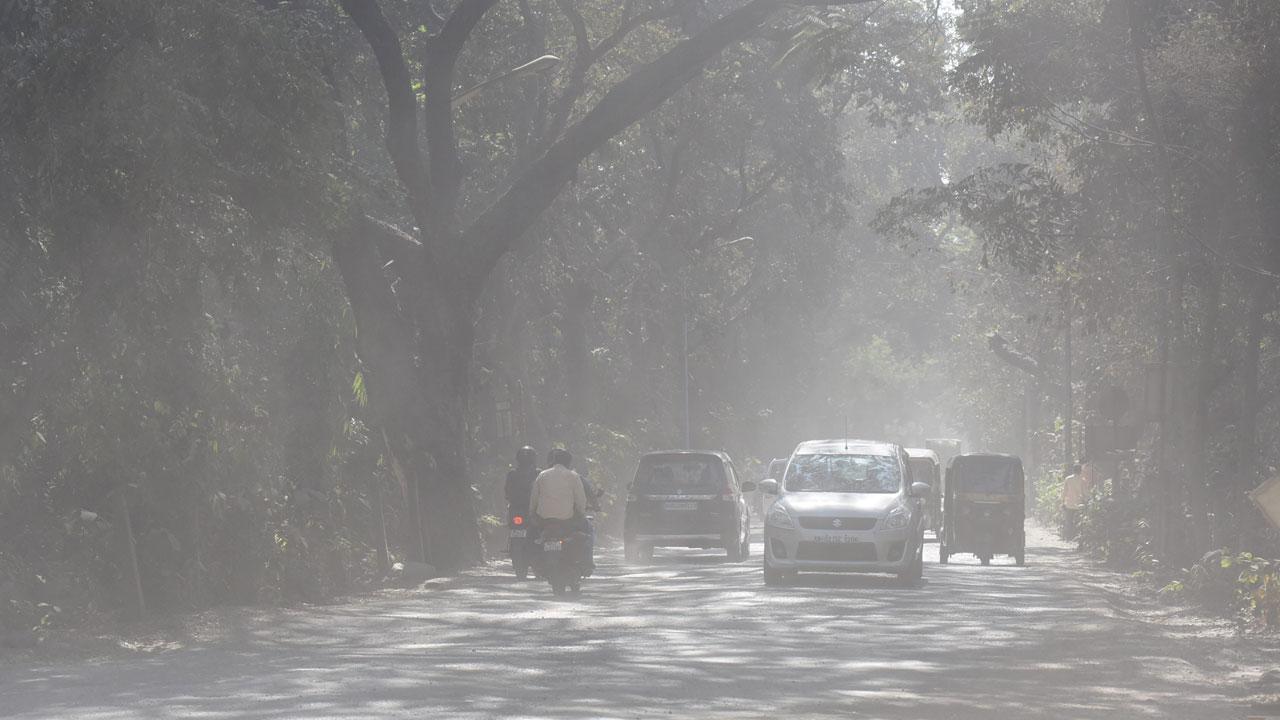 A thick layer of dust covers Aarey Colony, where BMC carries out roadwork, on Friday. Pics/Sameer Markande
Despite geographical advantages and favourable meteorology, air pollution is rapidly becoming a matter of concern in Maharashtra, especially in Mumbai. Over the past two weeks, AQI has been in poor to very poor categories.
Impact on brain, organs
Several studies have already shown the impact of air pollution on not only respiratory organs but also brain and reproductive organs. Last year, a first pan-India study conducted by scientists from four institutes found a direct correlation between air pollution and health. The study stated that areas with poor air quality and higher emissions of particulate matter (PM) 2.5 are more likely to have COVID-19 infections and related deaths.
Abdulali said, "Mumbai is one of Maharashtra's 18 non-attainment cities. A non-attainment city is one that does not fulfil the Union Environment Ministry's stipulated air quality requirements. 
Transportation accounts for 30.5 per cent of Mumbai's air pollution (which makes it the city's most significant source of pollution) followed by industries and the power sector (18%), domestic burning or garbage burning (15%), and wind-blown pollutants (15%), which has a significant impact on construction dust."
Citizens slam BMC
Actor Dia Mirza took to Twitter to raise her concern about deteriorating air quality in the city. "Children are practising their sports day march past. The #AQI is very poor and the health advisory is to avoid extended outdoor exposure. Are the schools in #Mumbai receiving any advisory/guidelines to avoid exposure to toxic air?" she wrote on Tuesday.
A Twitter user, @t__m_a_y, on Friday evening said, "Mumbai AQI: Air in India's financial capital getting worse than smog-filled Delhi." Another user, Mitali Khisa (@nirbanch), wrote, "Mumbai surpasses smog-filled Delhi in declining air quality: Check AQI details, precautions to take against air pollution."
"Mumbai's air quality is worse than that of Delhi despite being the coastal city, On Friday morning PM2.5 level was 308 compared to Delhi's 259," tweeted @AdbaleRahul.
AQI on Friday
Mumbai overall: 269 (Poor)
Malad: 307 (very poor)
Mazagon: 350 (very poor)
Worli: 159 (moderate)
Chembur: 322 (very poor)
BKC: 266 (poor)
Andheri: 218 (poor)
Borivali: 169 (moderate)
Colaba: 245 (poor)
Bhandup: 232 (poor)
269
City's overall AQI on Friday
307
AQI (very poor) in Malad on Friday
350
AQI in Mazagaon (very poor) on Friday
322
AQI in Chembur (very poor) on Friday
245
In Colaba (poor). Normal AQI: 0-50 Do you think the Maharashtra-Karnataka border dispute can be solved anytime soon?