Five CAAQMS to be installed under NCAP yet to be set up despite nod in August 2021; plans to install dust mitigation units stalled too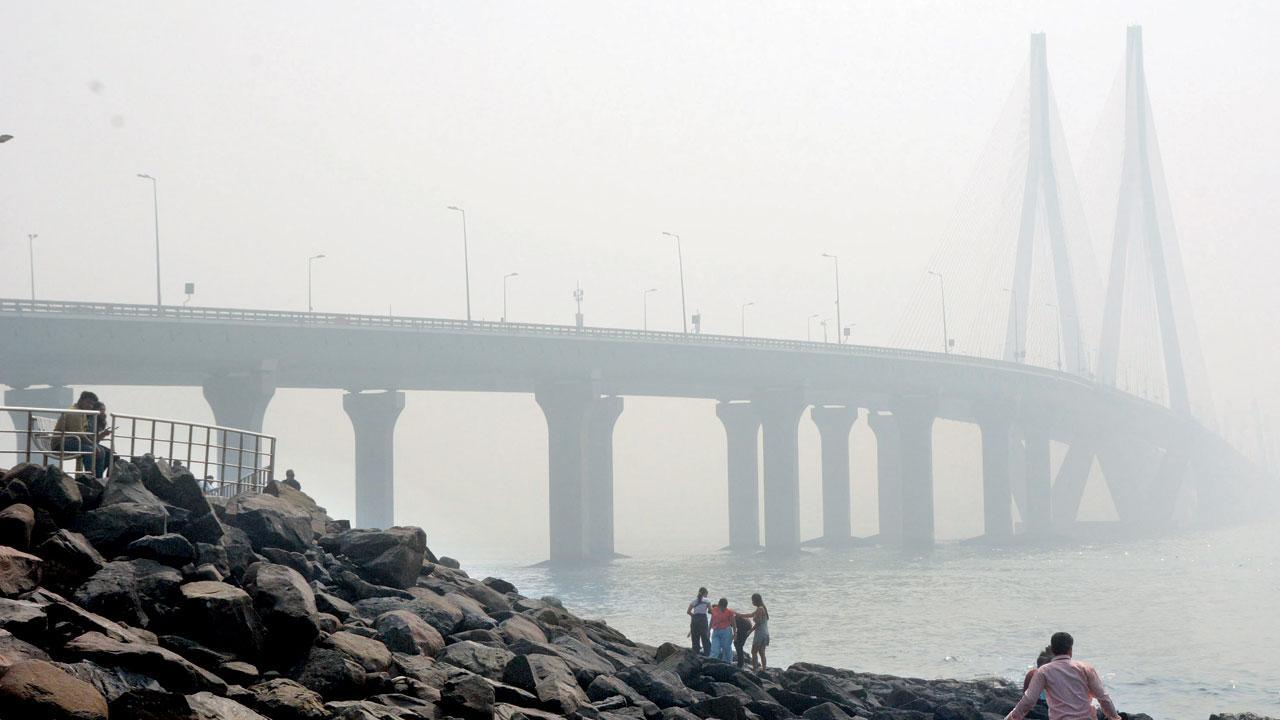 Thick smog surrounds Bandra Worli Sea Link. Pic/Satej Shinde
Air quality in the city has been in the poor to very poor categories for the past few weeks, but the BMC does not seem to be bothered. The civic body had started the process to install five air monitoring systems two years ago, and work contract was awarded a year and half ago, but nothing has been done on ground yet. In addition, the project to install five dust mitigation units has been stalled over funding issues.
The Brihanmumbai Municipal Corporation had floated tenders for five Continuous Ambient Air Monitoring Systems (CAAQMS) under the Centre's National Clean Air Programme (NCAP) in January 2021. The move was aimed at getting specific data on air quality and pollution from more areas in the city. The locations for the units were finalised as Sewri Koliwada, Shivaji Nagar in Govandi, Pant Nagar in Ghatkopar, Charkop in Kandivli and Byculla zoo. 
As per the tender, the cost of these five units was R10.91 crore and the contract would include supply, installation of these five stations and five years of maintenance after the completion of three years of warranty. The tender process was completed and was sanctioned by the standing committee in August 2021. "There was a dispute between bidders and one of the contractors went to the court. So the process got delayed," said a BMC official.
Also Read: "People with no lung disorders also at risk", say health experts on Mumbai's rising air pollution
Deputy Municipal Commissioner Atul Patil said, "We are in the process of installing the stations. We need to follow the procedure, so it is taking some time. The tender process is completed and a work order has been given." The city already has a few CAAQMS which were set up by SAFAR (System of Air Quality Weather Forecasting and Research) and Maharashtra Pollution Control Board (MPCB). 
Dust mitigation units plan
The BMC had also planned to install dust mitigating units at five busy traffic junctions as a pilot project. Each of these units are to have one Dust Monitoring System and two Outdoor Dust Mitigation Units. The tentative locations which were selected for this are Mulund West check naka, Eastern Express Highway toll naka, Vashi-Mankhurd toll naka, Kala Nagar junction and Dahisar check naka.
The Solid Waste Management department accordingly floated a tender of Rs 10.14 crore for the same on October 14 and the process was in the final stage. However, the environment department has recently informed the accounts department that the funds for the same cannot be released under NCAP as there is no such provision, bringing the project to a halt. An official from the solid waste management department, however, said, "The tender process was started after getting permission from the officials concerned."
Rs 10.91 cr
Cost to set up the five continuous ambient air monitoring systems Do you think the Maharashtra-Karnataka border dispute can be solved anytime soon?