Following our front page report, civic officials visit broken stretches in key connector, order contractor to fix them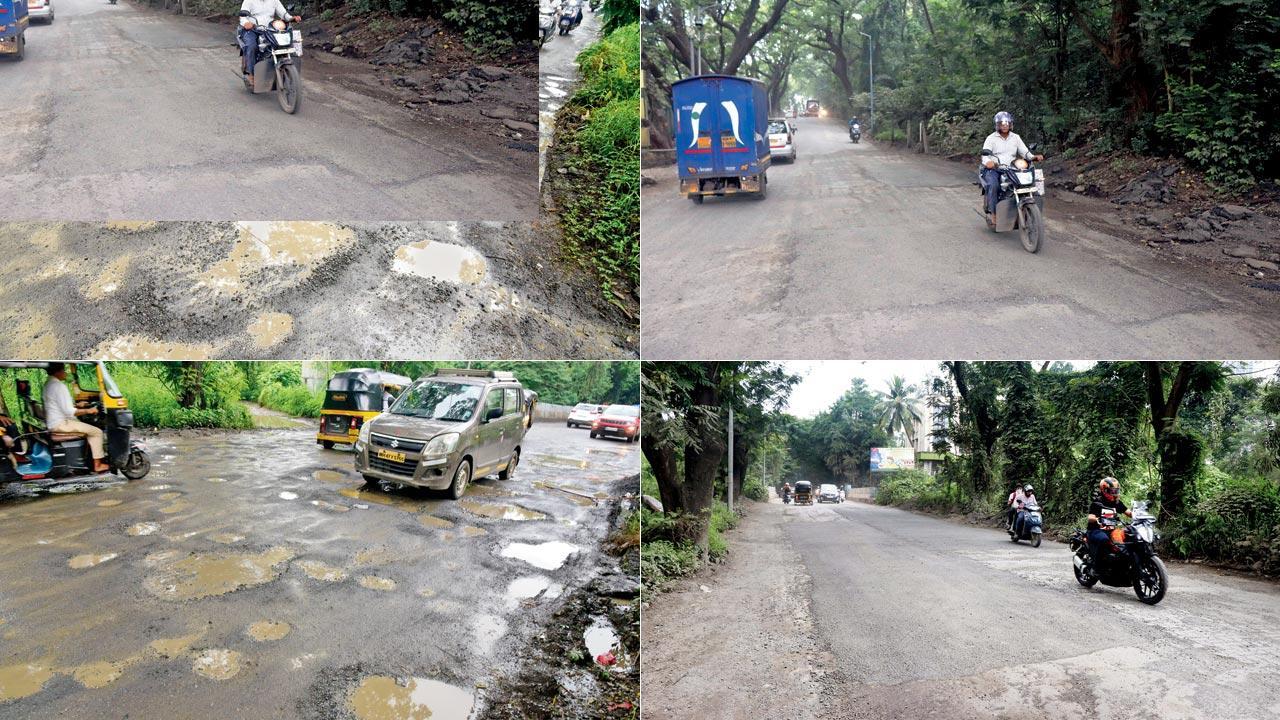 Before and After: The stretch of arterial road near Aarey Lake, which was earlier pothole-ridden, now has an even surface; The stretch of the road near Oshiwara river bridge has been repaired and is now motorable. Pics/Anurag Ahire, Atul Kamble
The BMC has sprung into action following a mid-day report highlighting the terrible condition of the main arterial road inside Aarey Milk Colony which connects eastern and western suburbs. Civic officials on Tuesday visited the spots mentioned in the report and started the work to repair the same. 
Also read: Mumbai: Aarey road linking east-west suburbs has over 74 potholes per km

Before and After: Panchvati Fastfood junction The deep potholes on the road near Panchvati Fastfood junction have been filled
The contractor was ordered to repair the bad patches. The work is going on," said a BMC official. During mid-day's inspection on Wednesday, most of the spots highlighted in the report were found in a motorable condition. Oshiwara river bridge, which was in shambles, has been fixed along with the road at Maharashtra Krushi Udyog bus stop. Other bad patches such as the ones near Aarey lake, Panchavati Fastfood junction were also attended by the Brihanmumbai Municipal Corporation. 

Before and After: Maharashtra Krushi Udyog BEST bus stop BMC has also undertaken repair works near Maharashtra Krushi Udyog BEST bus stop
Pravin Khedekar, a motorist, said, "Given the terrible condition of the road, especially during monsoon, I was shocked to see ongoing repair works. However, we hope the work is of good quality and does not get washed away in rain again."

Before and After: Road towards Unit 5 The road towards unit 5 of Aarey Milk Colony is now all patched up. Pics/Anurag Ahire, Atul Kamble
Kaushal Dubey, a local, said, "I saw workers repairing the road. I hope it is of good quality this time. Earlier also, we saw the authorities filling up potholes, which emerge again after a spell of rain." "It is good to see the road in a motorable condition again. We hope the work is not shoddy and lasts even after rain," said Amit Phaktak, another motorist.
The civic body has started the work on converting this asphalt road into cement concrete. "The work started earlier this year and around 1 km has already been converted to cement concrete," said a BMC official. 
"The remaining 7 km of the road from the Western Express Highway junction to Pipeline Road near L&T junction will be concretised by 2025," the official added. He said the project is going to cost Rs 38 crore. 
2025
Year when the entire road is set to be converted into cement concrete