Residents of Andheri and Juhu point to another fallout of the closure of Gokhale Road bridge; official says state transport dept has created revised tariff card for the route for kaali peeli taxis so cabbies don't refuse rides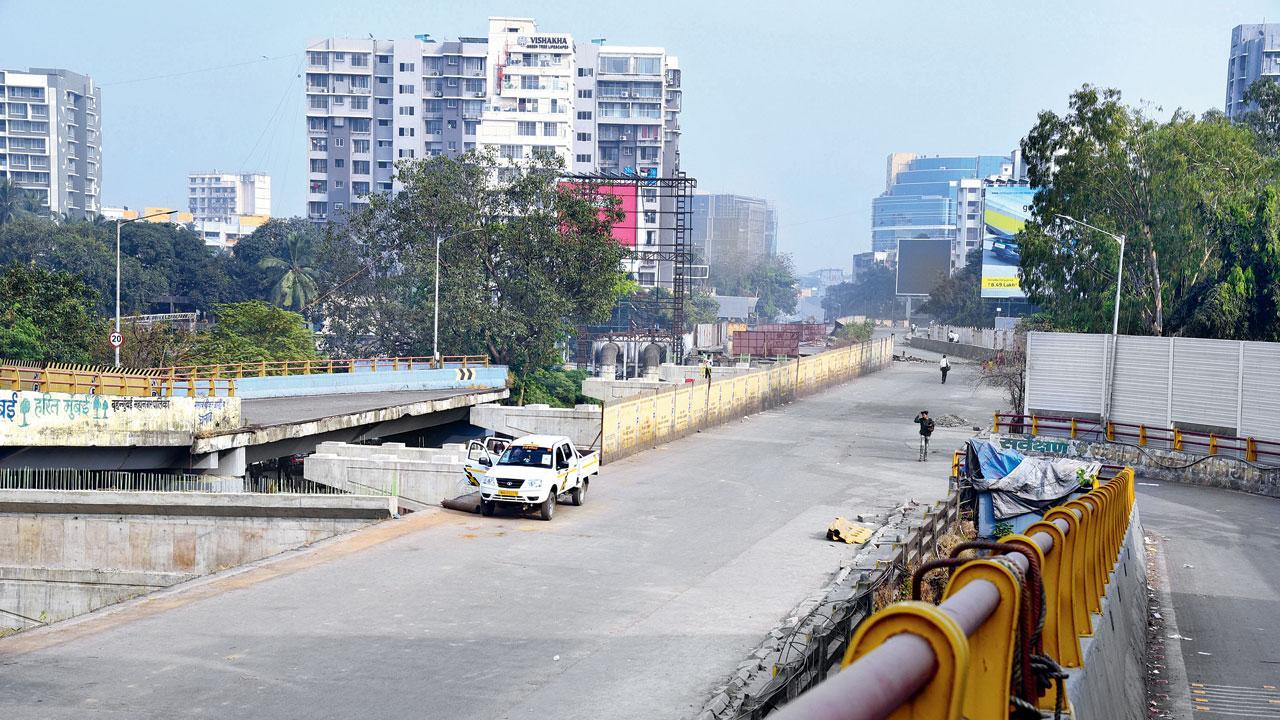 Gokhale Road bridge was shut on November 7, 2022. Pic/NImesh Dave
Residents of Andheri have been complaining that cab aggregators like Ola and Uber have been taking maximum advantage of the regular kaali peeli taxis avoiding plying from the airport to Andheri and Juhu, thanks to the closure of Gokhale Road Bridge. However, an official has said that the Maharashtra transport department has come out with a revised tariff card for prepaid kaali peeli taxis for the route so that cabbies get their due and do not refuse fares.
Commuters face tough time
"The problem is that with the key bridge down, vehicles need to take a detour, and the related diversions and traffic jams also lead to a waste of time. While the fare going up is a natural result, many cab aggregators have been avoiding the stretch altogether by refusing rides," a commuter, Omkar Vaidya, said.
"Now with Gokhale bridge unavailable for a long time, options have developed—alternative routes, hawker-free stretches, etc—and cabbies have found their own ways to handle it. The fare remains on the higher side though. We really hope that work on Gokhale Road bridge is completed as soon as possible. Sadly, they have still not even demolished the bridge completely, let alone begun construction," another commuter, Ankit Savla, said.
"Cab aggregators were taking maximum advantage by cancelling rides at will and charging high fares. This was inconveniencing a huge number of commuters. But luckily, the RTO has stepped in, and now that kaali peeli route pre-paid fares have been worked out to include the diversions, the situation may normalise," citizen activist and co-founder of Lokhandwala-Oshiwara Citizens Association Dhaval Shah said.
Also Read: Mumbai: Will take over Gokhale bridge work mid-February, says BMC
Taxi unions, the RTO and the traffic police conducted a survey of the diversions and the changed route due to the closure of the bridge, and have changed the kaali-peeli tariff to include the cost escalation so that cabbies get their due.
Transport dept's solution
"The Maharashtra transport department last week came out with a revised tariff card for Andheri West residents who will pay Rs 134 to Rs 313 for prepaid kaali peeli taxis from the domestic and international airports depending on distance travelled. The routes will pass through roads diverted due to the Gokhale Road bridge closure in Andheri. The tariff followed a survey by the RTO along with traffic police and taxi union representatives over two weeks," an official said.
While cab aggregator companies were not reachable, most Ola and Uber drivers that mid-day spoke to said that driving on the route is impractical and unaffordable because of traffic congestion due to diversions and leads to lots of arguments, due to which many of them opt to cancel rides along the stretch.