With 62 per cent of the road work already done, the BMC is set to go full throttle on construction of amenities on the project to meet November 2023 deadline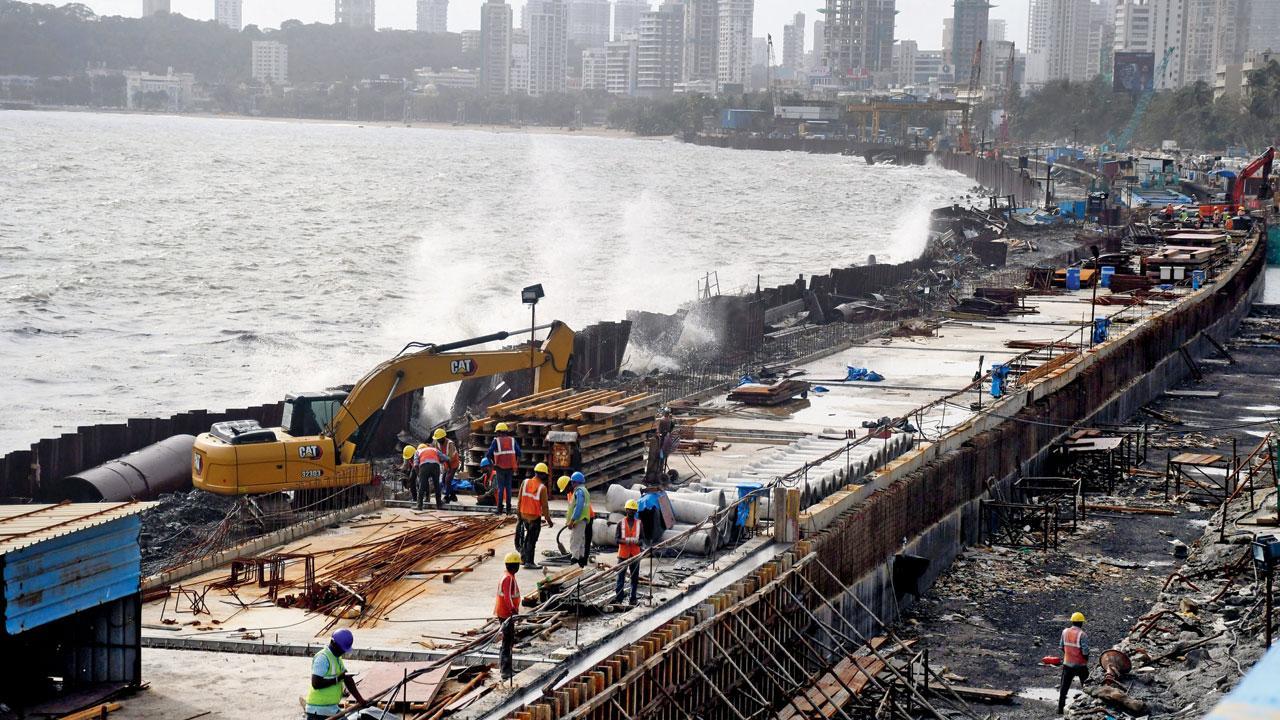 The under construction coastal road at Marine Drive. Pic/Ashish Raje
A day after the Supreme Court vacated the stay over development work—construction of gardens and parking lots—on land reclaimed for the Coastal Road Project (CRP), the BMC decided to rev up all its engines to begin work immediately. Till now, the body has already completed over 62 per cent of the road work and almost 70 per cent of mining work for the second tunnel, sources said.
"The SC's order is very encouraging for us. We can now go ahead with landscaping and work on underground parking lots. Work will be completed by November 2023 as per schedule," municipal commissioner IS Chahal said. Work on the 10.58 km CRP, stretching from the Princes Street flyover to the southern end of Bandra-Worli Sea Link, began in 2018. After non-profits approached the apex court to stay the project citing climate change, only road work was allowed to be done. Mantayya Swamy, chief engineer of CRP said about 1.4 crore square feet of land has been reclaimed for the project in total. 
Also Read: No water cuts until next monsoon: BMC
"Around 75 per cent of the land will be used for landscaping and civic facilities like toilets, track for jogging and cycling, butterfly garden, sea promenade, open theatre, children's parks and playgrounds, police posts, bus stops, footpaths to cross the road, jetties etc," he said. Three underground parking lots—near Mahalakshmi Temple and Haji Ali Dargah, Amar Sons Garden and Worli Dairy with a park on top—will also come up.
Enroute CRP
>> Total cost of Coastal Road Project is Rs 14,000cr
>> It's 10.58-km long
>> There are 3 parking lots with capacity for 1,856 cars 
>> It will form the sea promenade between Priyadarshini Park and Bandra-Worli Sea Link