The breakthrough of the final phase of the tunnel excavation between Swarajyabhoomi-Girgaon Chowpatty and Priyadarshini Park in the Mumbai Coastal Road Project conducted in presence of Chief Minister Eknath Shinde and Deputy Chief Minister Devendra Fadnavis, a statement from the CMO said on Tuesday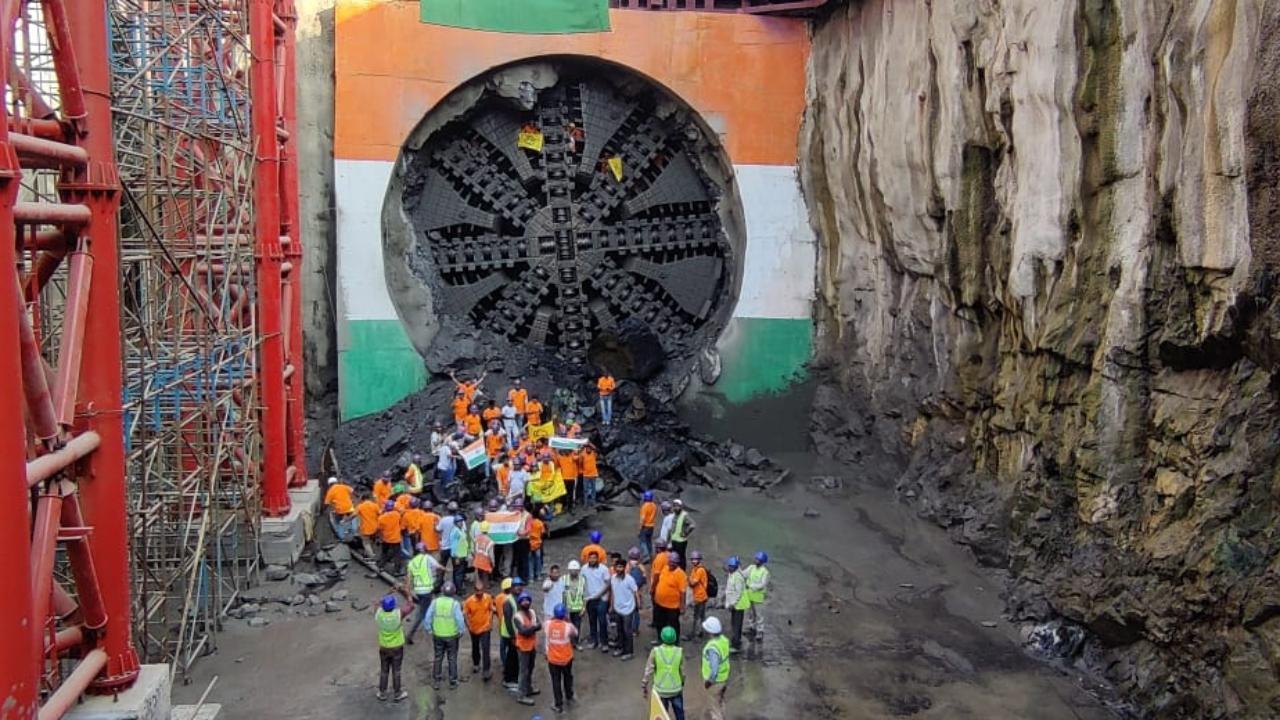 The second tunnel from Swarajyabhumi (Girgaon Chowpatty) to Priyadarshini Park in the Mumbai Coastal Road Project was completed on Tuesday. Pic/Sameer Markande
Maharashtra Chief Minister Eknath Shinde on Tuesday said that the journey of Mumbaikars will be comfortable and free from traffic jams once the Mumbai Coastal Road project is completed and opened for people. CM Shinde and Maharashtra deputy CM Devendra Fadnavis attended the breakthrough of the second underground tunnel of the Mumbai Coastal Road Project. 
The breakthrough of the final phase of the tunnel excavation between Swarajyabhoomi-Girgaon Chowpatty and Priyadarshini Park in the Mumbai Coastal Road Project conducted in presence of Chief Minister Eknath Shinde and Deputy Chief Minister Devendra Fadnavis, a statement from the CMO said on Tuesday.
ADVERTISEMENT
The Brihanmumbai Municipal Corporation (BMC) Commissioner Dr. Iqbal Singh Chahal,  Additional Commissioner Ashwini Bhide, as well as engineers, officers, employees of L&T Company and consulting companies were present.
Chief Minister Shinde, and deputy CM Fadnavis congratulated the BMC and the companies, consultants and engineers, employees responsible for the project implementation. 
CM Shinde said, "this is a very important project for Mumbai. We are using state-of-the-art technology to complete this project and its tunnel. Various facilities for undersea roads will also be state of the art. For the completion of this project we have also taken the 'Bhumiputras' of the local Koliwada into confidence. The distance between the two pillars in the sea has also been made 120 meters. This project has been taken forward by taking everyone along. All environmental aspects have been taken care of. Many such important projects are underway in Mumbai. They have been strongly supported by the Centre especially by Prime Minister Narendra Modi," the CMO said in a statement. 
CM Shinde further said that the efforts are being made to free Mumbai from traffic jams and provide relief to the citizens.
Stating that it has already been announced to name this coastal road project after Chhatrapati Sambhaji Raje, the Chief Minister said that the MTHL sea bridge is also nearing completion. The route will be connected to Worli later. Due to this, the stress on the western express highway will be reduced. The completion of various metro lines, flyovers will bring relief to the citizens, the statement further said.
On the occasion, deputy CM Devendra Fadnavis said, "this is an important project for Mumbai. Completion of this tunneling phase is an important milestone in this project. We are lucky enough to witness these moments. Prime Minister Narendra Modi has extended special support for the work of this project. Chief Minister Shinde was also constantly monitoring the work of this project. This project will be completed soon. Efforts are being taken to make sure that it will be open to the public soon. This will be an important addition to the daily transportation facility of the citizens. Kudos to all those involved in this project for completing this challenging task, the statement from the CMO said. Should housing societies be more cautious with their elevators and sewer lines?