State records more than 13,000 cases and 54 deaths; active cases near the one-lakh mark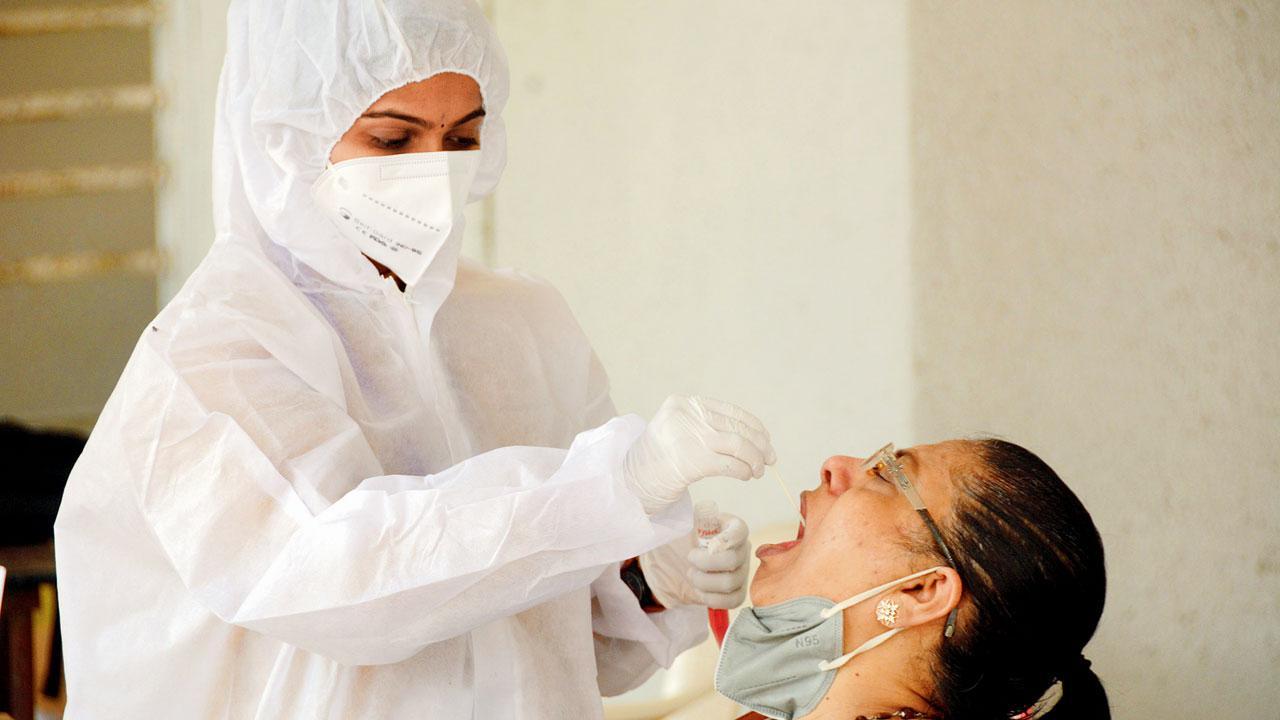 A health worker takes a swab sample from a woman at Topiwala Municipal Maternity Home in Goregaon on Wednesday. Pic/Satej Shinde
The daily COVID-19 cases in the city saw a sharp increase to 1,539 on Wednesday, a 50 per cent rise from the previous day. This is the second highest number of cases that the city recorded since October 21 last year when the daily tally was 1,609. The test positivity rate (TPR), too, has increased to 7.1 per cent from 3 per cent in the first week of February.

A health worker registers a citizen for a COVID-19 test at Topiwala Municipal Maternity Home in Goregaon on Wednesday. Pic/Satej Shinde
The Mumbai Metropolitan Region (MMR) registered close to 3,000 fresh cases on Wednesday. While the state reported more than 13,000 cases and 54 deaths, the active cases inched close to 1 lakh. The number had reduced to 30,000 in the first week of February. 
Apart from four days in between, the daily cases in the city have remained above 1,000 for the past two weeks. It reached a new high on Wednesday after 21,615 tests were conducted. A total of 888 patients were discharged after full recovery on Wednesday and active patients in the city have crossed the 11,000 mark. Of the five deaths reported in the city, four patients had comorbidities and all patients were above 60 years of age. One or two floors have been sealed in about 2,601 buildings across the city and 214 where more than five cases were found, have been completely sealed. Out of the 2,601 buildings, 518 are in Andheri West and Vile Parle West, 310 are in Kandivli and 323 are in Malad. About 6 lakh people are residing in these buildings. A BMC official said, "More than 90 per cent of the cases is still from buildings and most of them are asymptomatic."
The MMR reported 2,933 cases including the ones in Mumbai. Other cities like Thane recorded 257 cases, Navi Mumbai 166 and Kalyan-Dombivli 399. The MMR registered four deaths, excluding those in Mumbai. Nashim and Akola circles registered 15 deaths each.
The state reported a total of 13,659 fresh COVID-19 cases, out of which Akola circle saw 1,540, Pune circle 2,882, Nashik 2,365 and Nagpur 2,319. The cumulative number of cases in the state is 22.52 lakh and the recovery rate stands at 93 per cent. A total of 9,913 patients were discharged after full recovery on Wednesday and active patients have increased to 99,008. 
22,52,057
Tal No. of cases in Maharashtra
2,933
Total no. of cases reported in MMR in the last 24 hours
5
No. of deaths in city on Wednesday (Four patients had comorbidities and all patients were above 60 years of age)
888
Patients recovered and discharged in city on Wednesday
4,18,207
(Total no. of people administered the first vaccine dose)
58,546
(No. of people who have taken their second vaccine dose so far)
36,966
(No. of people who took their first vaccine dose on Wednesday)
5,736
(No. of people who took their second vaccine dose on Wednesday)