Fire brigade will send notice to Shivshakti tower for non-functional fire-fighting system, say officials; society office-bearers say nothing's wrong; two undergoing treatment for suffocation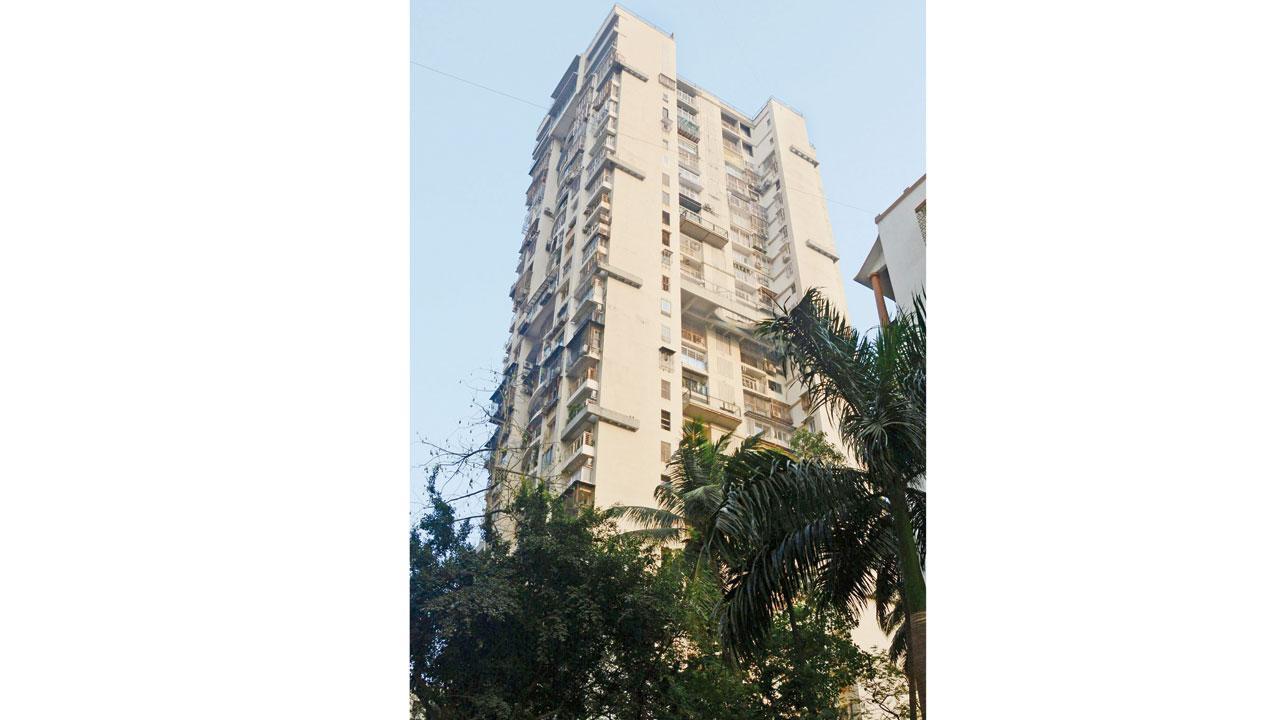 Shivshakti tower where the fire broke out, in Andheri, on Wednesday. Pic/Sayyed Sameer Abedi
The internal fire-fighting system of the Andheri high-rise, where a blaze erupted early on Wednesday, wasn't in a working condition, officials from the fire brigade said. The fire broke out around 1.30 am in the common passageway on the 24th floor of 28-storey Shivshakti tower, at the Lokhandwala Complex. A few people faced suffocation while escaping and were hospitalised, said BMC officials.
Four fire engines and five jumbo tankers were rushed to the spot. Though it was a Level 1 (small scale) fire, it took more than two hours to contain it, said officials. The fire was confined to electric cables in the passageway, they added. People on the higher floors were stuck. A resident, Rahul, tweeted for help around 2 am, saying, "Brigade arrived but we are stuck on the 24th floor waiting for an update on what to do. Passage is full of smoke. Don't know what to do (sic)."
"The fire broke out in an electric duct and spread to the upper and lower floors. The people who came outside in panic suffered suffocation and those who stayed inside were safe," said Sanjay Manjrekar, chief fire officer of the Mumbai fire brigade.
Also Read: BMC Budget 2023: All eyes on first budget in 27 years without the Sena chhaap
The injuries
Shirin Motiwala, 85, is in the ICU, while three others--Abhishek singh Duhan, 39, Chandramohini Kaushal, 75, and Chitwan Kaushal, 34,--are in the general ward, said BMC officials.
"Four individuals who sustained injuries in the recent fire outbreak at Andheri's Lokhandwala were brought to the hospital in the emergency department and given immediate medical attention. Two patients have been treated and discharged, and two others are currently undergoing medical treatment," said Dr Santosh Shetty, CEO and executive director, Kokilaben Dhirubhai Ambani Hospital.
The society's office bearers, however, claimed all the four residents are back at home. "Some residents, including Motiwala, felt suffocation while coming down. So, they went to their doctors. But, everyone is fine now and at their homes," said Neeta Bhatia, secretary of the Shiv Shakti Tower.
A notice on the way
"There was a fire fighting system in the building, but when it wasn't running on alternate electricity supply. When we reached the spot, the electric supply was already disconnected. We tried to start alternate supply, but the pumps weren't operating. We had to use our own hose line and water from tanks to douse the fire," said a fire official. He added that they received some water from the terrace tank due to gravity.
"Our fire-fighting system was in place. Some sprinklers were working and some were not," said Bhatia. Fire brigade officials said they will send a notice to the society regarding the non-functional fire-fighting system.
4
No of people who faced suffocation while escaping