After a successful pilot run, authorities are ready to evaluate flood vulnerabilities throughout the city's suburban railway lines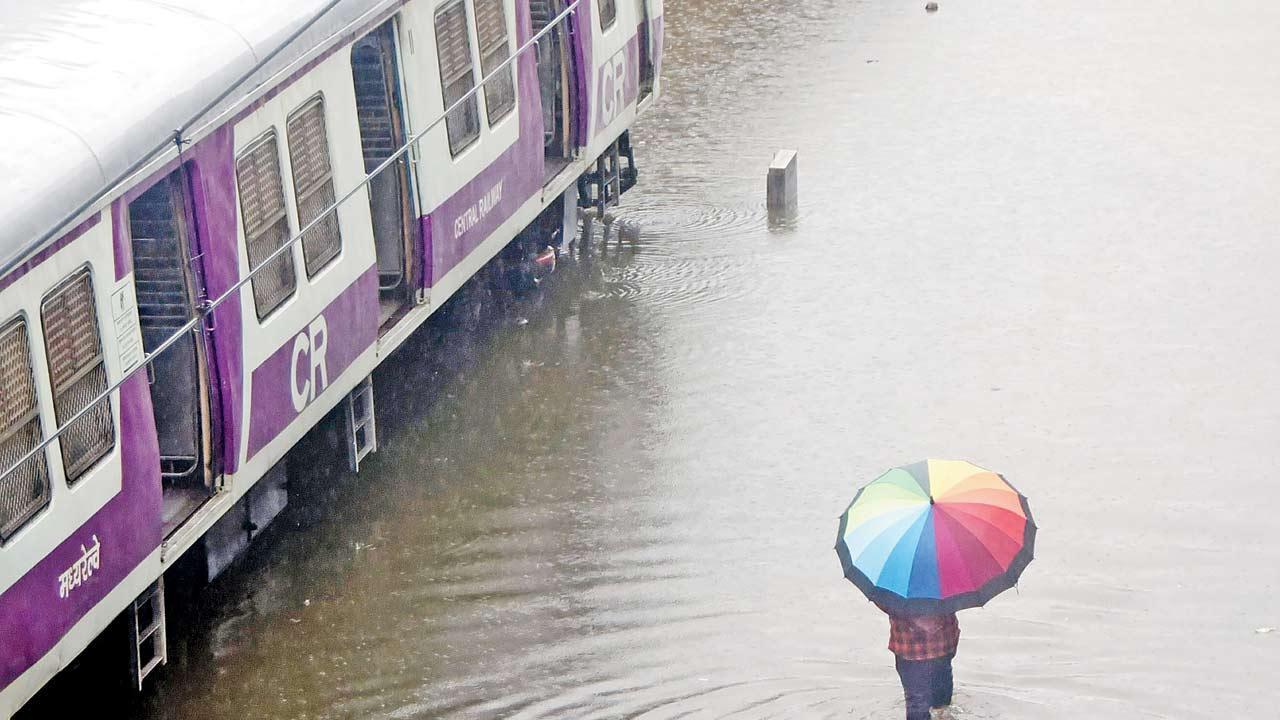 Waterlogging at Chunabhatti railway station due to heavy rain last monsoon. Pic/Pradeep Dhivar
Mumbai suburban railway has finally embarked on the task of creating a contour drain map of the rail lines to finally rid the network of flooding woes once and for all. The project aims to study flood vulnerability and collect data, measurements and rainfall patterns, suggest mitigation measures and create an action plan to shield rail lines from the city's flood lines.
A study of two locations on pilot basis, on the recommendation of the Indian Institute of Technology Bombay, has proven to be successful. Moreover, a zonal effort by Central Railway (CR) to map all the underground cables seems to have worked well and been immensely helpful.
The Mumbai Railway Vikas Corporation (MRVC) will undertake the project, which will proceed as per the availability of funds, given the fact that the Maharashtra government has stopped its funding. The project has identified 56 indicative flooding locations, including 17 on Western Railway and 39 on CR lines, other than nine locations at rail car sheds and yards.
Century-old network
"The drainage network of Mumbai is about a century old, with a design suitable for optimum drainage at rainfall up to 25 mm/hr during low tides. Thus, any rainfall of higher intensity for prolonged duration or rainfall coinciding with high tides eventually results in water stagnating and affecting train operations. A total of 2,400 mm of rainfall are recorded on average during the monsoon period from June to September out of which about 1,400 mm occur only during June and July. High rainfall of about 300 mm a day is quite prevalent with a high likelihood of exceeding the threshold limit of 25 mm/hr rain during high tide on several occasions during the monsoon season," a senior official said.
"Most of the urban developments in the city have taken place subsequent to the laying of railway tracks, and the raising of tracks is also not feasible beyond a certain level. Due to all this, a network-wide flood vulnerability and mitigation assessment for the Mumbai suburban system of WR has been planned to develop a proposal for appropriate mitigation works," he added.
Elaborating on what all will be done, he said, "The major aspects of the mapping will include a detailed sector wise analysis of existing drainage networks in railway areas considering rainfall data, tidal data, catchment areas, frequency analysis, simulation studies, etc. This along with a detailed study and analysis of various reports conducted by the BMC on the status of drainage systems in Mumbai suburbs."
The pilot study
The MRVC, as a pilot project this year, surveyed two catchment areas--one each on WR (Dadar-Parel) and CR (Kurla-LTT). The new study will exclude these two. In its preliminary report, IIT-Bombay had suggested the creation of holding ponds in the Dadar-Lower Parel areas for immediate relief from flooding on tracks. At Kurla, it suggested the desilting of culverts on the north side of the suburban section, which are blocked, on priority basis.
56
No. of flooding locations identified