Teachers allege even shoes distributed recently, were mostly of wrong size; civic education officer says uniforms may be given before Diwali break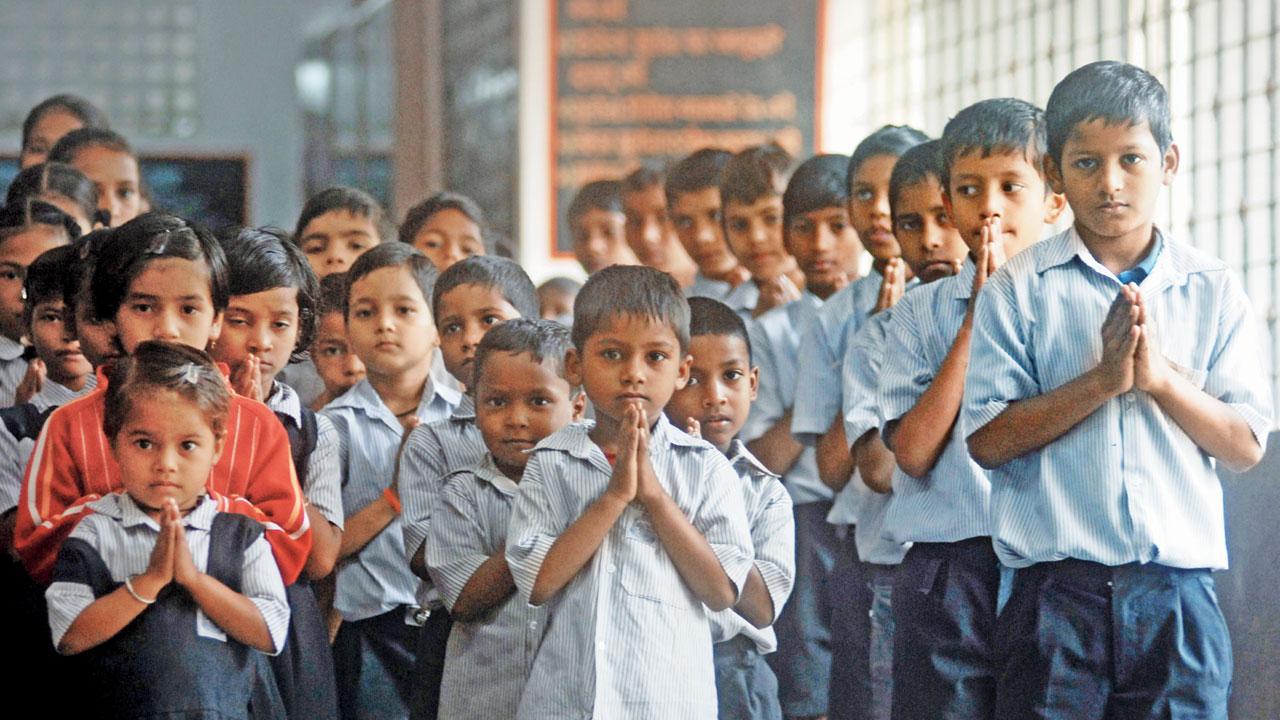 The civic body decided to bring in a new uniform for students of all BMC-run schools from this academic year, but the uniforms are yet to be distributed. File pic
Students of BMC-run schools are yet to get new uniforms even as the first half of the academic year is over. Shoes that were distributed to them randomly turned out to be the wrong sizes for most, teachers alleged. In addition, teachers were asked to distribute money instead of a few items in school kits this year. While the BMC is getting new school buildings and upgrading existing ones and has already rebranded civic schools as Mumbai Public Schools in February 2020, the system seems to be in shambles. Currently, 2.98 lakh students attend 1,150 civic schools.
To encourage more students to enrol in civic-run schools, the Brihanmumbai Municipal Corporation started providing 27 educational items to them. These items are supposeed to reach students on the first day of school. The distribution has been delayed since the scheme was launched in 2007. However, this year has broken all records. This year, all civic-run schools reopened on June 13, but they had to wait for most of the articles.
The BMC has allotted Rs 7 crore for instructional materials such as books, raincoats, umbrellas, tiffin boxes, water bottles, shoes and socks, and others. In addition, the BMC provided Rs 270 to each Std VIII-X student to purchase umbrellas on their own. The civic body also decided to change the uniform this year.
Also Read: Mumbai: Why is the Sena-led govt turning its back on Marathi, asks city school teachers
"Six months since the academic year began and even as the schools are set to shut down for Diwali vacation, students of BMC schools are yet to get new uniforms. We distributed shoes to them recently but a majority of them are wrong sizes. This year teachers were asked to distribute money instead of school kits for most items. It took two months for the teachers to distribute money for the umbrella, and another two months for money towards bags, tiffin box and water bottles," said Shivnath Darade, general secretary of the Mumbai chapter of Maharashtra Rajya Shikshak Parishad (MRSP).
Darade alleged, "This year there was no scope for siphoning off money from the bid for bags, tiffin box and water bottles as it was very low, and so no firm showed interest. The amount set for the three items—bags, tiffin boxes and water bottles was Rs 650. Imagine the quality and margin. When this did not work, it was decided to distribute money to the students. Now instead their academic duties, teachers are busy making lists, bills, distributing money and sending reports to the civic body. There is already a shortage of 800 teachers, and existing teachers are busy doing clerical, non-academic jobs. Is this how BMC is planning to upgrade civic schools?"
A BMC school teacher said, "As teachers, it is appropriate for us to help students who haven't got the school kit. However, it is unfair for us to distribute money, buy items for students who are absent and give them. But we have been doing this since schools reopened."
"It is true we decided to distribute money to students through teachers this year, especially for umbrellas and bags,  etc. However, most of the items such as raincoats, tiffin boxes, water bottles, shoes and socks have been distributed already. Just the uniform remains and the process has begun. I am sure the distribution of uniforms will be complete before the Diwali vacation," said Rajesh Kankal, BMC's education officer.