Outrage as schools told to be part of nationwide contest in Hindi and English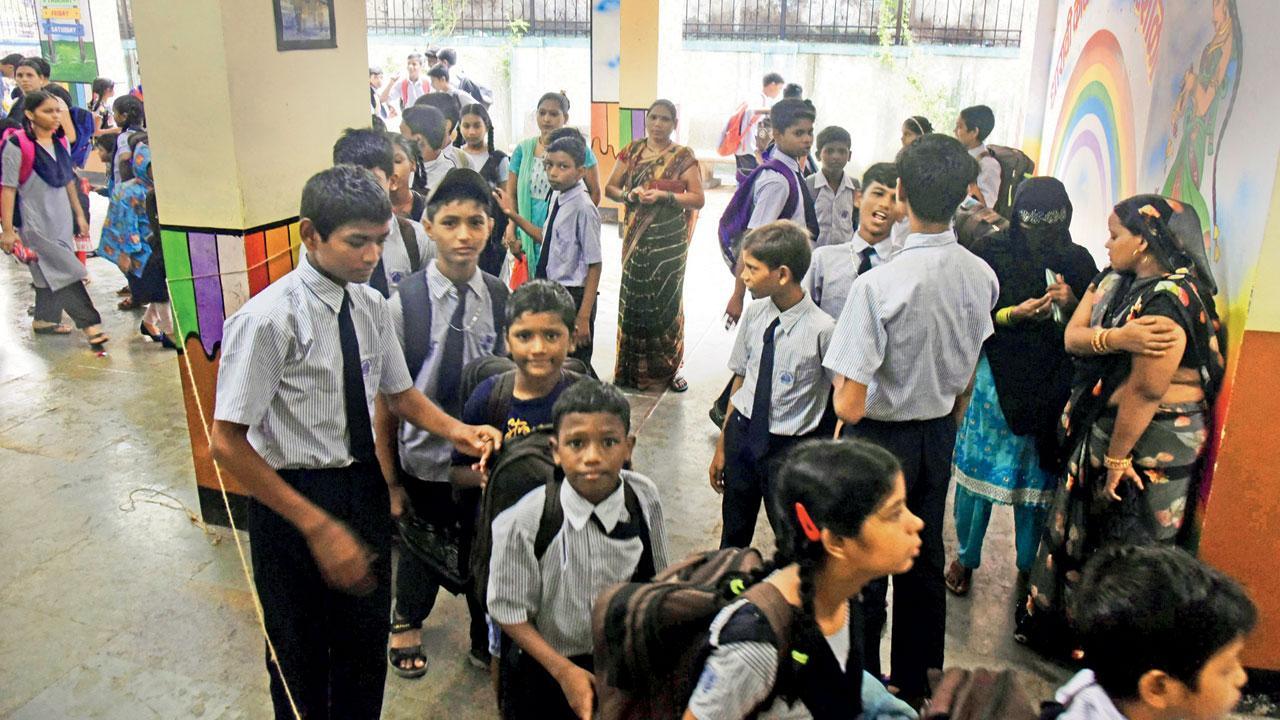 The event will be held in government, zilla parishad, municipal and ashram schools. Representation pic
Despite claiming the legacy of Shiv Sena founder Balasaheb Thackeray, the ruling Eknath Shinde-led faction of the party is overlooking the Marathi language, local school teachers have alleged. A circular issued by the state education department about a nationwide competition organised by the National Council of Educational Research and Training (NCERT) under the National Population Education Project across various states has directed schools to hold dramas, skits and folk dance competitions only in Hindi and English. This has not gone down well with Maharashtra's school teachers and Marathi language enthusiasts, who have asked why the competition is not being held in the state language. Some teachers and their schools are planning to boycott the competition if Marathi is not added as a medium of language to the project.
"By issuing circulars like these, the government and education department are denigrating the state language while simultaneously claiming to be focusing on promoting and protecting Marathi. They should have clarified this with NCERT and ensured that Marathi was included.  What about students from rural areas? Should they not participate? It's not that we can't teach them Hindi or English, Marathi will allow them to represent their culture and language to other states," said Sushil Shejule, the coordinator of the Marathi Shala Sansthachalak Sangh and a member of the Marathi Abhyaas Kendra.
Also Read: Mumbai: Case against man for killing himself after murdering kin in Govandi
Shejule said unless the Eknath Shinde government addresses this problem, the competition would be boycotted on a large scale. The competition is to be held at all schools run by the government and bodies such as zilla parishads as well as municipal and ashram schools. The competition will be held at the taluka, district and state and national levels. Students studying in Std IX can participate in the competition whose topics include healthy growth, nutrition and diet, personal safety, safe use of the internet and drug abuse-prevention. The last date for registration is October 5.
Prasad Gokhale, a parent and convenor of Marathi Shala Aaapan Tikavlya Pajihet (We Must Save Marathi Schools), a parents' awareness group on Facebook, which has over 1 lakh members, said: "Even today, 65 to 70 per cent of pupils in Maharashtra study in Marathi, which is also the language taught in these schools. English and Hindi are just other subjects. Why then are they required to compete in a Hindi and English-language competition? There is already a plot to close Marathi schools throughout the state on the pretext of poor student strength. The state should compel the organizers to allow the competition to be held in Marathi even though NCERT has not included any state languages."
An official from the State Council of Educational Research and Training said, "The competition is organised by NCERT at the national level. The NCERT guidelines mention only Hindi and English. But we will table a request before NCERT to include Marathi as well. However, students should not consider language as a barrier."
05
Day in Oct when registration ends Is Amitabh Bachchan- Rashmika Mandanna`s `Goodbye` ticket price of Rs. 150 a lucrative offer?