Bridge has one staircase; escalator will be installed after monsoon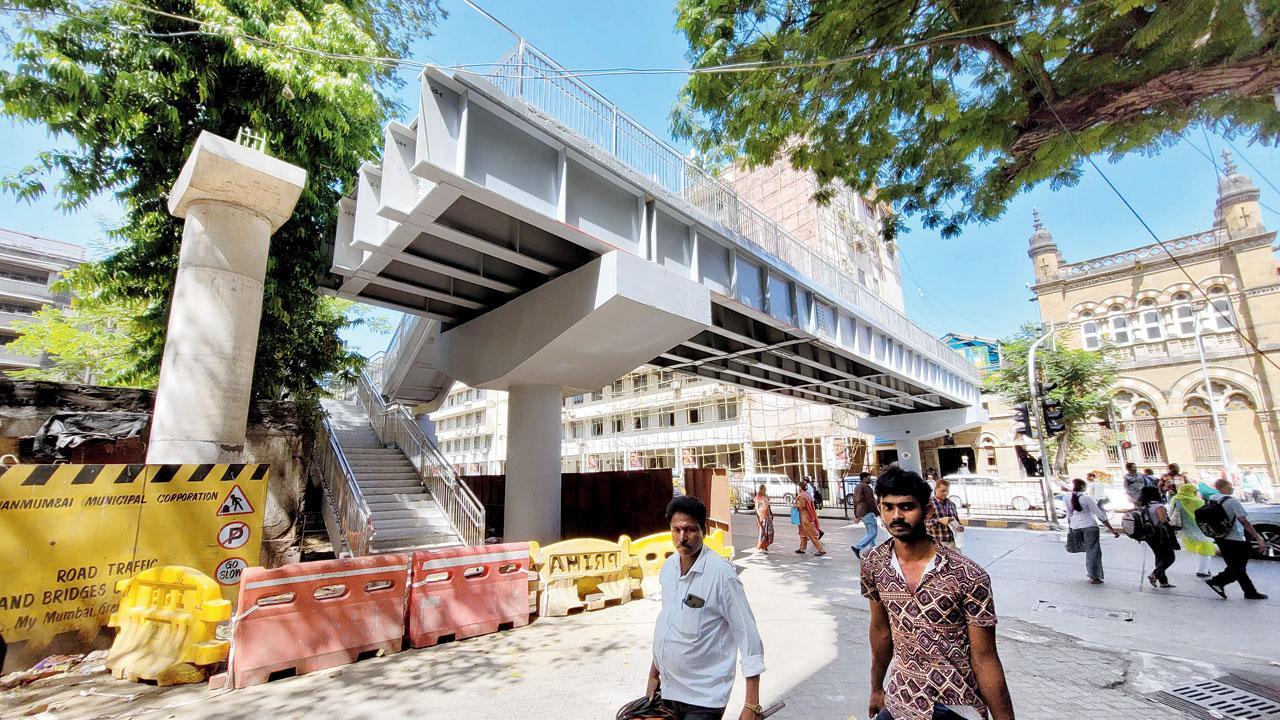 More than 50,000 railway passengers used the Himalaya foot overbridge before its collapse in the year 2019
The Himalaya foot overbridge (FOB) at Chhatrapati Shivaji Maharaj Terminus (CSMT), which triggered a thorough inspection of all city bridges and the closure/reconstruction of at least 50 such structures, is finally ready after four years and two weeks and is awaiting the final nod to be opened for the public.
The bridge has one regular staircase, and an escalator will be installed after the monsoon. The FOB collapsed on the night of March 14, 2019, claiming seven lives and injuring more than 30. It was used by more than 50,000 railway passengers daily. After the structure collapsed, there was a lot of back and forth over its design and weighing the options of installing a subway and setting up an escalator. Questions were asked as to whether a bridge was required in the first place. Finally, the work order was floated in 2021. While the Covid-19 pandemic delayed the work, delays also occurred due to matters concerning underground utilities, water lines and BEST and MTNL cables, according to civic officials.
ADVERTISEMENT
Also Read: BMC to set up 60 automatic weather stations in Mumbai
"The construction work is completed. We need a structural stability report before opening it to the public. The inspection has been done and we are expecting a report within 4 to 5 days. Simultaneously, a file has been put up for permission from the civic chief to open the bridge," said another official from the BMC. "We have seen the progress of the bridge every day for the past two years. Hopefully, it will open soon with the escalator," said Sandip Kadam, a commuter.
Escalator will come soon
The bridge will have a staircase on one side. The BMC earlier decided to put an escalator on the side of the footpath, but the idea was dropped later on and the tender was floated without an escalator. However, the BMC later decided to install an escalator from the internal road and issued a work order in this regard. "It will take time as it is being constructed in the factory. Once it is made, it won't take many days to install it," said a BMC official. The escalator may be installed by June or July.
14
Day in March, 2019, when the FOB collapsed