Scores of commuters used six-metre-wide structure despite Thursday being a public holiday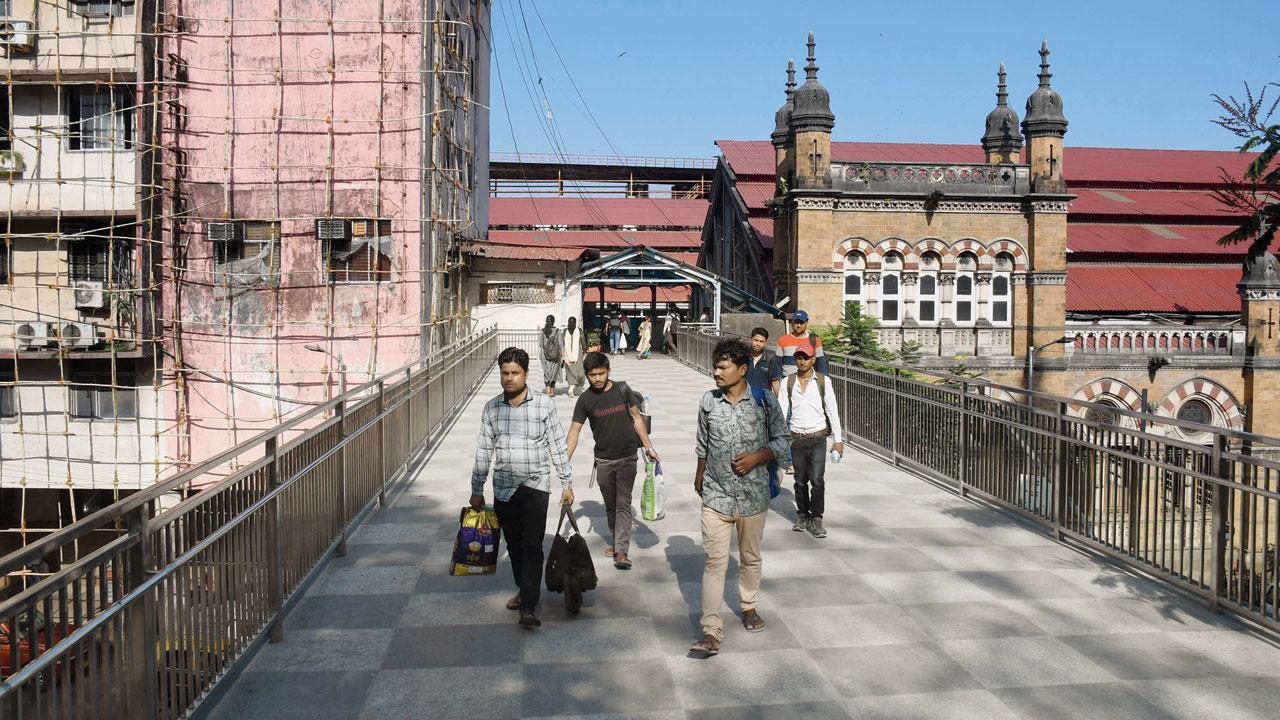 Commuters use the Himalayan foot overbridge at CSMT on Thursday. Pic/Ashish Raje
The reconstructed Himalaya foot overbridge (FOB) outside the Chhatrapati Shivaji Maharaj Terminus (CSMT) was opened to the public at 8 am on Thursday without a formal inauguration. In the wake of a mid-day report on March 29 about how the bridge was ready but awaiting a final nod, the BMC decided to open it immediately to the public. Seven people died and more than 30 were injured after the FOB collapsed on March 14, 2019. This triggered in-depth structural audits of all bridges across the city.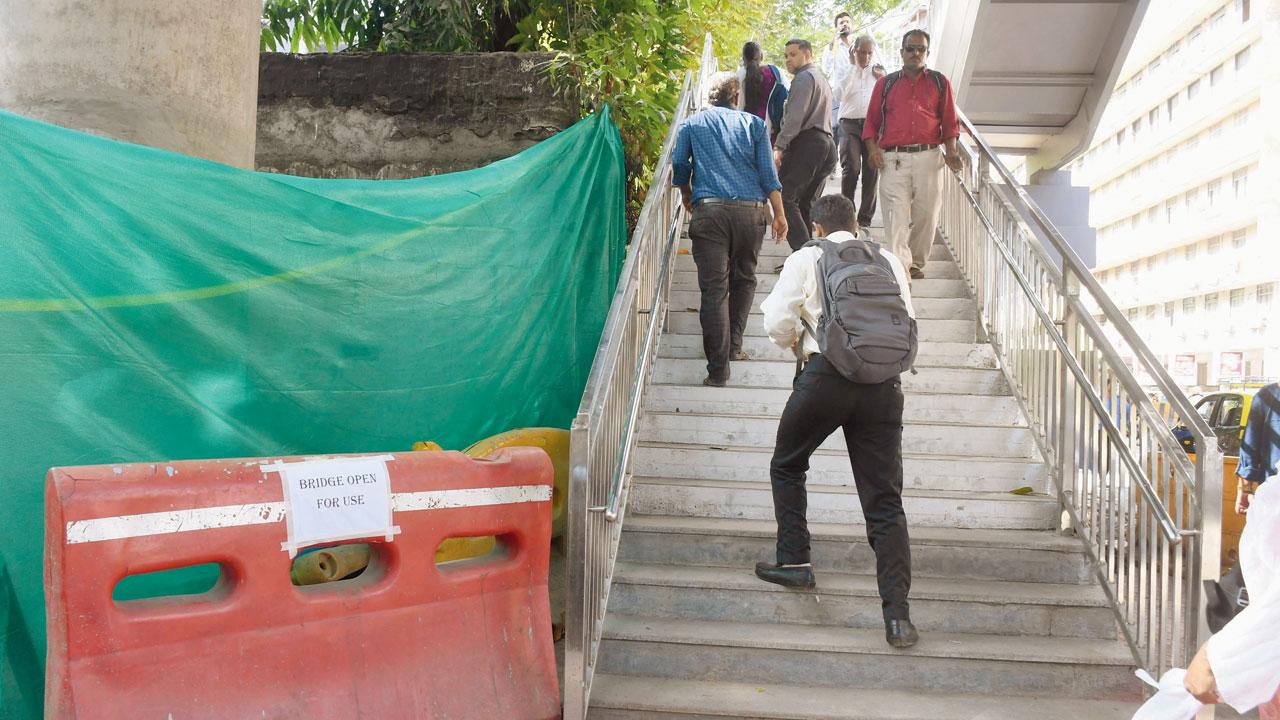 ADVERTISEMENT
While the Himalaya bridge has a regular staircase, an escalator will be installed after the monsoon. The bridge is six metres wide and the BMC expects it to be used by 18,000 pedestrians per hour during peak hours. According to a BMC survey that was carried out before the FOB's reconstruction, more than 50,000 commuters cross the road near the bridge.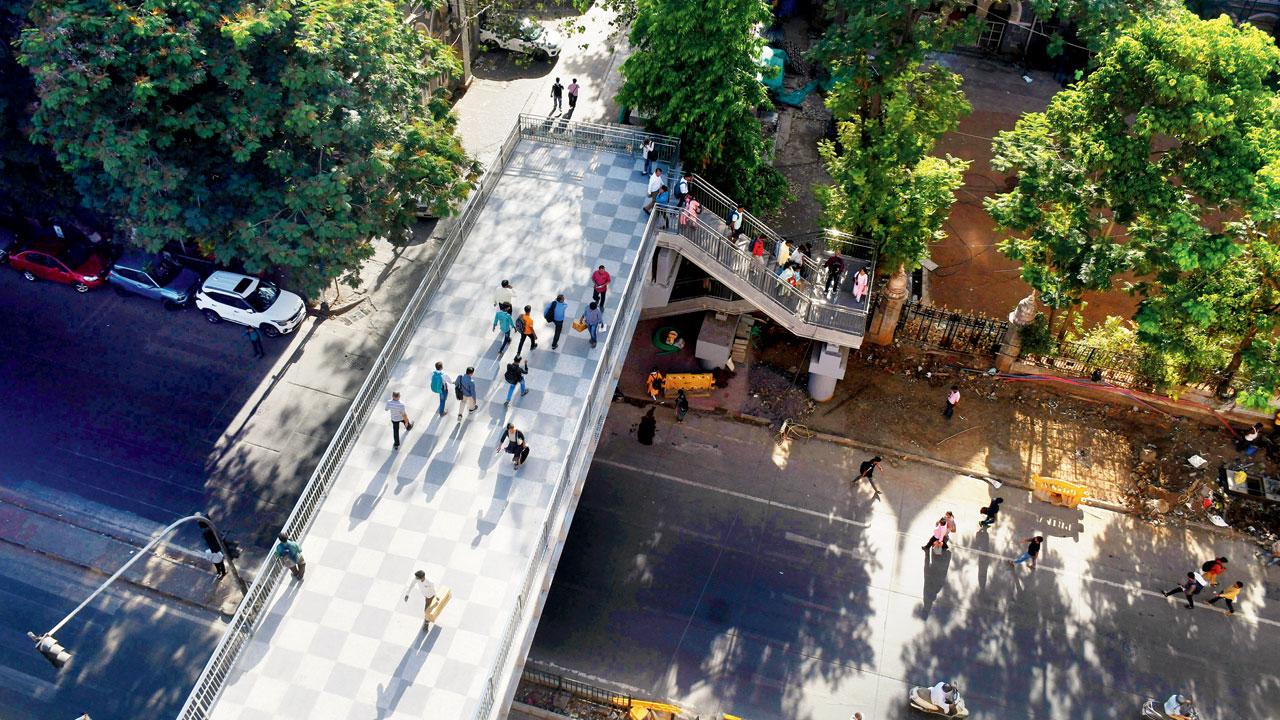 "The construction work has been completed. We were awaiting a structural stability report and a nod from our superiors before opening it to the public. As soon as we got the report, we decided to open it. Many commuters were seen using the bridge even on public holiday (Ram Navami)," said a BMC official.
Also read: The Rs 13-cr error that punctured Mumbai's water supply for one month
He added that miscellaneous work is pending but can be carried out simultaneously. The installation of the escalator will take another four to five months. The work order for the reconstruction of the bridge was floated in 2021. While the COVID-19 pandemic pushed the work, delays also occurred due to issues concerning underground utilities, water lines and BEST and MTNL cables, according to civic officials.