Mayor Kishori Pednekar says BMC will clean lake and get rid of garbage in the surrounding area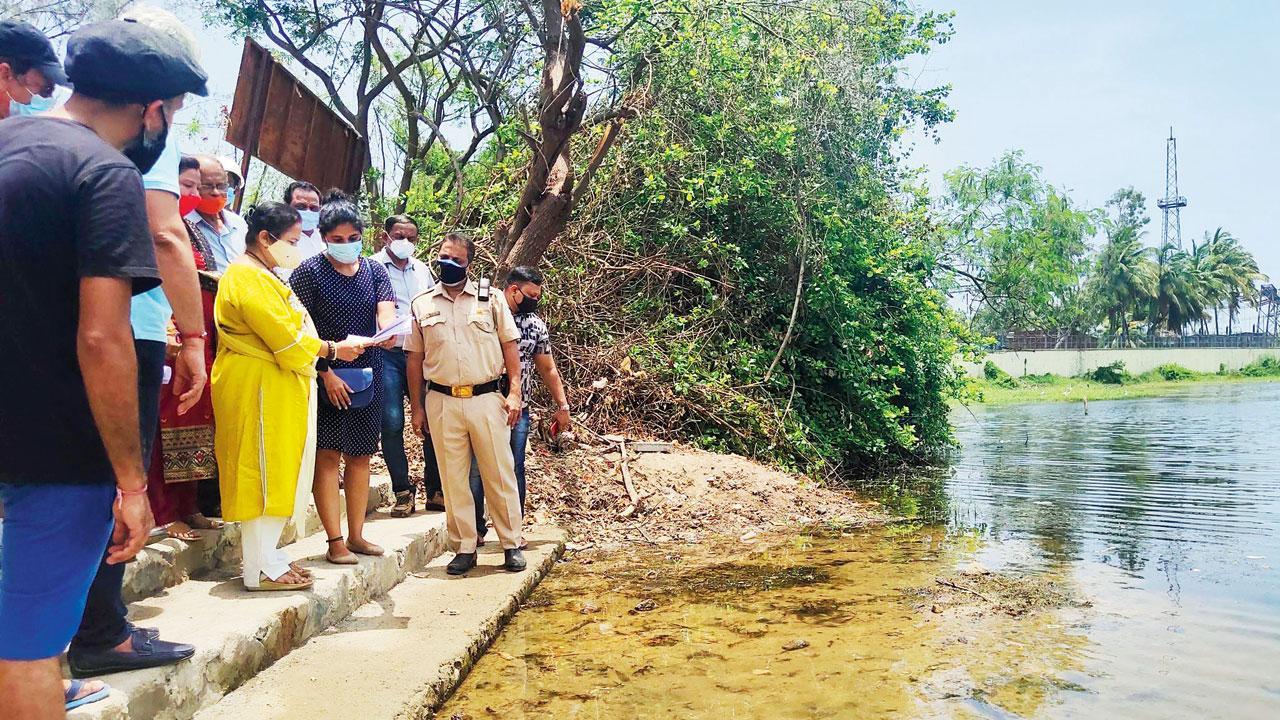 Mayor Kishori Pednekar seen carrying out a recce of the lake
Mumbai Mayor Kishori Pednekar visited the Lokhandwala lake on Friday, along with members of the local citizen's group Friends of the Environment, and other BMC officials, to decide on a plan to clean up the lake, before the monsoon.
mid-day had earlier highlighted how trees located on the concretised areas near the lake, had been completely uprooted during Cyclone Tauktae.
Speaking to mid-day, Pednekar said, "We will be conducting a clean-up drive of the lake. This includes removing all the garbage in and around the lake. We are also planning to extend the fencing around the lake, and build a wall, to prevent garbage from accumulated on its banks."
Also Read: Covid-19: Mumbai's doubling rate improves, state records 443 deaths
In a letter given to the mayor, the group, Friends of the Environment, requested that she ensures that vegetation and trees are not affected during the cleanliness drive. The letter also highlighted some of the measures that could be undertaken in the future, to ensure protection of the natural heritage of the lake and its surrounding mangroves.
Abdul Aziz Hudda, 55, an avid birder, and member of the Friends of the Environment, said that there's a pile of debris nearby, which ends up sliding into the lake during the monsoons. Another member, Aashish Mehta, said that a huge hill of mud, almost 25 plus-feet high, is currently posing a big threat to the lake.
Dhaval Shah, one of the founders of Lokhandwala-Oshiwara Citizens Association (LOCA), suggested that a CCTV be installed in the area, to keep tabs on culprits.
Sumesh Lekhi, founder of the group, said: "The mayor assured us that she will undertake a cleanliness drive soon, and will also instruct the BMC to put up posters and boards around the lake to spread awareness among locals."