Rejects Thackeray camp's application for the same on another ground there; BMC yet to decide on applications given by both factions for Shivaji Park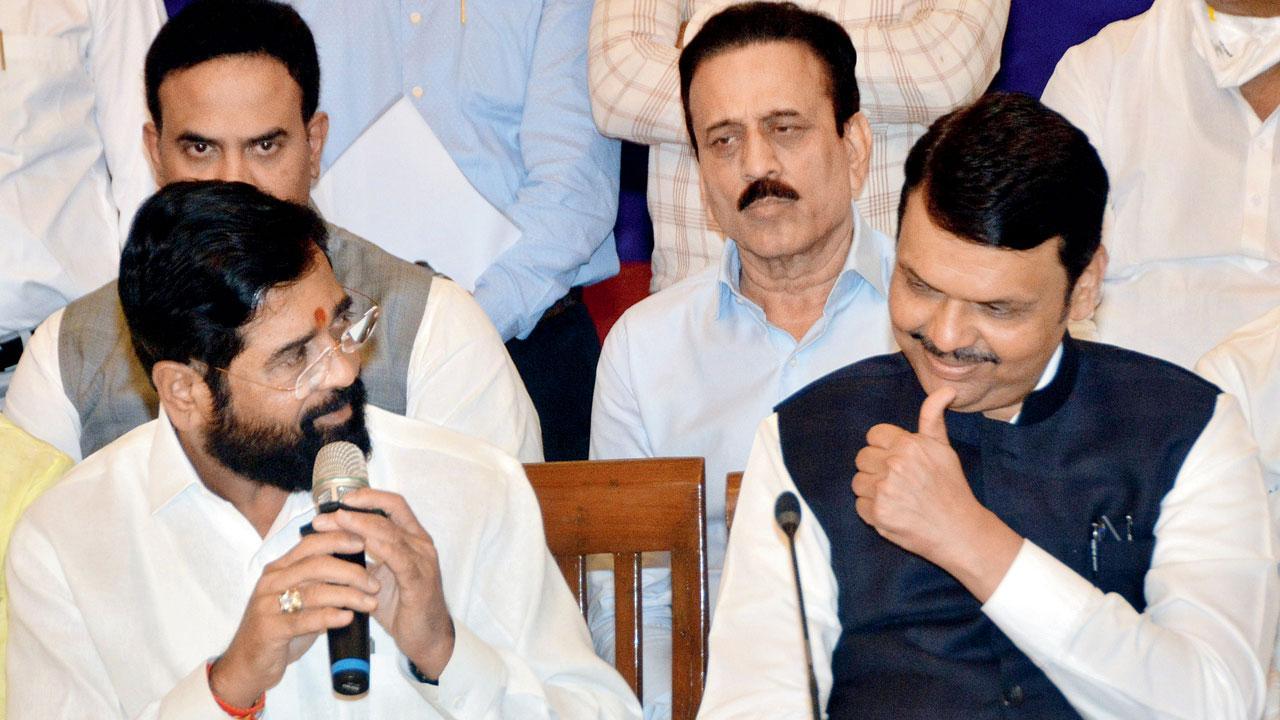 Eknath Shinde and Devendra Fadnavis. File pic
Even as a decision is pending on which Shiv Sena faction is granted permission to hold its annual Dussehra rally at Shivaji Park, Chief Minister Eknath Shinde camp's application for a ground at BKC for their camp's Dussehra rally has been approved by MMRDA. However, the Mumbai Metropolitan Region Development Authority (MMRDA) has rejected the Shiv Sena Uddhav Thackeray group's application to book another Bandra Kurla Complex ground for the rally.
A source from MMRDA said, "Permission granted to the Shinde camp for the rally is for a different plot and permission refused to the Thackeray group for the rally is for another plot. The source claims the ground which the Thackeray camp wants to book is already reserved.
Also read: Navratri colours 2022: Here is the list of nine colours and its significance
Member of Parliament and President of the Bharatiya Kamgar Sena Arvind Sawant while talking to the media in Akola, said, "Our application was rejected as it came later as per the authority's claim. Then our application for Shivaji Park is the first. Now the BMC should approve our application."
According to the source, on August 22, MP Anil Desai of the Thackeray camp had applied to BMC's G North ward office seeking to reserve Shivaji Park on October 5, for the Dussehra rally. Before BMC took a decision on this application, the Shinde group MLA Sada Sarwankar applied on August 30 to reserve Shivaji Park for their Dussehra rally.
Also Read: When is Shardiya Navratri 2022? Date, significance, history and all you need to know
The Dussehra rally which is a tradition of the Shiv Sena, is embroiled in controversy because of the two camps. The Shinde camp claims as it is the real Shiv Sena it will hold the Dussehra rally. Both groups claim their rally will be held at Shivaji Park but BMC has not yet taken a decision on their applications for the same. When is Shardiya Navratri 2022?