Around 6.55 pm on February 22, a non-AC single-decker, operated by Mateshwari Ltd, which was running on route 415, caught fire in Andheri East—the third such incident in a month. Luckily, the vehicle was empty at the time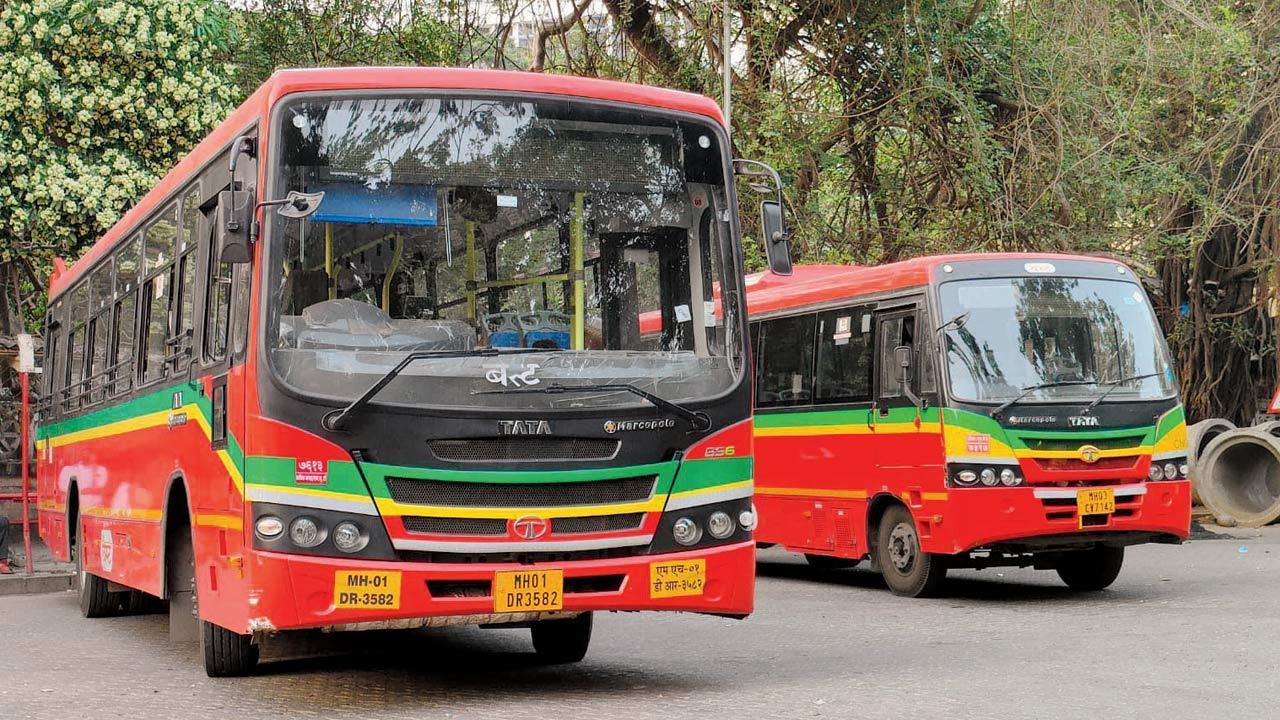 About 1,700 buses in the fleet are operated on a wet-lease basis. Pic/Harshad Joshi
The BEST has resumed services involving 369 of 400 CNG buses that had been withdrawn after one of them caught fire last month.
BEST officials said the decision to withdraw the buses had been taken keeping in mind the safety of passengers. However, following an inspection by their manufacturer, Tata Motors, the undertaking decided to gradually resume services with the 400 buses.
ADVERTISEMENT
Around 6.55 pm on February 22, a non-AC single-decker, operated by Mateshwari Ltd, which was running on route 415, caught fire in Andheri East—the third such incident in a month. Luckily, the vehicle was empty at the time.
In the wake of the blaze, the authorities withdrew 400 buses provided by the contractor, which inconvenienced commuters to a great extent. "After receiving the Tata Motors team's recommendation, we decided to use these buses," an official stated.
Also Read: Mumbai: BEST plans to extend tap-in, tap-out service to all buses by year-end
These buses ply from depots in Dharavi, Santacruz, Majas and Pratiksha Nagar and are mainly operated on 32 routes in the city and western suburbs. There are around 3,500 buses in the BEST fleet. Of them, 1,700 are operated on a wet-lease basis, which means the vehicles are owned by private contractors, who select their drivers and see to maintenance.
"These are wet-lease buses. The BEST should keep an eye on their maintenance. Even now there is a need for checking buses daily," said former BEST committee member Ravi Raja.
Former BEST Chairman Ashish Chemburkar said proper technical inspections should be held regularly as there is a possibility of 
issues occurring.
"The manufacturing team should inspect these buses at certain intervals. The BEST should also verify the findings," Chemburkar said. 
3,500
No of buses in BEST fleet Do you agree with the management`s decision of only letting devotees offer jal abhishek at Babulnath temple?