Half-km bridge to come up between Bhandup-Vikhroli will provide faster east-west connectivity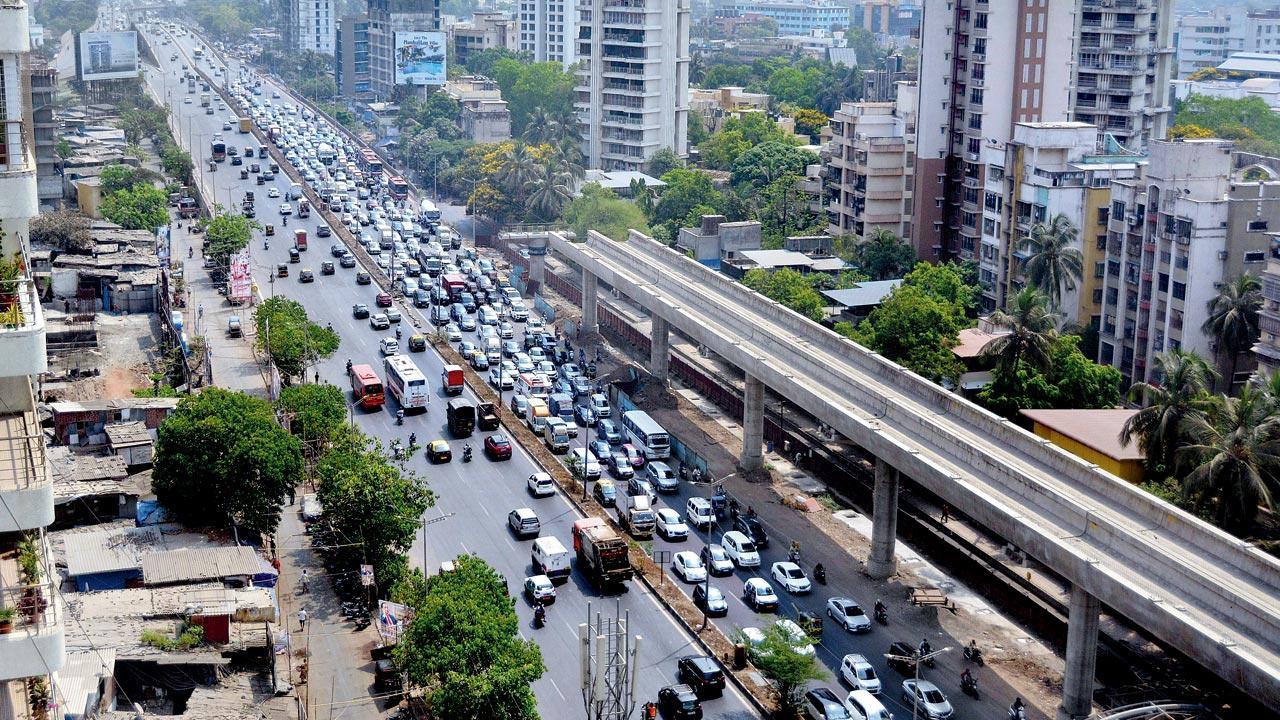 The new bridge will connect to the Eastern Express Highway (in picture) via the internal Veer Savarkar Road in Bhandup east. File pic
Amid eports of falling and dilapidated bridges needing repairs, comes news of the sanction for a new road overbridge above rail lines on Saturday, which will provide relief to motorists in the eastern suburbs for faster east-west connectivity. The half a km bridge, to be built at a cost of Rs 106 crore between Bhandup and Vikhroli, will help motorists connect to the arterial LBS Road and Eastern Express Highway via the internal Veer Savarkar Road in Bhandup east.
Local Member of Parliament Manoj Kotak told mid-day that it had been a long-pending demand of residents in the eastern suburbs. "Many citizens and groups had approached my office to press for this demand. I followed up the issue with the central government, Maharashtra government and the BMC. After three years of consistent follow ups, we have managed to get this new bridge approved," he said.
"To avoid any delays, the tender process for the flyover has been initiated on November 25 and once it is complete, the work will begin. The tenders floated for bidders will open by December-end," he said.
Also Read: 73-year-old woman conned: Sarpanch, six others held in Thane
At present, road bridges cross railway lines at Nahur and Kanjurmarg with no east-west connectivity in the approximate 3.5 km distance between them. Expansion work on Nahur road overbridge has been on for quite some time, narrowing down the road at Kanjurmarg, and the work on Metro Line 6 and 4 has led to barricading. A new road bridge would not only ease existing east-west traffic woes but also add to capacity. The new proposed bridge is about 530m in length and has a width of 11 metres.
"This has been a long-pending decision and in these days of falling and dilapidated bridges, a new bridge for east west connectivity was awaited. We were waiting for the Vikhroli bridge to complete, but this one will be closer home and very helpful," Rajan Joshi, an old-time resident of Datar Colony, Kanjurmarg said.
Rs 106cr
Cost of the construction of the new bridge Are you watching the FIFA 2022?