School Principals' Association says helpers can't get by on R1,500 per month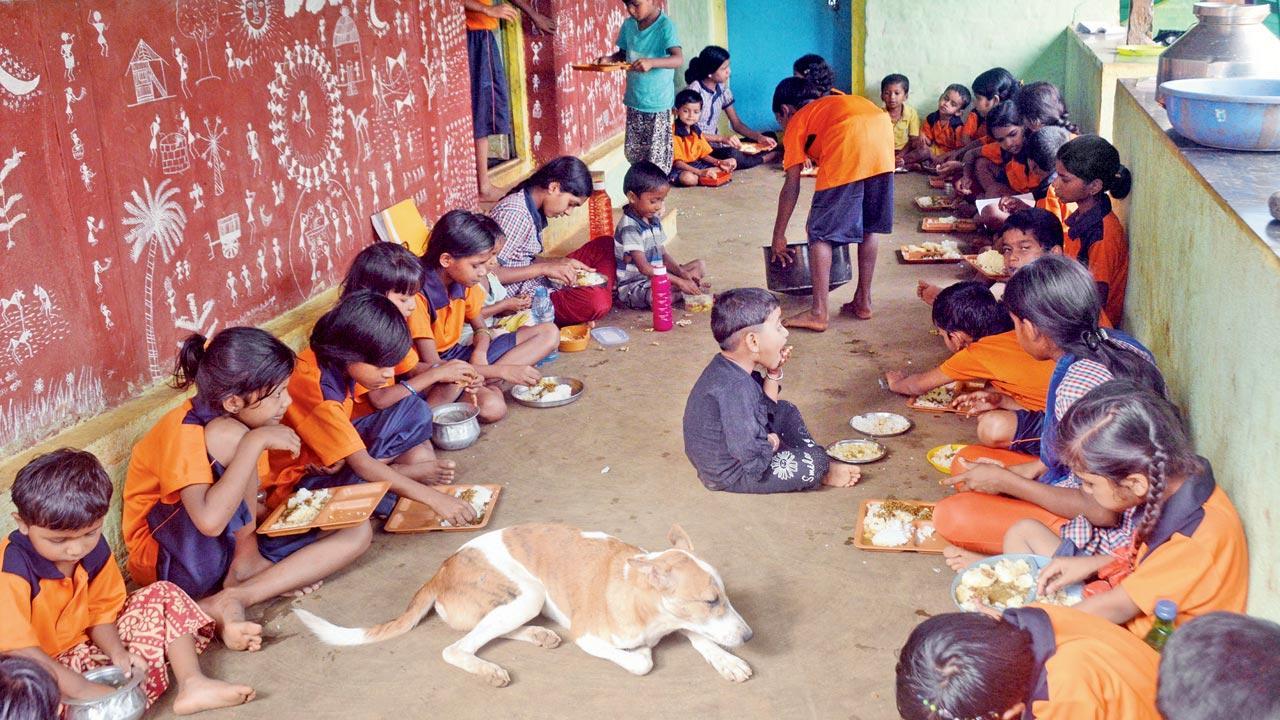 The National Programme of Midday Meal in Schools was renamed PM POSHAN on September 29, 2021 File pic
Funding issues will compromise the quality of food served to children in the state under the midday meal scheme, now known as Pradhan Mantri Poshan Shakti Nirman (PM POSHAN), school officials and principal associations have warned the state education department. The school principal association has alleged that due to paltry remuneration, schools are unable to get good cooks for midday meals.
A cook-cum-helper (CCH) hired under the PM POSHAN receives a monthly 'honorarium' of Rs 1,000 for 10 months a year to prepare and serve meals, wash and clean vegetables, grain and pulses as well as sanitise utensils.
However, following increasing demands and pressure from schools and PM POSHAN workers, the state decided to increase the remuneration a little. "Since 2021-22, we started providing additional funds from our own resources to these workers. The state is providing an additional honorarium of Rs 500 to CCH per month from its own kitty," said an education department official.
However, CCHs  and PM POSHAN workers claim they the CCHs are paid the remuneration once in six months, exacerbating the situation.
Mahendra Ganpule, the state spokesperson of the School Principals' Association, said, "If the remuneration is so meagre, CCHs and workers aren't paid on time, will they want to be a part of the scheme? CCHs across Maharashtra are paid Rs 1,000 to Rs 1,500. They might want to look for better-paying jobs. If we are really concerned about the quality of food served to students, we need to hire trained cooks. For that, we need to pay them a decent salary of at least Rs 4,000 to Rs 6,000. Why would the cooks work wholeheartedly and provide good services for just Rs 1,000 to Rs 1,500 a month?"
Ganpule added, "Vegetables do not make it to the plates of students regularly due to pricing and the situation in the region. The Centre pays according to uniform scale and does not consider local rates."
Also Read: Mumbai: FDA boss bats for change in system to recall drugs
A CCH from a school in Satara said, "The payment comes once in six months. I joined just last year as a cook. I am looking for another job. There is no stability in this line of work. I cook for students but there is no guarantee that I will get food for my family. The remuneration isn't much, but they could at least pay us every month."
The Centre and the states share all expenditures under the MDM scheme in a ratio of 60:40.
The National Programme of Midday Meal in Schools—under which hot meals are provided to children in government and government-aided schools—was renamed PM POSHAN on September 29, 2021.
Sushil Shejule, the coordinator of Marathi Shala Sansthachalak Sangh, questioned the change in the scheme's name. "They have not enhanced or upgraded anything, so why change the name? There are three issues right now. If CCHs are paid better, they will provide quality service. Secondly, the Aadhaar card linking criteria for the scheme will not be successful as most of the students in almost all schools in rural Maharashtra still do not have one, and the cards of those who do have errors. Finally, if there is any problem with the meal, teachers and principals are questioned," said Shejule.
As per an annual Programme Approval Board (PAB) meeting held in June 2022, the Maharashtra school education department informed the Union government that the state had engaged 1,62,991 CCHs, while the PM POSHAN had approved the hiring of 1,75,201 of them in 2021-22 in the state.
Dinkar Temkar, director PM POSHAN, government of Maharashtra, could not be reached for comment till the time of going to print. 
10
The no of months per year cook-cum-helpers get paid
 
Facts and figures
The state government has proposed to cover 59,95,405 children in primary classes and 40,68,009 children in upper primary classes during 2022-23. 
The PM POSHAN PAB approved the coverage of 55,20,000 children in primary classes and 37,50,000 children in upper primary classes in the state in the period. Do you feel online dating apps are unsafe?