State also records a dip in fresh infections and Covid-19 fatalities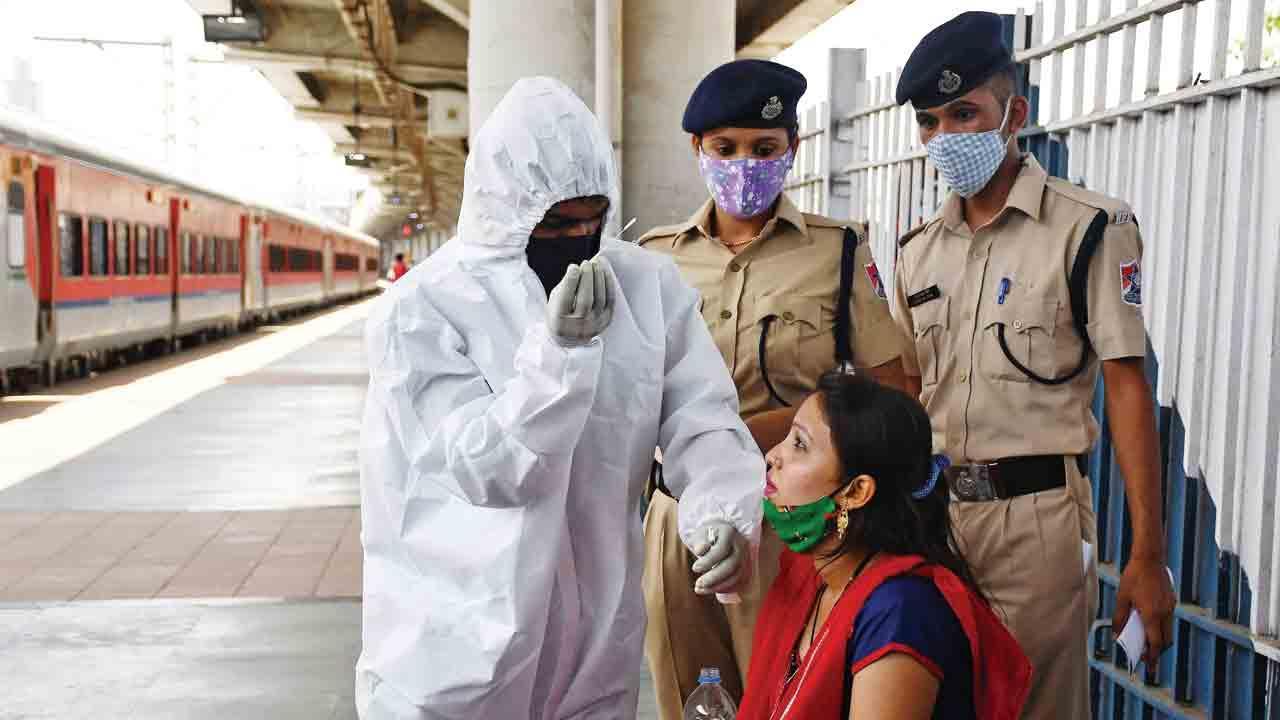 A BMC health worker conducts an antigen test at Dadar station. Pic/Ashish Raje
After recording a jump in the Test Positivity Rate (TPR) and fresh cases on Sunday, Mumbai once again saw a significant drop in both on Monday. As the city's TPR dropped below five per cent, it recorded a little more than 1,000 fresh infections. On May 23, Mumbai recorded a jump in TPR, which hit 6.13 per cent.
As per the BMC's report, 1,057 new Covid-19 cases and 48 deaths were reported in the city on Monday. The TPR was 4.81 per cent.
For the first time in the second wave, the TPR went below five per cent on May 20. On May 21, the TPR was 4.28 per cent. On May 18, the city had registered daily new Covid-19 cases below 1,000. However, it saw a rise in cases and fatalities later in the week. The doubling rate continues to improve significantly and now stands at 334 days.
Of the 48 deaths in Mumbai, 26 patients had comorbidities, 26 deaths were of patients above the age of 60 years and 19 deaths were of those in the 40-60 years group. The city's recovery rate has improved and was 93 per cent on Monday. A total of 1,312 people were discharged after full recovery.
Also Read: As June 1 looms, all eyes on track; Mumbai local trains for fully vaccinated? Commuter bodies debate
Maharashtra saw a significant dip in new cases and fatalities too on Monday. As per the state government's report, 22,122 fresh infections and 361 Covid-19 deaths were reported. The state's case fatality rate is now 1.59 per cent. A total of 42,320 people were discharged after full recovery. The state has 3.27 lakh active cases.  
The Mumbai Metropolitan Region (MMR) too reported a significant dip in new cases and fatalities. The region saw 2,713 fresh cases on Monday, including the ones reported in Mumbai. Apart from Mumbai, Thane saw 258 cases and Raigad 328. Palghar reported 125 new cases, Kalyan-Dombivli 218 and Navi Mumbai 104. The MMR, excluding Mumbai, registered 21 deaths, out of which Palghar reported seven, Navi Mumbai five, Panvel four and Raigad three.
56,02,019
Total No. of cases in Maharashtra
2,713
Total no. of cases reported in MMR in the last 24 hours
48
No. of deaths in city on Monday (26 patients had comorbidities, 26 deaths were of patients above the age of 60 years and 19 deaths were of those in the 40-60 years group)
1,312
Patients recovered and discharged in city on Monday
22,44,725
(Total no. of people administered the first vaccine dose)
7,35,753
(No. of people who have taken their second vaccinedose so far)
25,211
(No. of people who took their first vaccine dose on Monday)
2,735
(No. of people who took their second vaccine dose on Monday)
1,057
No. of new cases the city reported on Monday
4.81%
City's TPR on Monday