Audit in 2019, but no repair work yet; hospital officials say lack of space means they cannot move patients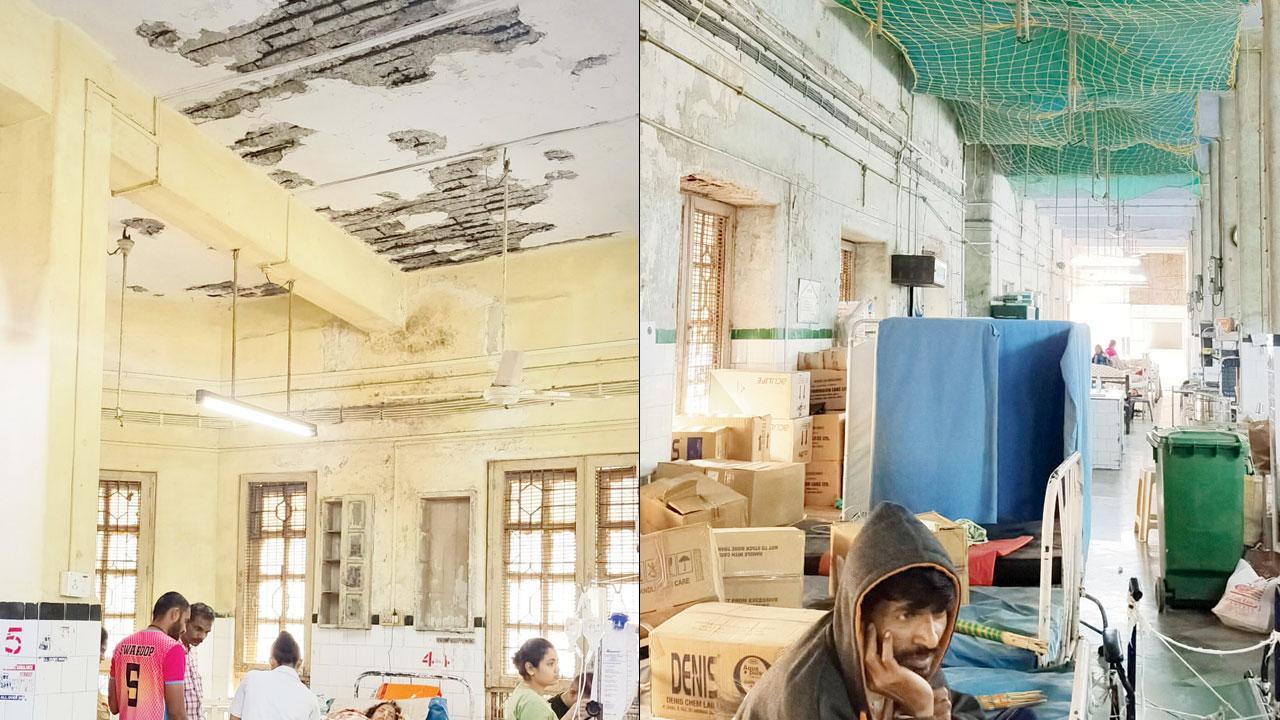 Chunks of plaster from the ceiling have fallen off in many wards at KEM hospital (right) the hospital administration has installed nets below the ceiling to avoid untoward incidents, at ward no. 8
Patients, doctors and medical staff at civic-run KEM hospital have been risking their lives for the past three years as a 2019 structural audit found as many as six wards in need of structural repair work. The audit report was submitted in 2021, but no work has been taken up yet. mid-day visited these wards and found that the ceiling at several places was in a bad condition. At some places, iron rods were visible while at others, temporary measures were put in place to provide support to the structure. Civic officials said they were aware of the condition of the building and were looking for space to shift these wards.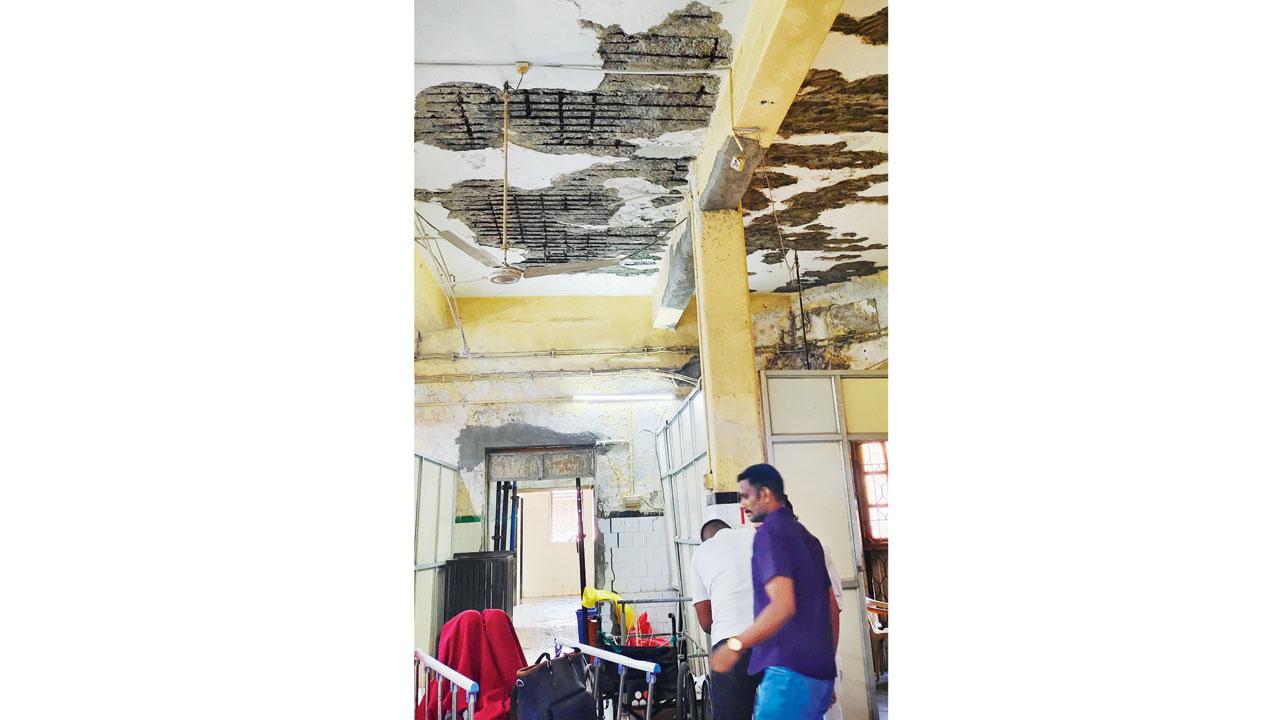 The ceiling of ward 11 at KEM hospital has visible iron rods as plaster has fallen off
ADVERTISEMENT
Many of the wards at the hospital also reported leakage issues. Adjustable iron scaffolding props jack were placed at the entrance, passage and toilets of several wards to provide support to the dilapidated structures. A senior hospital official, on the condition of anonymity, said, "The structural audit declared six wards as C2A [needs to be vacated in near future for structural repairs]. The hospital does not have space to move the patients from these wards. Talks were on in the administration to shift the wards to ESI Mahatma Gandhi Memorial Hospital in Parel, but there has been no confirmation so far."
Also Read: Mumbai: Row over child ICU at JJ hospital
As per the official, the wards that need repairs are ward 4 (medicine), 4A (emergency), 7 (general surgery male), 11 (medicine), 8 (general ward female), and 12 (general ward). "These wards need immediate attention," the official added.  The hospital dean, Sangeeta Rawat, remained unavailable for comment. When asked about the condition of these wards, Deputy Municipal Commissioner Sanjay Kurhade told mid-day, "We are concerned for the safety of the patients and are looking for options to shift them."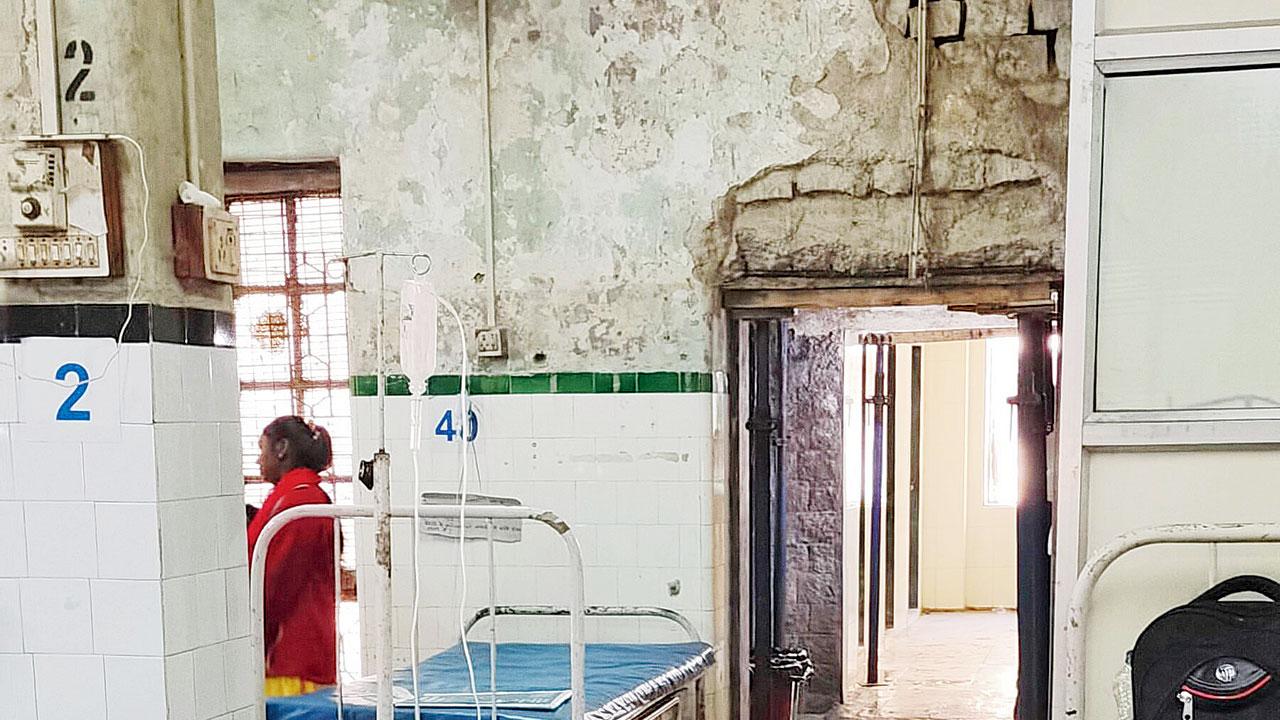 A dilapidated wall at one of the wards
A hospital staff, wishing not to be named, said, "The condition of these wards is terrible. We are at risk. We have shifted patients from one side to another because no one knows when plaster from the ceiling may fall off. They have put in place nets at places." S Mishra, relative of a patient, said, "The hospital is good, as are the doctors, but the ward needs major repair works. Plaster from the ceiling can collapse anytime. We do not have any options but to come here as private hospitals are expensive."
mid-day has learnt that apart from these six wards, the condition of the nursing school and nurse quarters too was bad. The building is dilapidated and dangerous. Hospital officials are planning to shift the nursing students to TB hospital, but the staff and students have refused to move there. 
2021
Year the audit report was submitted
2019
Year when the structural audit was carried out Do you often find yourself in the middle of office politics?