That's the aim of the state forest dept, which has tied up with NGO United Way to clear wetlands of plastic, thermocol and other solid waste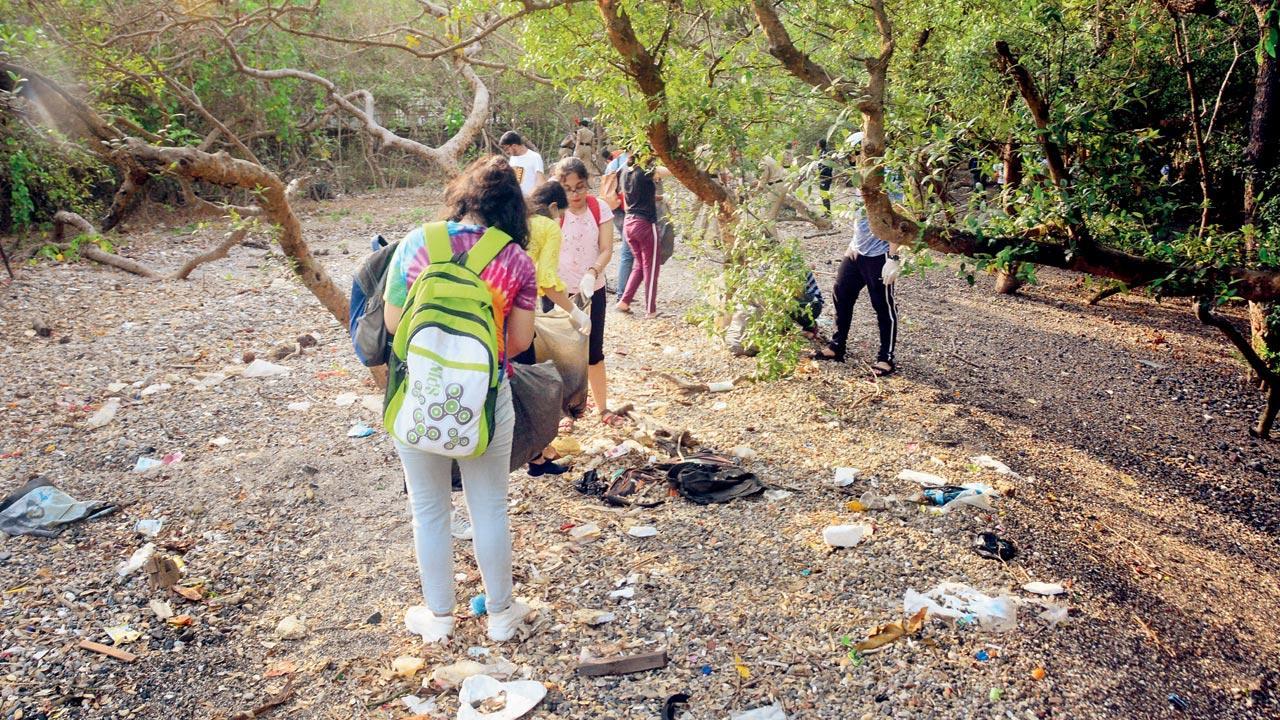 A mangrove clean-drive underway, in Bandra. File pic/Sameer Markande
The state authorities have undertaken a project to clean the mangrove forests of garbage, including plastic and thermocol, in the next six months.
The Mangrove Foundation of Maharashtra and NGO United Way Mumbai have signed a memorandum of understanding (MoU) for the 'Pilot Project on Wetland Conservation through Waste Management'. The tenure of the project ends on June 30, 2023.
"This project aims to reduce the solid waste in the mangroves that gets trapped during high tides. Almost 90 per cent of the solid waste is non-degradable and comprises plastic, thermocol, etc.," said Virendra Tiwari, additional principal chief conservator of forests, Mangrove Cell.
United Way Mumbai will help the Mangrove Cell of Maharashtra State Forest Department undertake several activities, including daily collection of non-degradable waste by dedicated teams, each comprising four Safai Saathis and one supervisor.
Also read: 'Who is responsible for Navi Mumbai's mangroves?'
Tiwari told mid-day that Safai Saathis will be trained in comprehensive waste management. They will also be equipped with relevant safety gear and tools, he added.
According to the plan, the waste collected will be cleaned, segregated and transported to a material recovery centre for further processing.
At the centre, the waste will undergo further cleaning for removal of soil and moisture, segregated into different categories, such as polythene, multi-layer plastic, thermocol, rubber, etc., compressed, and then transported to recyclers for recycling or repurposing. Nagpur-Mumbai Samruddhi Expressway will reduce travel time from Nagpur to Mumbai. Do you agree?