Appoints auditor to keep track of Malad high-rise's expenses, residents say damages haven't been recovered yet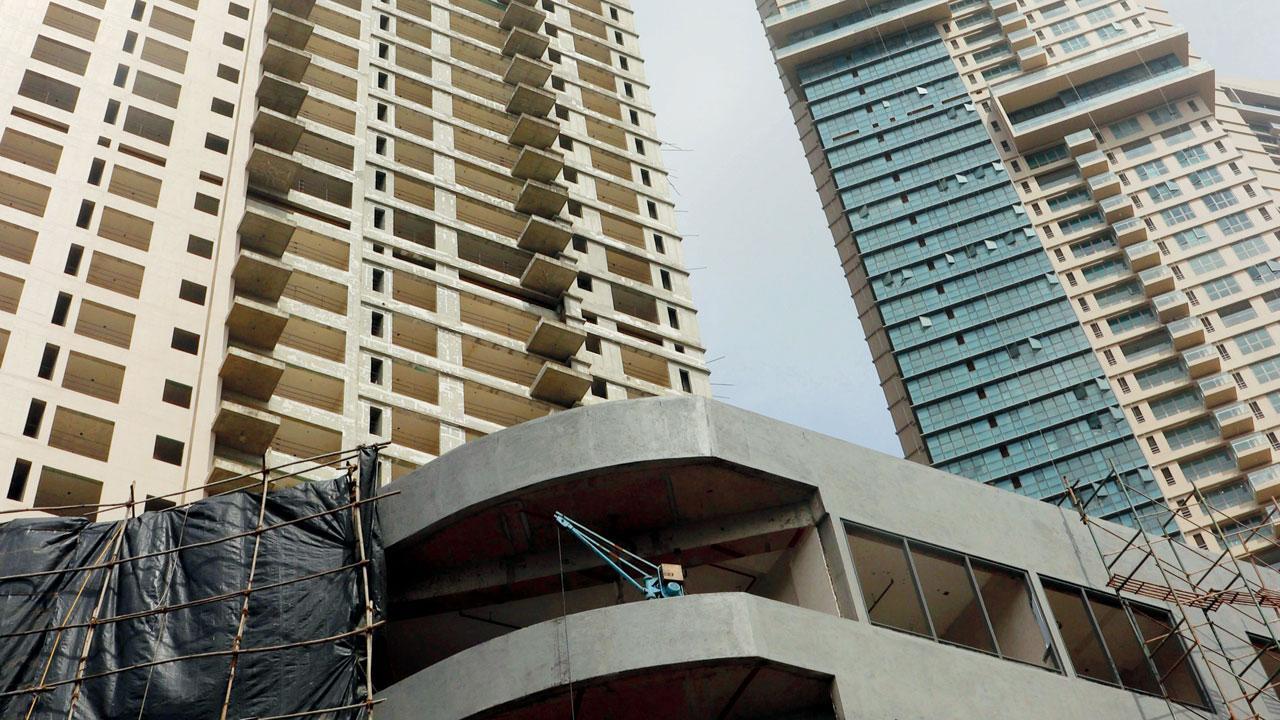 Auris Serenity Tower-1, the tallest high-rise in Malad. File pic
The Slum Rehabilitation Authority (SRA) has finally removed top bookie and alleged Dawood Ibrahim aide Sonu Jalan from the post of chairman of Malad's tallest high-rise Auris Serenity Tower-1 after determining that he and his provisional committee had misused society funds. The SRA, after completing their investigation, also appointed a certified auditor who will now record the society's daily expenses until the new committee is appointed.
Auris Serenity Tower-1 society members have claimed that so far, the SRA has not imposed Section 88 of the Maharashtra Co-operative Societies (MCS) Act to recover damages with interest from the committee. They also stated that the SRA's appointed auditor, who is a high court advocate, submitted the conclusion report which stated that Section 88 be imposed on a priority basis, but the SRA officer failed to impose it.
ADVERTISEMENT
High court advocate and retired auditor Nityanand Samant  concluded, after going through all points and records, information and explanations obtained from the society and comments, that because of expiry of the tenure of the provisional managing committee and as it had no quorum, action under Sections 77 and 88 of the MCS Act be taken on priority. The latter section was imposed to ascertain responsibility.
Also Read: Mumbai: Malad's tallest tower gets a month to pull down illegal office
mid-day also contacted the SRA Registrar Sandhya Bawankule but she didn't respond to calls and messages. mid-day, in a series of reports, brought to the fore, allegations of how Jalan had threatened society members and misused society funds to the tune of Rs 46 lakh and constructed an illegal society office without BMC approval.
Society members had also written letters to the Malad police to take action against Jalan as he was threatening them using his alleged criminal connections. But till now, no action has been taken by the cops. However, in the wake of a mid-day reports dated August 30 and September 9, 2022, the BMC swung into action in November and ordered the demolition of the illegal structure and the society committee razed it the following month.
A society member told mid-day, "As chairman, Jalan harassed many society members and we complained to the SRA and police many times but didn't get any relief. Thanks to mid-day, Jalan and his entire corrupt committee have been removed. We are thankful. But till now the SRA has not imposed Section 88 to recover damages from them. Jalan is still approaching many top politicians in order to prevent the issue of a recovery notice by SRA. These are society funds and they should be recovered from them only." Around 20 members of the society complained to the SRA against Jalan and other committee members.
Some violations by Jalan, committee
In June 2022, the provisional committee term ended but they had failed to submit a list of society members 60 days before the expiry of their term to conduct elections. The committee failed to provide records under Section 154, as demanded by complainants during construction of the illegal office. Under repair and maintenance fund transfer charges were collected from flats sold over and above the limit of Rs 25,000.  A biometric system rejected by majority of residents at a meeting was again brought for approval within six months. No voting was  done on any resolution nor any video recordings for any meetings shared with officers. No documents for elections submitted. Illegal office was constructed using maintenance money.