Solar panels to power lights and fans; concerns about monsoon operations as the AC local is powered by underslung motors, which experts fear will get submerged in waterlogging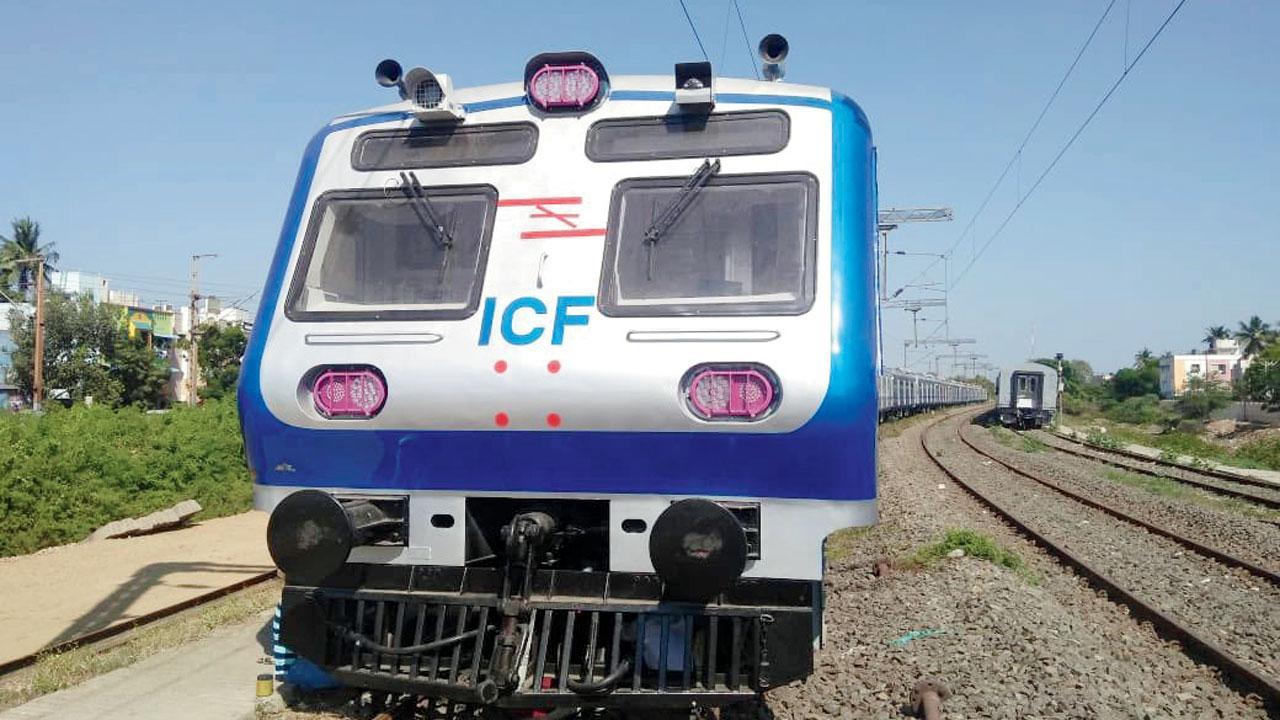 The specially designed high-powered AC local will be launched on the Western Railway route
Mumbai will get its first local train equipped with solar panels to power lights and fans on Saturday, said Western Railway officials. The air-conditioned local, built on the lines of semi-high-speed Train 18, is a specially designed high-powered train. The train has good acceleration with underslung motors. In an underslung motor set-up, the traction equipment onboard the train is shifted below the train, near the wheels. This has created more passenger area.
"The new AC local train has flexi solar panels that are light in weight and capable of generating 3.6 kilowatt of electricity. These panels will power the fans and lights of the coach, thus reducing the needs from overhead power supply. This is being experimented in one coach of the train. Depending on the feedback, the innovation will be extended to other coaches," a railway spokesperson said.
ADVERTISEMENT
Disruption feared
While officials are confident that the train would operate even during waterlogging despite the underslung motors, experts are sceptical of the assurance. Experts fear the underslung motor will get submerged in waterlogged tracks, affecting the train's movement.
A retired railway official said, "One feature that remains to be seen is the underslung motors. The problem of stranded trains during monsoon is an age-old problem. Severe waterlogging and flooding of tracks lead to major issues. In the floods on July 26, 2005, a number of local trains were out of action for quite some days. It will be really interesting to see how the train runs with underslung motors." "Flooding of tracks is a big issue in Mumbai. So, will this train be able to negotiate the floodwaters?" asked rail enthusiast Rahul Nagwekar.
Also Read: Mumbai: PFI made people believe India was not safe, says Maharashtra ATS chief
'No impact of flooding'
"The new train has incorporated several features as suggested by the commuters in their feedback from the first train, including wider gangways for more people to walk and solar panels. An important feature is an underslung motor, but the best part is that the train will be able to run at slow speed even during waterlogging," said an official from the manufacturer—Integral Coach Factory.  Railway officials said the train has been tested extensively for over three years on different terrains and various zones, including Central Railway, Western Railway and Northern Railway. It has cleared all trials, they added.
"Exciting news! Mid-day is now on WhatsApp Channels

Subscribe today by clicking the link and stay updated with the latest news!"
Click here! Are you happy with BEST services in Mumbai?