Official says roads at Bhoiwada lane at Bhuleshwar were blocked due to them, and this could have made it impossible for an emergency vehicle to enter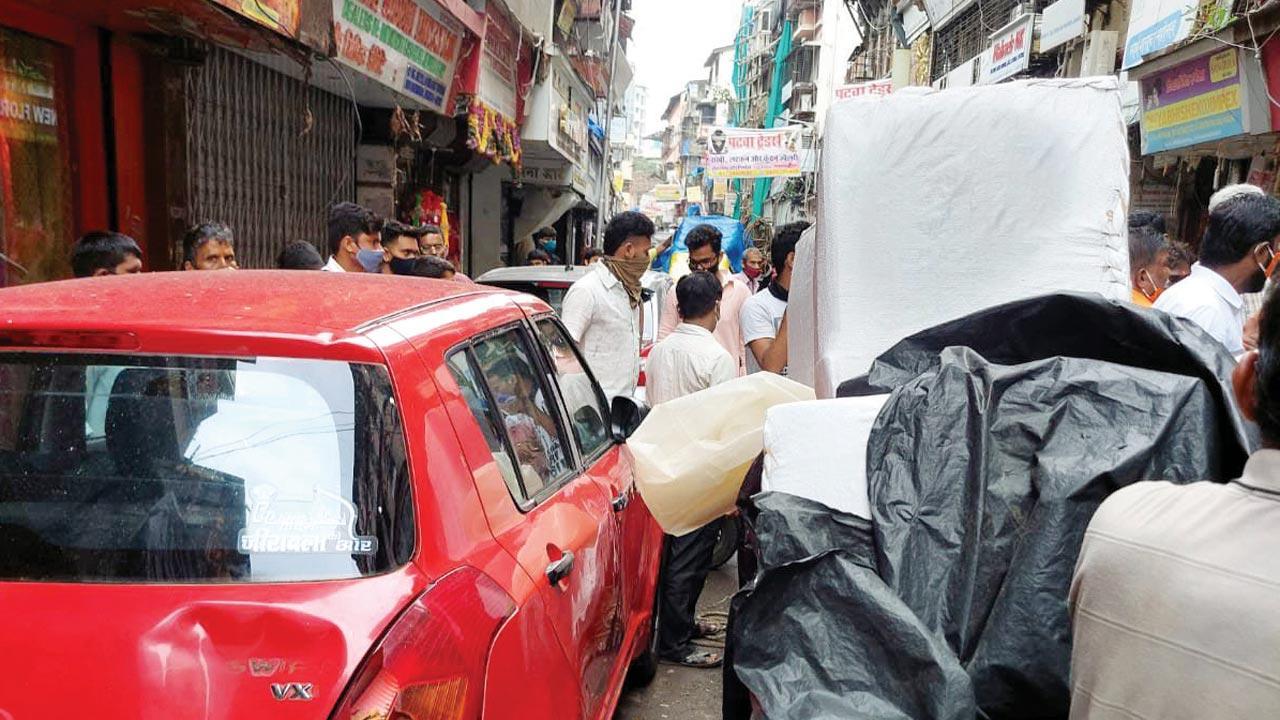 Vehicles and handcarts parked on one of the roads
Traders and shopkeepers are miffed with the action against their tempos and handcarts at Bhoiwada lane at Bhuleshwar, by the Brihanmumbai Municipal Corporation (BMC) on Friday. 
However the civic official who initiated it said it was necessary as the roads were blocked due to the tempos and handcarts, making it impossible for an emergency vehicle to enter, if needed. 
On Friday B and C ward in charge Assistant Municipal Commissioner Chakrapani Alle visited Bhoiwada lane and saw many vehicles including trucks, tempos and handcarts parked on the roads. 
Chakrapani immediately informed the traffic police and BMC officials who took action against the vehicles and seized handcarts with goods and released them after paying fines. Traders were angry due to this action.
Speaking to mid-day a shopkeeper who did not want to reveal his name said, "Due to pandemic restrictions we have to deliver  products before 4 pm. The assistant municipal commissioner's car was stuck in the area due to traffic. He immediately called officials to the spot and they acted against the handcarts and vehicles and took fines."
However, another trader said, "We requested Chakrapani Alle to take back the order but they didn't stop the action. They also seized many goods and released them after we paid fines in the evening. Earlier the BMC had given a specific time for the use of handcarts and tempos but we opposed it and all restrictions were taken back.
Official speak
Speaking to mid-day, Chakrapani said, "On Friday there was a routine visit to Bhoiwada lane. I reached with my team and found on both roads there were cars parked. There were also handcarts kept with goods and materials. I didn't find any place to park. If any unwanted incident like a building collapse or fire occurs, there is no place for an ambulance or fire brigade vehicles to enter. So I called my team and the traffic police and action was taken against the vehicles parked illegally. The traders opposed our team during action so we called the police for help."