The advisory has been issued in view of the road works going on under Dindoshi traffic division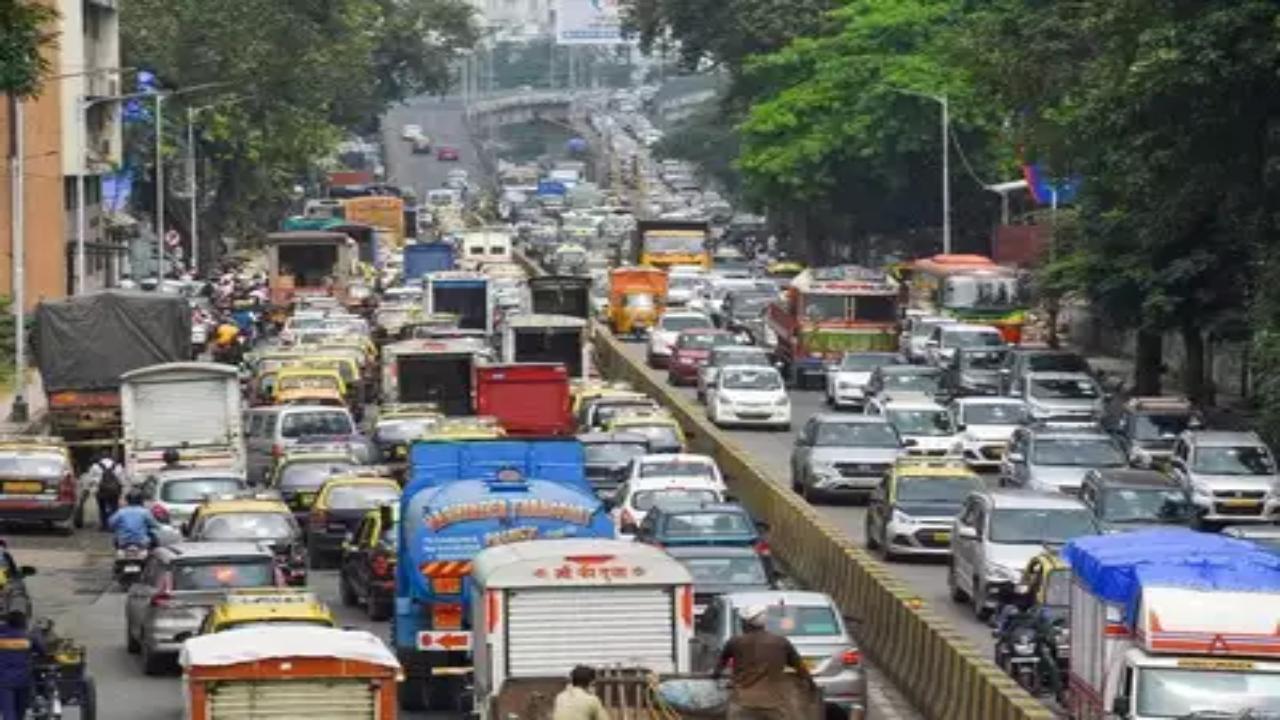 File Photo/PTI
The Mumbai traffic police on Friday evening issued a traffic advisory for commuters travelling from Bandra to Dahisar.
A Mumbai traffic police spokesperson said that as the work is going on at Dudhsagar Road North Bound under Dindoshi Traffic Division (Goregaon East), passengers traveling from Bandra to Dahisar during evening rush hour should use S.V Road and New Link Road as much as possible. 
ADVERTISEMENT
Also read: Woman molested at Bandra club: Mumbai Police nab 22-year-old man from Jaipur
On Tuesday the traffic police had issued traffic diversions and alternate routes in Dadar ahead of the constitution of an underground railway station in Dadar area of Mumbai.
The Police said, whereas Mumbai Metro Rail Corporation Ltd (MMRCL) is going to construct underground Dadar Metro Railway station, under Metro line 3, project -4 and due to that taffic between Lt. Anna Tipnis Chowk (Steelman Junction) to Gadkari Chowk will be affected. Hence necessary order for traffic arrangement is need to be issued.
It said, In order to prevent danger, obstruction and inconvenience to the public the traffic diversions were being issued by the Mumbai Traffic Police.
The notification was issued by Raj Tilak Roushan, Deputy Commissioner of Police (H.Q. & Central), Traffic, Mumbai. "Following traffic regulation order will come into effect from 00.01 hrs dated 29/03/2023 to 24.00 hrs dated 21/03/2024."
"North bound of Gokhale road between Gadkari Chowk to Lt Anna Tipnis Chowk (Steelman Junction) shall be closed for vehicular trafic while South Bound of the said road will remain open for vehicular traffic. However, both bound of the said road shall be declared as "No Parking" Zone for 24 hrs. On Ranade Road there shall be no entry to the vehicular traffic from Senapati Bapat statue towards Steelman Junction, that means the said road shall remain one way for vehicular traffic moving from Steelman junction towards Senapati bapat Statue.
"Vehicular traffic proceeding from Portugese church along north bound of Gokhale road shall take left turn from Lt. Anna Tipnis chowk (Steelman Junction) and shall proceed along Ranade Road, Dadasalheb Rege Road, Gadkri Junction and then towards their desire destination.
"Vehicular traffic moving towards Dadar T. T. Shall take right turn from Lt. Anna Tipinis Chowk (Steelman Junction) then along Ranade Road-Paneri Junction- left turn N.C. Kelkar road- Kotwal Garden then shall proceed towards Dadar T.T."
दिंडोशी पुलाजवळ सुरू असलेल्या खोदकामामुळे WEH उत्तरेकडील वाहतुकीचा अनुशेष सेंटॉरपर्यंत आहे.

Due to ongoing excavation work near Dindoshi bridge WEH backlog of traffic is upto centaur on north bound.
#MTPTrafficUpdates

— Mumbai Traffic Police (@MTPHereToHelp) March 31, 2023 Do you indulge in mindful activities for an improved mental health?