Earlier, the residents of Chandivali and Khairani Road areas had complained about air pollution and smoke emanating from ready-mix concrete (RMC) plants and chimneys of factories in their vicinity. The complaint led to the action taken by BMC's L ward against the foundries and the chimneys causing pollution in the area around two weeks ago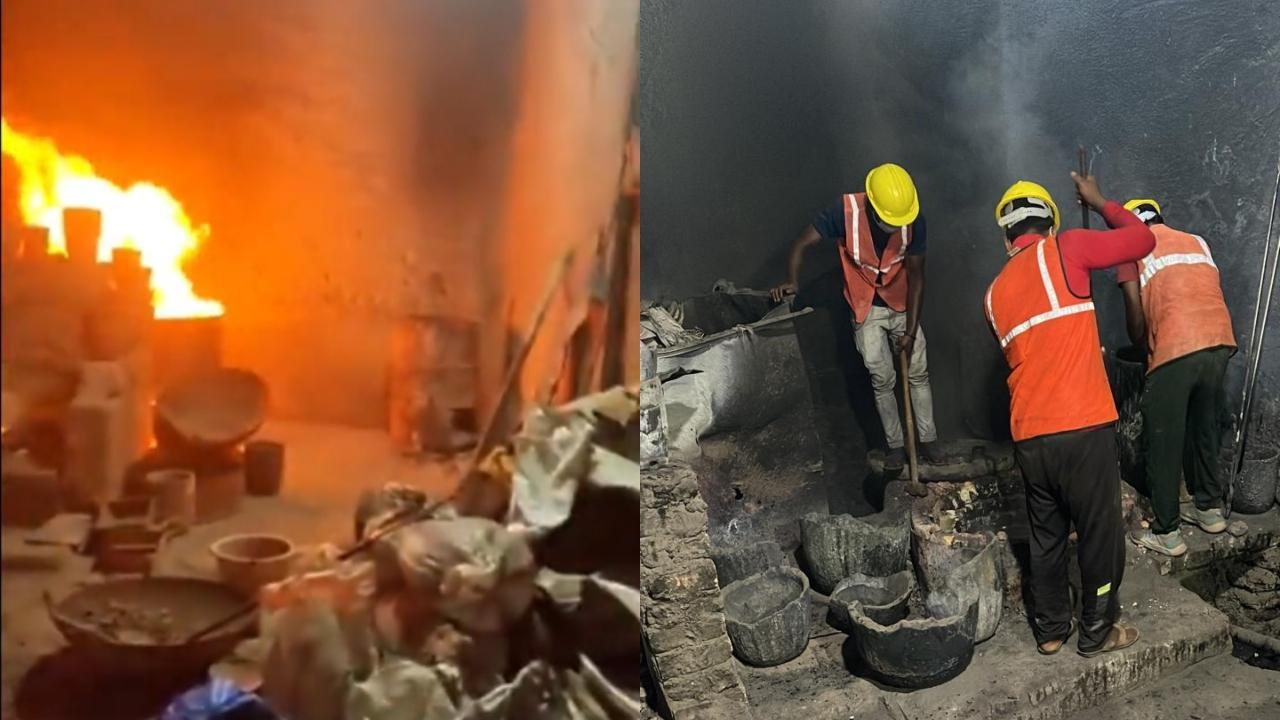 Residents have alleged that the foundries have sprung up in the area again (L) and action taken on foundries two weeks ago (R)
Two weeks after the Brihanmumbai Municipal Corporation (BMC) carried out a major demolition drive to remove illegal foundries from Khairani Road in Sakinaka area of Mumbai, the local residents have alleged that the foundries have sprung up in the area again.
According to the Chandival Citizens Welfare Association (CCWA), they have raised the issue with the civic officials in L Ward in a meeting recently and have requested to take appropriate action against the illegal foundries in the locality.
ADVERTISEMENT
Earlier, the residents of Chandivali and Khairani Road areas had complained about air pollution and smoke emanating from ready-mix concrete (RMC) plants and chimneys of factories in their vicinity. The complaint led to the action taken by BMC's L ward against the foundries and the chimneys causing pollution in the area around two weeks ago.
Meanwhile, according to the data shared by BMC, they demolished at least 11 foundries at Khairani Road during the drive on April 11 and 12. They also disconnected 12 water connections, seven electric connections, and four inspection reports were issued by the health department to foundries in the area.
The residents claimed, "While the BMC took action against the illegal foundries on April 11 and 12, they have allegedly cropped up again. We have clicked pictures and videos of the foundries and shared them with the BMC officials as well as raised the issue of social media," said Mandeep Singh Makkar, founder member of Chandivali Citizens Welfare Association.
Also Read: Mumbai: Chandivali residents take to social media as authorities fail to address issues of air pollution
"The smoke from the chimney and foundries is causing air pollution in the area as well as respiratory health issues. The BMC needs to take serious action against the violators," he added. 
When contacted Nitin Kamble Executive Engineer (Designated officer), Building and Factory, L Ward, "We took action against the illegal foundries two weeks ago. We demolished the concrete base of the foundries so that the owners don't build them again. Presently, we haven't received any formal complaint again by the residents. If we get any further complaints we will do a follow up inspection in the area." 
"As per the direction of the BMC Commissioner, the task force formed to combat air pollution should inspect and take strict action against these unauthorized structures. Suo moto action needs to be taken rather than waiting for the residents to file a complaint," added Singh. 
As per the standard operating procedures (SOPs) announced by the seven-member committee, the task force was to be formed in all 24 administrative wards in the city by April 1.
"The ward-wise task force to combat air pollution should inspect our areas. These factories should be shut down under section 390 of the MMC Act," added Singh.