The fisherfolk will walk in their traditional attire to Uddhav Thackeray's Dussehra rally at Shivaji Park today; earlier, Shinde camp had claimed support of 500 Kolis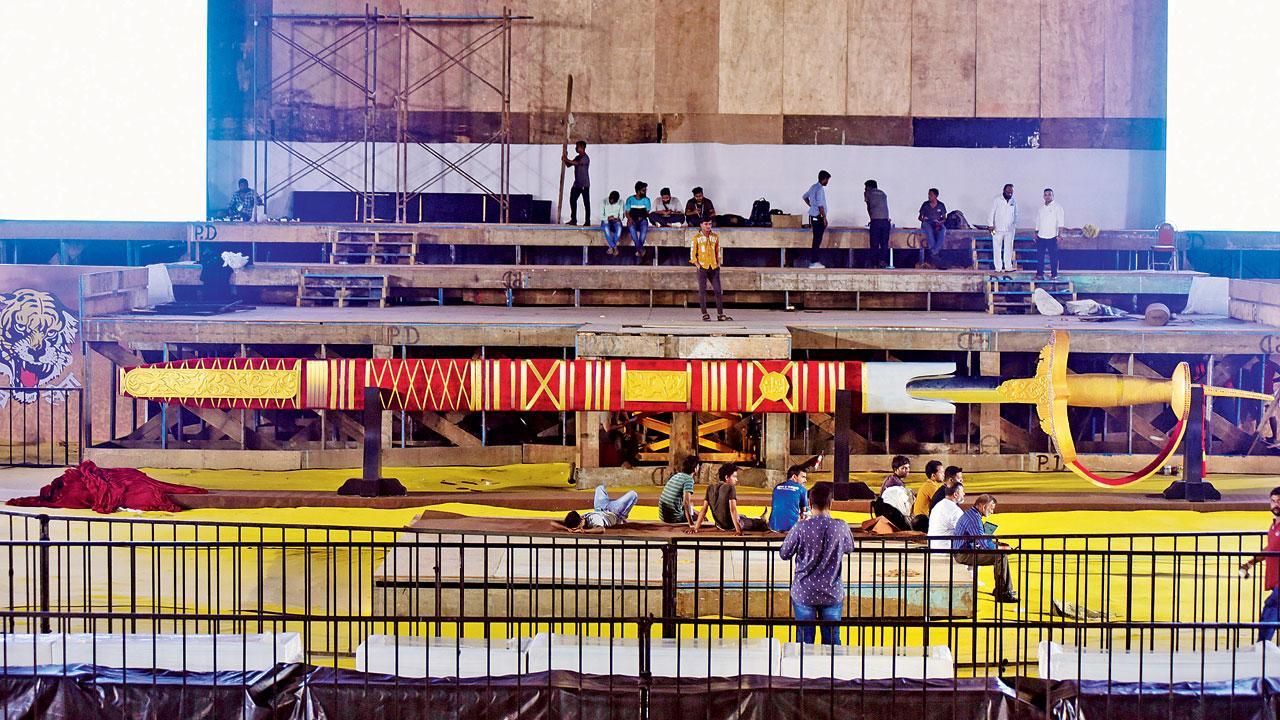 A 51-foot sword displayed in front of the stage set for CM Eknath Shinde's Dussehra rally at BKC today. Pic/Shadab Khan
Days after the Shinde Sena claimed that 500 Kolis from Worli have joined the rebel camp, the fisherfolk from the south Mumbai pocket said they would don their traditional costume and walk to Uddhav Thackeray's Dussehra rally at Shivaji Park on Wednesday. The fishermen community from Marve Koliwada at Malad will also attend Thackeray's rally. 
A group of fishermen opposing the Coastal Road project had recently met Chief Minister Eknath Shinde. Soon, claims were made that they had joined the Shinde camp. Sources said the Kolis then met with Thackeray to express their solidarity with him. 
"We will walk from Worli Koliwada to Shivaji Park in our traditional costume playing our Koli band," said local Shiv Sena office-bearer Suryakant Koli. Former Sena corporator Geeta Bhandari confirmed the support of fisherfolk from Malad. "The Koli community from Marve Koliwada will also attend Thackeray's Dussehra rally in their traditional attire." 
2.5 lakh food packets for BKC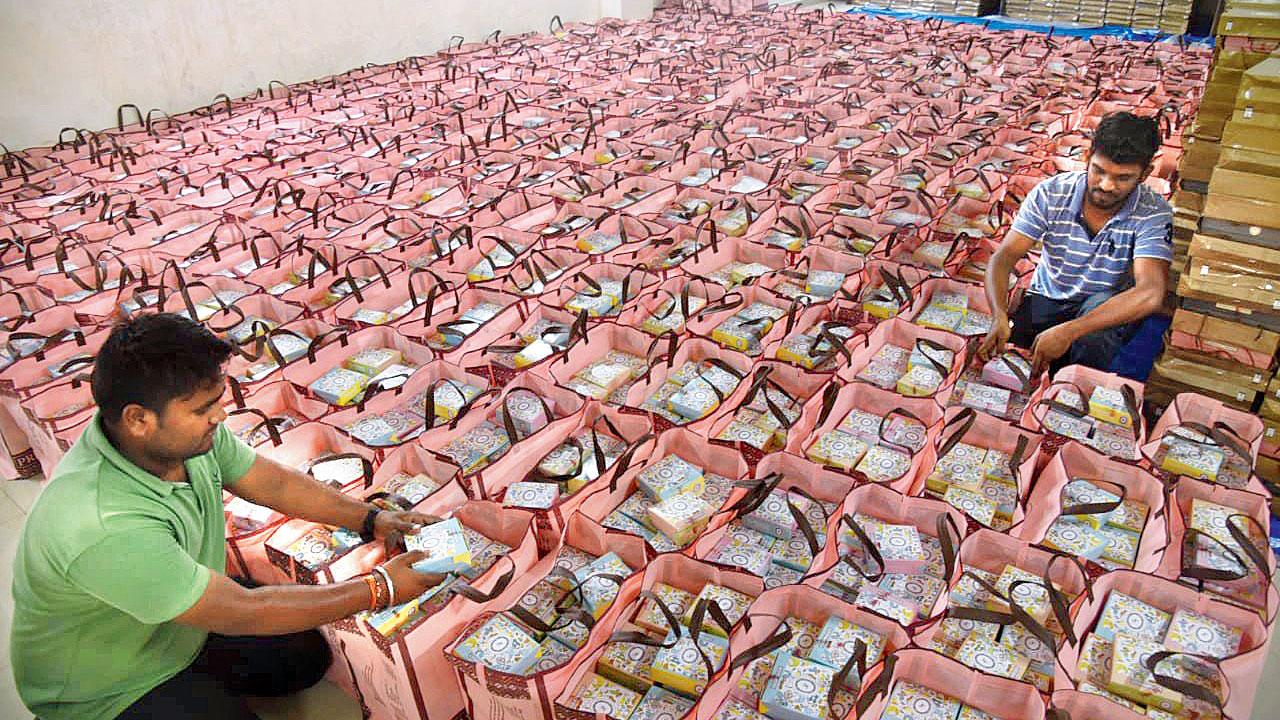 Sources close to the Eknath Shinde camp said that more than 2 lakh karyakartas from across the state will attend their Dussehra rally at BKC. "About 2.5 lakh food packets are being readied in Thane for our karyakartas who will be coming to BKC," said former corporator Purvesh Sarnaik. "The food packets will have dhapate (a Marathi dish), kachori and gulab Jamun."
Also Read: Mumbai: Residents of Worli koliwada join the Eknath Shinde camp
Traffic cops close many roads, open up optional routes for today
With lakhs of people expected to spill onto Mumbai's roads to attend the Dussehra rallies organised by the Uddhav and Shinde Senas—at Shivaji Park and BKC—the traffic police will close several major roads today between 9 am and midnight. The two factions have made the event a prestige issue and are expected to bring in people packed in vehicles, which are expected to create massive snarls in central and eastern parts of the city. For the convenience of motorists, the Mumbai Traffic department on Tuesday released a list of roads that will remain closed and shared options routes.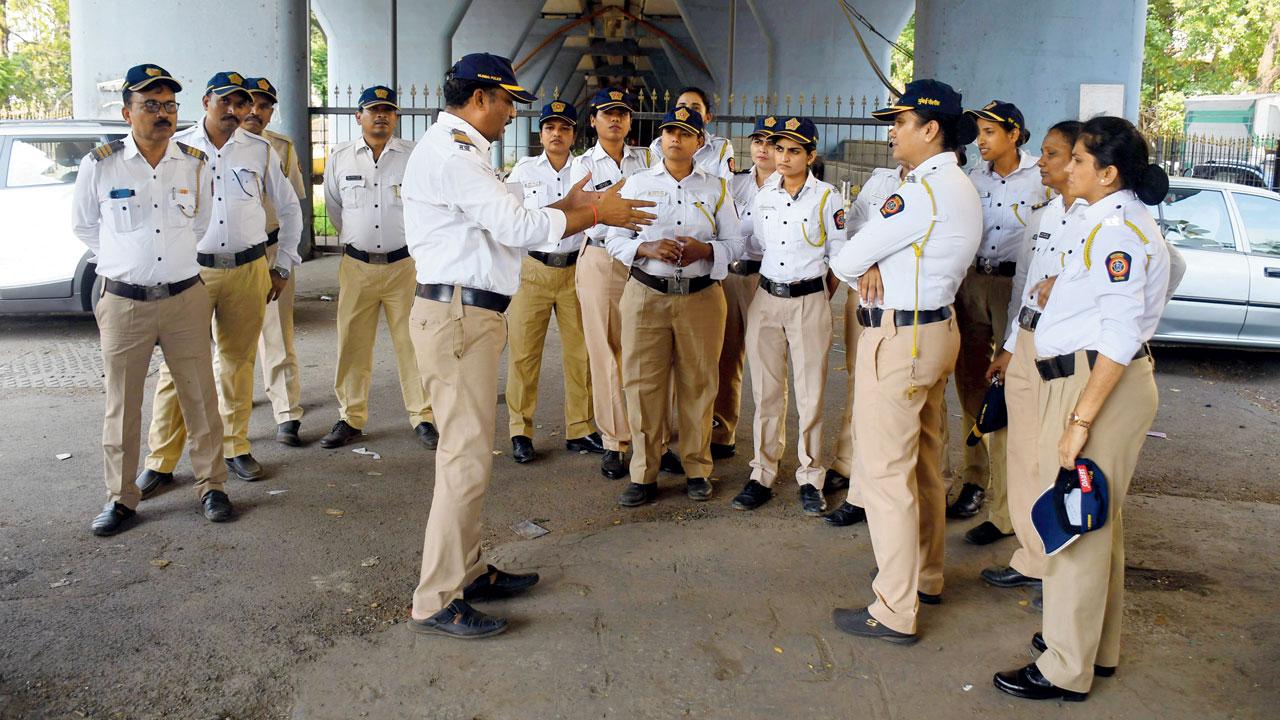 Cops work on their plan for Wednesday when two big rallies will be held. Pic/Ashish Raje
No parking on these roads
1. S.V.S.Road (from Siddhivinayak Mandir Junction up to Yes Bank)
2. Keluskar Road (South) and (North), Dadar
3. M. B. Raut Marg (from its junction with S.V.S. Road), Dadar
4. Pandurang Naik Marg (M. B. Raut Road) Dadar
5. Dadasaheb Rege Marg (from Senapati Bapat statue up to Gadkari Junction), Dadar
6. Lt. Dilip Gupte Marg (from Shivaji Park Gate No. 4 up to Shitaladevi templejunction)
7. N.C.Kelkar Marg (from Gadkari Junction up to Hanuman Temple junction), Dadar
8. L.J. Road, Rajabade signal to Gadkari Junction
For BKC
1. No Entry for vehicles coming from Western Express Highway, Dharavi and sea link through Bandra Family Court towards Kurla
2. No Entry from Saint Dnyaneshwar road through BKC I-T junction towards Kurla
3. No Entry from Govt. Colony, Kanakiya Palace and Valmiki Nagar through BKC towards Chunabhatti and Kurla
4. No Entry through Surve Junction and Razzak Junction through BKC towards WEH, Dharavi and sea link
5. No Entry through Eastern Express Highway via Chunabhatti by using BKC connector southbound
6. No Parking curbs imposed earlier at BKC to be released on Wednesday between 2 pm and midnight
Optional routes
1. Vehicles coming from WEH, sea link through BKC towards Kurla shall take U-turn from Family Court junction, Left turn from MMRDA Junction and proceed through T-junction towards Kurla
2. Vehicles from Saint Dnyaneshwar Nagar through BKC I–T junction to proceed along Guru Nanak Hospital-Jagat Vidya Mandir junction-through Kala Nagar junction and through Dharavi T-junction towards Kurla
3. Vehicles towards Kurla through BKC to take U-turn from Valimiki Nagar and proceed through Govt. Colony–Kalanagar junction–Dharavi T-junction towards Kurla
4. Vehicles from Razzak and Surve junction through BKC towards WEH, Dharavi and Worli sea link to proceed through CST Road, University main gate, Ambedkar junction—right turn at Hansbhugra junction and proceed towards destination
5. Vehicles using EEH from Chunabhatti towards BKC to take a right turn at Sion Circle and proceed to destination through T-junction-Kalanagar junction
Shivaji Park: No entry/optional routes 
1. No Entry: S.V.S.Road from Siddhivinayak Mandir Junction up to Kapad Bazar
Junction, Mahim
Optional route: Siddhivinayak Junction-S.K. Bole Road-Agar Bazar-Portuguese Church and Gokhale Road
2. No Entry: From Raja Badhe chowk junction up to Keluskar Marg (North) junction, Dadar
Optional route: L.J.Road- Gokhale Road- Steel Man Junction then through Gokhale Rd
3. No Entry: Lt. Dilip Gupte Road from its junction on Pandurang Naik Marg for Southbound traffic
Optional route: To proceed through Raja Bade junction towards L. J.Road
4. No Entry: From Gadkari Chowk junction up to Keluskar Road (south), Dadar
Optional route: M. B. Raut Marg